Best Waders That Suit Your Needs
27 May 2022
Waders are the best time-tested gear for wading, fly fishing and working in water, mud, and swamps. Though, with so many designs and brands, it's pretty difficult to choose which one fits your needs.
When it comes to choosing waders, there are three main things you should consider - Type, Material and Useful features. To help you save your time and energy, let's compare waders with all certain benefits of each type and discover which one is more versatile.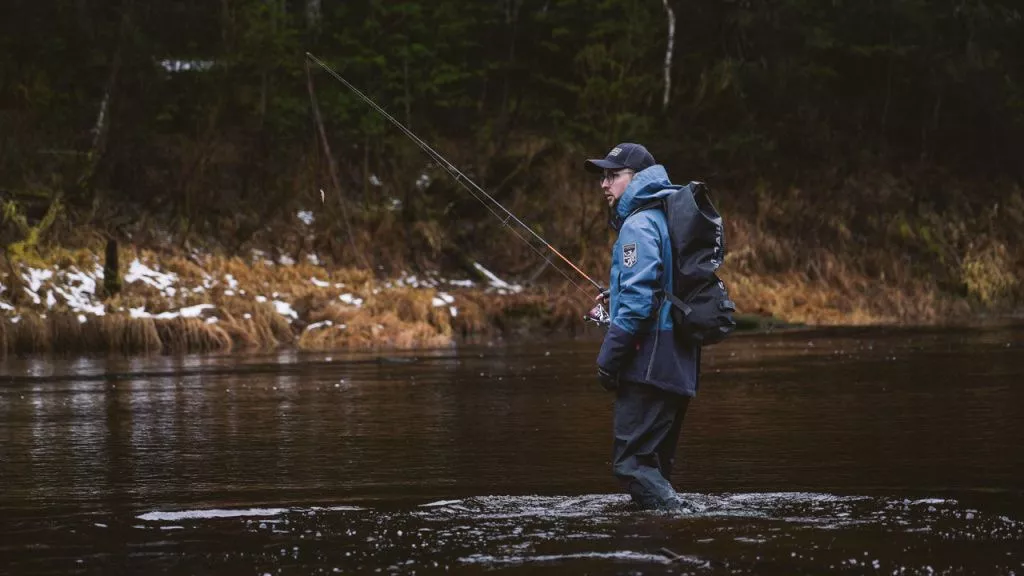 Stockingfoot vs Bootfoot
For decades, waders with a built-in boot were the only option. Luckily, the industry is developing and conventional bootfoot waders are being replaced by technologically advanced waders with a separate boot, the so-called wading boots. This is what the FINNTRAIL team develops and offers.
How do stockingfoot waders work to provide you with greater comfort and safety? The key feature is their construction. These waders come with built-in neoprene booties which are hermetically attached and provide 100% waterproofness. They also have protective gaiters with elastic bands to fit tightly over footwear and prevent sand and mud ingress.
NOTE: To make the most of stockingfoot waders, you need a pair of special wading boots to wear over neoprene booties. They prevent punctures and provide both foot support and traction on slippery surfaces.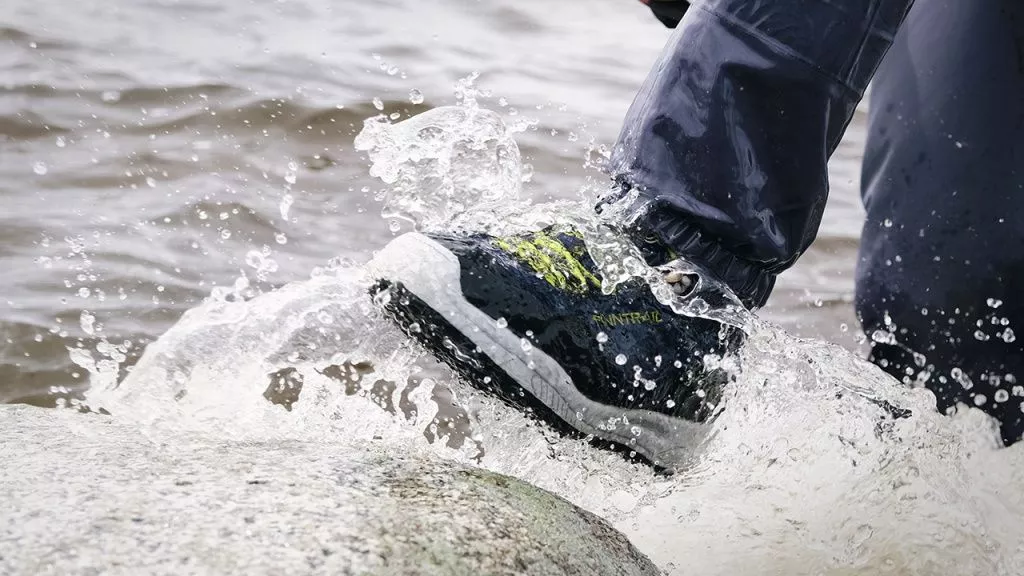 Let's look closely to both types.
Weight.
Stockingfoot: Lightweight boots in 2.4 - 4.6 lb range for maximum comfort on a long trail.
Bootfoot: Heavyweight rubber boots weigh an angler down over the long term.
Fit.
Stockingfoot: Tight fit. Easy to pull the boot out if stuck in the mud or sand. Perfect for soft-bottomed areas.
Bootfoot: Loose fit. A boot may slip off in the mud and cause fall-related injuries. Require to exercise more caution.
Ankle support.
Stockingfoot: Strong ankle support to help prevent sprains.
Bootfoot: No ankle support.
Foot protection.
Stockingfoot: Great foot protection due to durable abrasion- and puncture-resistant materials.
Bootfoot: Poor foot protection, since rubber is vulnerable to sharp-object penetration and cannot protect your feet when you get snagged while wading.
Traction.
Stockingfoot: Excellent traction and stable grip on any kind of slippery and soft-bottomed terrains.
Bootfoot: Great traction in the sand.
Gearing up time.
Stockingfoot: Require more time and effort for big-boned riders to put on / off a separate wading boot.
Bootfoot: Faster and easier to put on / off, since there is no need to bend down to adjust an attached boot.
Sizing.
Stockingfoot: Larger size options. Easy to pick up the proper size for best overall fit, since waders and boots are selected separately.
Bootfoot: Less size options. Not easy to select the proper size to get a good overall fit, since waders and boots are a one-piece set.
Product care.
Stockingfoot: May be washed in a washing machine on a "Hand wash" cycle in cold water with a special detergent.
Bootfoot: Can not be machine-washed or dried. Only hand-washing is available.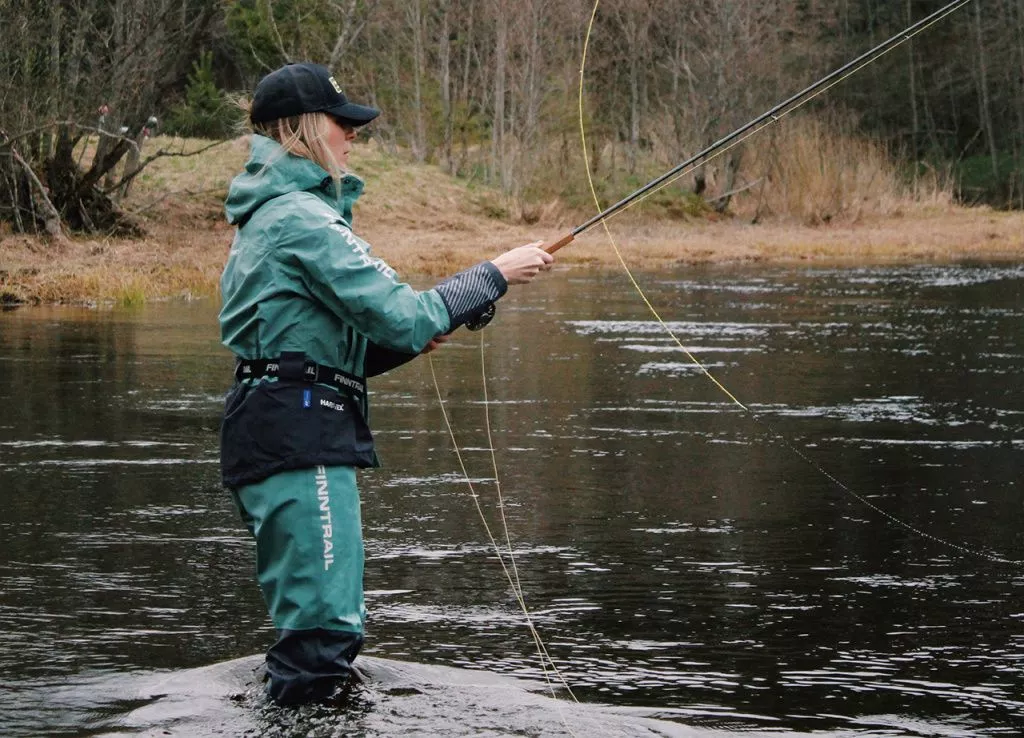 Membrane vs Neoprene
Neoprene waders had been the industry standard for many years because of their waterproof nature. Today, with such a huge advancement in breathable fabrics technology, membrane waders are quickly leaving neoprene waders behind.
To make the waders your best protection from any weather and environments, the FINNTRAIL team has developed the Hard-Tex® membrane fabric. See how it works: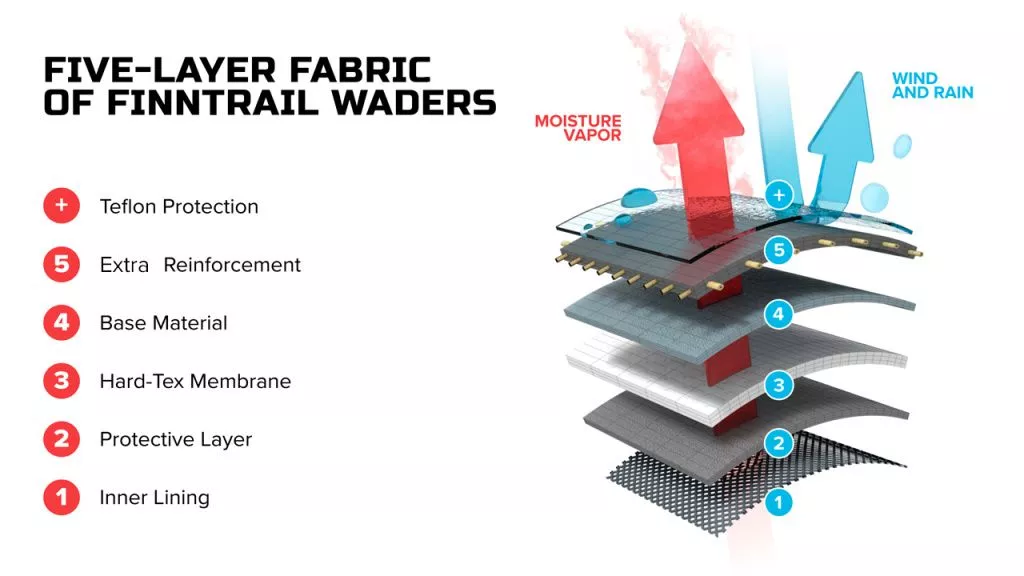 The membrane looks like a microporous material with over 1.2-1.4 billion tiny holes per square centimeter. These pores are smaller than raindrops and larger than vapor molecules. Due to this structure, the membrane stops liquid water but allows vapor to pass through. This means Hard-Tex® keeps you dry from the water outside and lets excess moisture evaporate from the skin.

Here is a short list of reasons why membrane waders will change your whole wading experience for the better.
Waterproofness.
Membrane: 100% waterproofness
Neoprene: 100% waterproofness
Breathability.
Membrane: High level of breathability. Allow the excess moisture (your sweat) to evaporate.
Neoprene: Not breathable. The excess moisture (your sweat) cannot evaporate.
Durability.
Membrane: Provide long-lasting performance when extra reinforced with abrasion- and mud-resistant coatings.
Neoprene: Perform great in the water. But tend to degrade over time. Vulnerable to abrasion and punctures.
Temperature range.
Membrane: Not an insulator. With proper thermal underwear, suitable for all four seasons in relative comfort.
Neoprene: Good heat insulator. Good for extremely cold weather. Not recommended for warm temperatures and extended wading.
Ergonomics and fit.
Membrane: Thin, flexible, and low-bulk. Easy to tailor to any figure.
Neoprene: Thick, bulky, and less flexible. It may seriously restrict natural movements.
Weight.
Membrane: Lightweight regardless of the weather conditions.
Neoprene: Heavy especially when wet.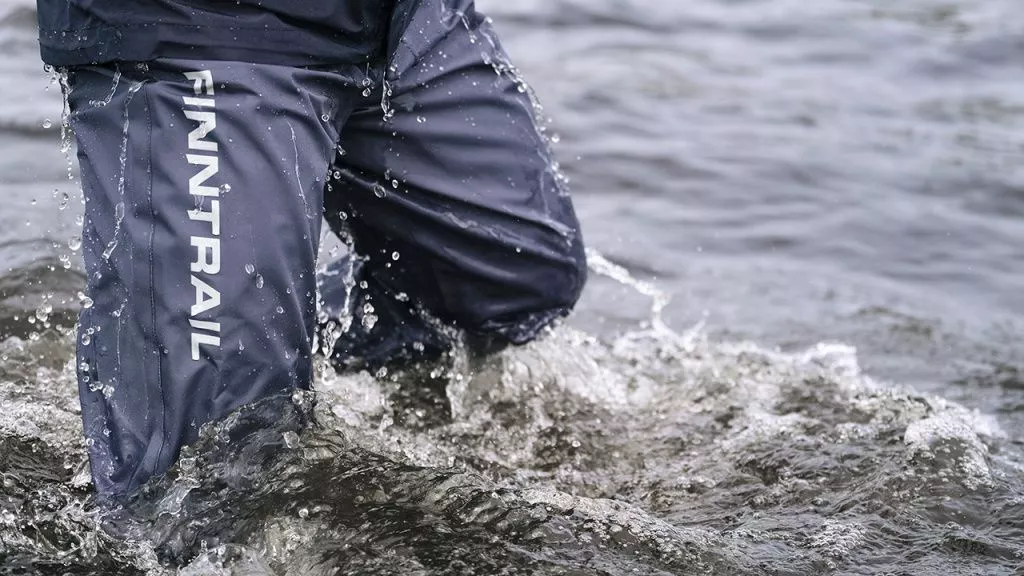 Useful Extra Features In The Finntrail Waders
We want you to be able to choose the best gear for your adventures. So, let's discover useful features we've developed in the FINNTRAIL waders to make your life much easier.
Material.
Depending on the design of waders, made of five- or four-layer waterproof & breathable fabric with a Hard-Tex® membrane.
Temperature range.
Suitable for a wide range of temperatures. With proper thermal layering, the same garment performs well in the cold and heat. No need to buy a few pair of waders.
Type of activities.
All types of wading in water, mud, and swamps: fly fishing, hunting, off-road riding.
Ergonomics and fit.
Perfect tailored fit and mobility. You will wade faster and better than ever before.

anatomical cut and articulated 3D knees — forget about traditional waders bulk.
adjustable elastic belt — in case of accidental immersion it will keep the waders from filing with water and make your exit from any river easier.
right and left YKK buckles can be paired up for easy put on/off performance.
top drawstrings — reduce water drag and debris collection over the top.
Overall weight.
Even when paired with wading boots, stockingfoot waders are lighter, making strenuous activity or long wading days much easier.
Durability.
Super durable high-performance materials, reinforced with abrasion- and mud-resistant coatings to significantly expand the lifespan of each garment. You may expect to get about 4-5 seasons of use from a pair of waders.
Seams.
Advanced designs with fewer seams to reduce membrane creases. Seams are securely glued and then taped over with heavy-duty waterproof tape. No chance for water to penetrate the waders.
Front zipper.
The most advanced waders feature durable water- and mud-resistant front zippers to quickly put waders on/off.
Chest pocket.
Large chest-pocket with moisture-resistant zippers to reduce water ingress in the event of immersion or light rain.
Designs and sets.
12+ designs of waders for men and 2 designs of waders for women. A wide range of sets in stock. Buying a set allows you to get all essential pieces of wading gear that match each other at a lower price.
Cost.
Excellent cost-benefit ratio. Great price for high quality, extended durability, comfort and safety.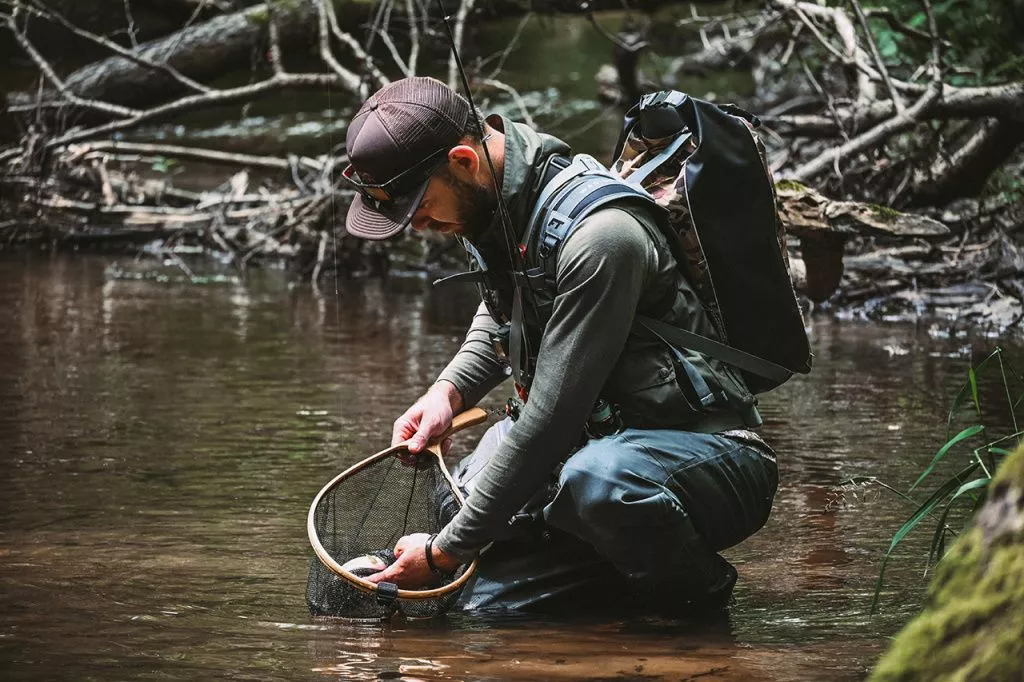 Takeaways
Although all types of waders offer certain benefits, with high-performance membrane stockingfoot waders, you will get a more enjoyable and comfortable experience at an affordable price. This is particularly true if you plan to have one pair of waders. Membrane stockingfoot waders are more versatile, practical, and suitable for angling and wading under almost every circumstance.
Bootfoot waders certainly have their value too. With built-in rubber boots, they perform well in the sand but may slip off when stuck anywhere in the mud. Bootfoot waders with insulating lining keep you warm whenever you encounter cold weather for a long period of time. Though, they may seriously restrict your movements and make you truly exhausted by the end of a day. Good fly fishing requires great footwork along the way, right?
The choice, as always, is yours — you can give preference to one or another design depending on your needs, budget, and the type of activity you do. However, if you are serious about high quality, performance, durability, and comfort — there is no better option than the FINNTRAIL membrane stockingfoot waders.
#CATALOG_ITEM_1#
Sign up for more content like this:
Subscribe to our blog