ATV Extremes: Mind-blowing ATV World Records
30 June 2022
The farthest jumps, the longest wheelies, the fastest ATV speed, and the fastest time to do 10 donuts, that's what you can find in this post. These ATV world records span the most impressive to the most insane. A don't try this at home warning is fitting here.
10 Mind-blowing ATV Records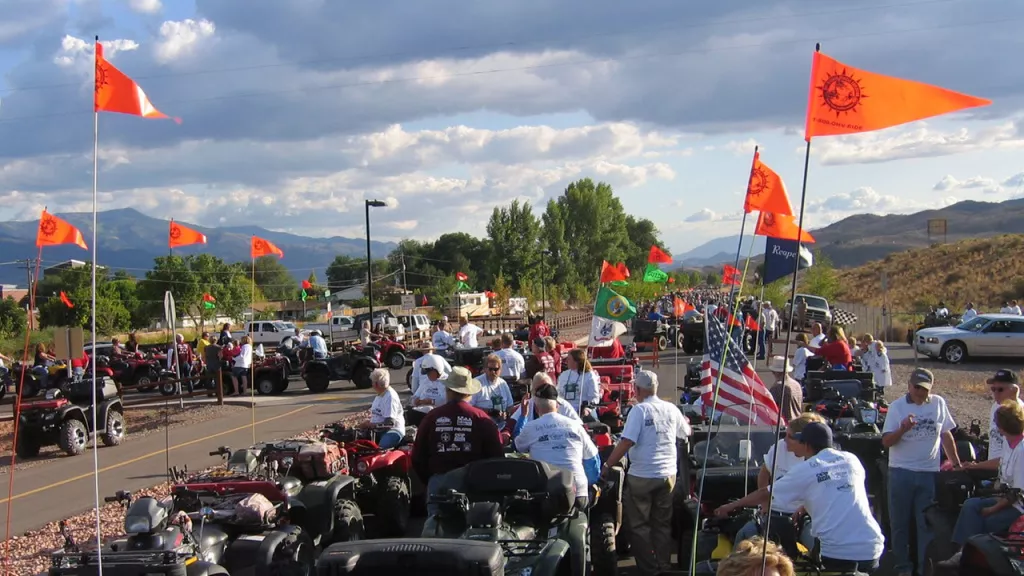 Largest Quad Bikes Parade
In 2009, in Richfield, Utah in the US, 1,947 participants gathered at the Rocky Mountain ATV Jamboree, but only 1,870 were actually able to complete the parade. That's still a lot of ATVs!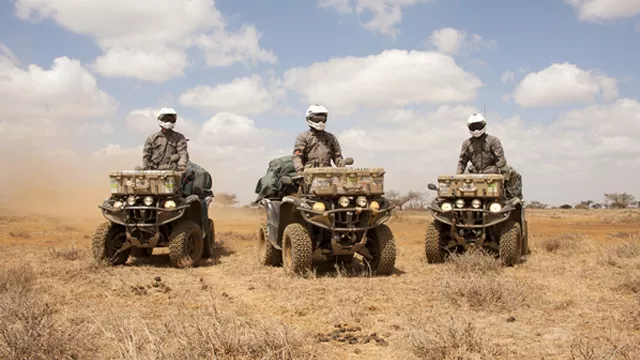 Longest Quad Bike Journey
Three Australians, Valerio De Simoni, Kristopher "Ted" Davant, and James Kenyon, hold the record for the longest ATV journey. They called themselves the Quad Squad Expedition and set out August 10th, 2010 from Istanbul, Turkey. It took 437 days, 19 hours, and 9 minutes, and they traveled through 37 countries covering 34,945 miles or 56,239 km. On October 22nd, 2011, they ended their journey in Sydney, Australia with an escort of 500 motorcycles.

For those who want to repeat the record, we've got something to say. Weather strikes can be severe along the trip. So, don't neglect a lightweight, yet waterproof rain suit on board.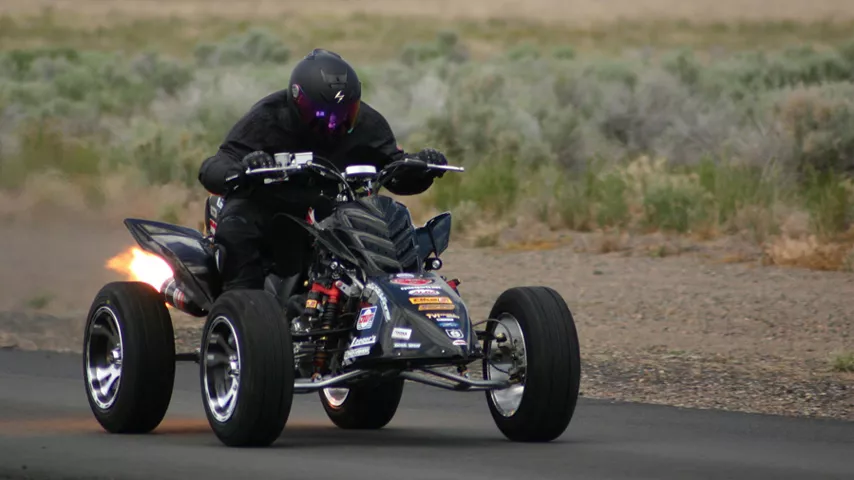 Quad Bike Top Speed
Terry Wilmeth broke the record for the fastest speed on a quad bike by modifying his Yamaha 700 Raptor with a hybrid rocket thruster. On June 15, 2008, at the Madras Airport in Oregon, USA, Wilmeth was able to ride 196.19 mph or 315.74 km per hour.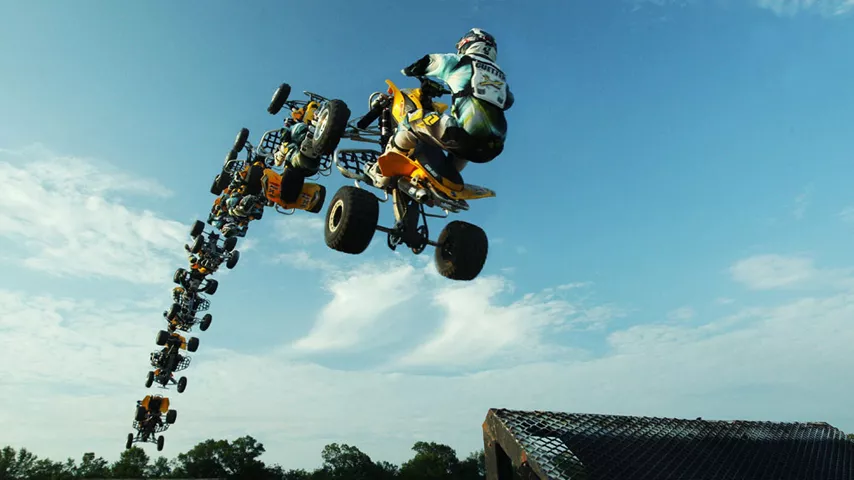 World Record ATV Jump on A Ramp
Jon Guetter achieved the longest ramp jump in Melbourne, Victoria, Australia in 2008. At the Crusty Demons Night of World Records held at the Calder Park Raceway, he jumped 53.92 m or 176 ft and 11 inches.
Longest Tandem Ramp Jump on ATVs
For the show "Nitro Circus" on MTV, Travis Pastrana and Eric Roner broke the record for the longest tandem jump. They were at the Godfrey Trucking/Rocky Mountain Raceway in Salt Lake City, Utah, USA on November 17, 2008 and jumped 15.99 m or 52 feet and 6 inches.
Fastest Time to Do 10 Donuts on an ATV
The next night, Travis Pastrana pulled off another feat for "Nitro Circus." At the Miller Motorsports Park in Tooele, Utah, USA, he executed 10 donut spins in 15.59 seconds.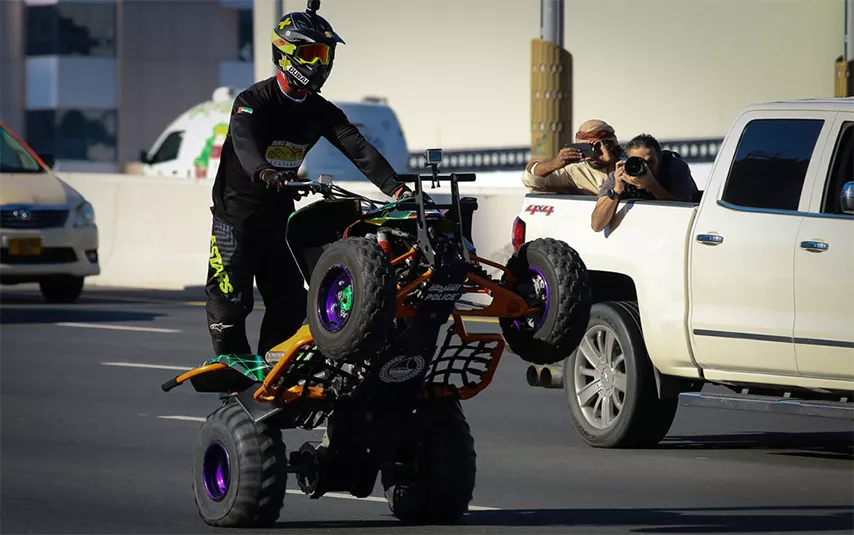 Photo by Muhammed Shafi Chavakkad
Longest Wheelie in Distance on an ATV
Abdulla Al Hattawi of the United Arab Emirates traveled the longest distance on a quad bike while doing a wheelie. In Dubai, on January 12, 2018, he had a police escort on Sheikh Zayed Road and wheelied for 37.28 miles or 60 kilometers. To put it into perspective, this is more than the line length of The Channel Tunnel between the UK and France.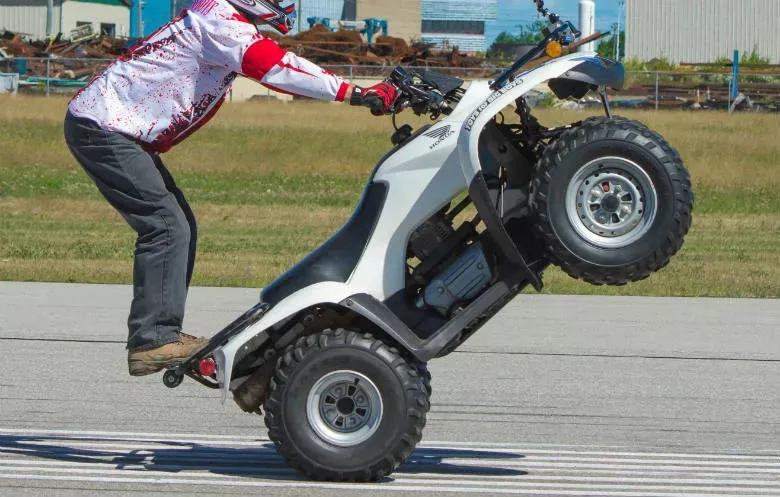 Longest Backwards Wheelie in Distance on an ATV
At Miramichi Airport in New Brunswick, Canada, on July 28, 2017, Roger LeBlanc executed the longest backwards wheelie for 1,579.675 m or 5,182 ft and 7.8in.
ATV Wheelie with The Most People
On May 15, 2004, Roger LeBlanc and 16 other people piled onto an unmodified Honda 350 Fourtax ATV and rode for 50 m or 165 ft on the Riverglade Speedway in New Brunswick, Canada.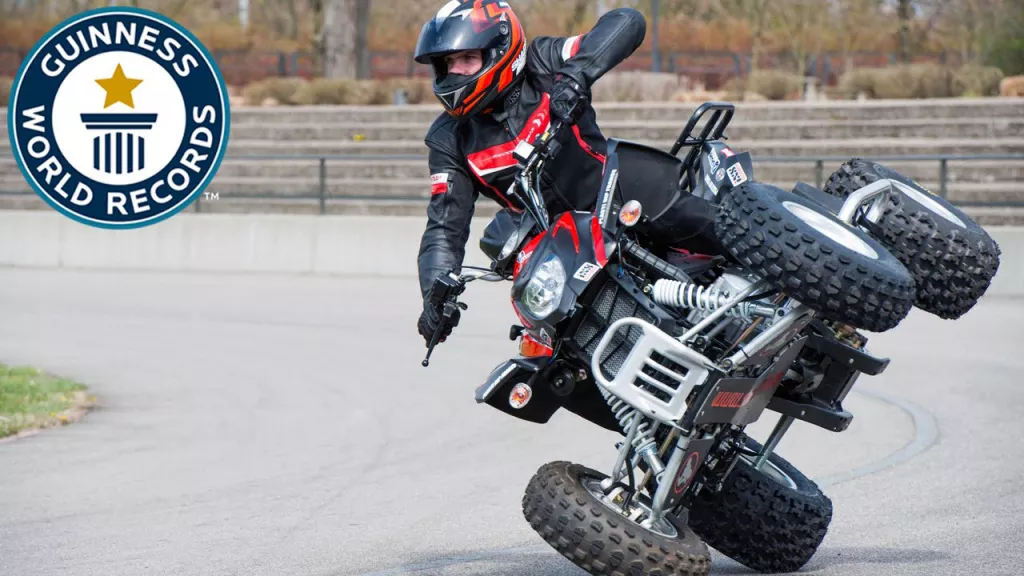 Longest Individual ATV Side-Wheelie
The longest individual ATV side-wheelie record was set by Yannick Dupont at the Cite de l'Automobile, Mulhouse, France, on 6 April 2015. The French stuntman traveled a staggering 21.30 miles or 34.29 km on two wheels of his quad.
Can Someone Beat These ATV World Records?
That's part of the point with records, to keep trying to beat them. Though some of them will be particularly hard to top. Terry Wilmeth used a rocket thruster! Considering the insanity of some of the records, you might want to ask yourself if you really want to go there. Another thing to bear in mind is that the Guinness World Records won't even allow someone under 16 to attempt or register for some records.
Wisdom For Executing ATV Tricks
Anytime you want to try an ATV trick, take several things into consideration. You want to have a great time and look cool, so ride smart. Consider your skill level. You can't decide you want to try a trick and do it. You need to build necessary ATV riding skills. Read our post on How to Wheelie an ATV for tips. You also need to make sure you have an ATV that can handle what you're asking it to do. To compete with the men on this list, you might need to start looking at lists for the most powerful ATV in the world and fast four wheelers.
Sign up for more content like this:
Subscribe to our blog