Best ATV Campgrounds
6 October 2022
ATV campgrounds allow you to combine two of the most popular outdoor pastimes: camping and off-roading. Note the two words: ATV campgrounds. Not all campgrounds allow ATVs or make for great riding. We'll make planning an ATV getaway much easier with a list of the best ATV friendly campgrounds in the U.S.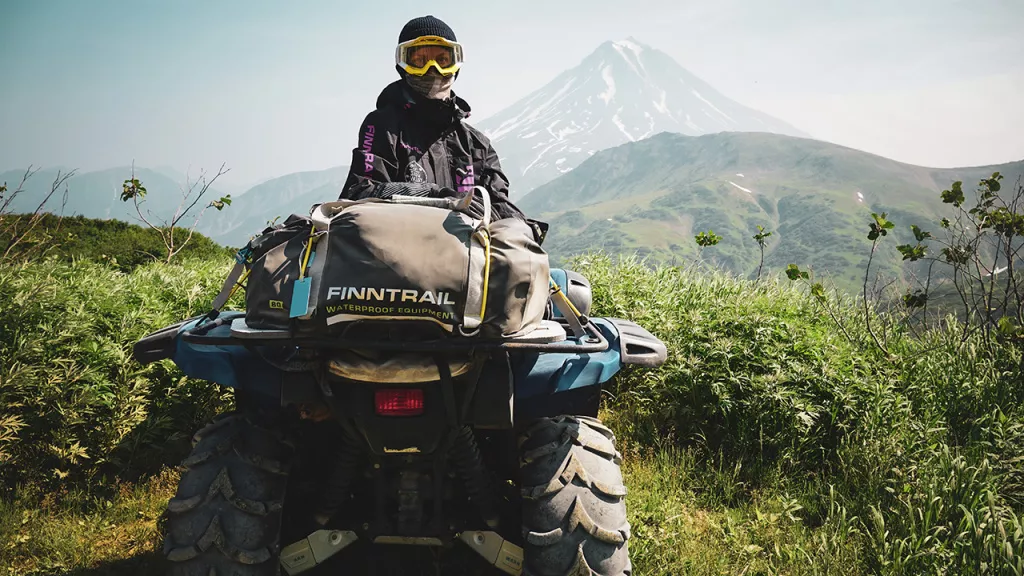 Choosing The Best Places to Camp and Ride ATVs
There is no single best among campgrounds that allow ATVs. What makes a great campsite for one will be undesirable to another. But there is one thing to be aware of.
Campsites offer varying degrees of amenities. There are campsites that are as bare bones as you can get. These are the most enjoyable for people and families who are used to full-blown camping. No Holiday-Inn campers here. Some campsites offer a few amenities like a public restroom while others offer pools, laundry, and other hotel-like features. Some even have arcades. If you want to include glampers, family who aren't as excited about off-roading, or younger kids, these are the campgrounds for you.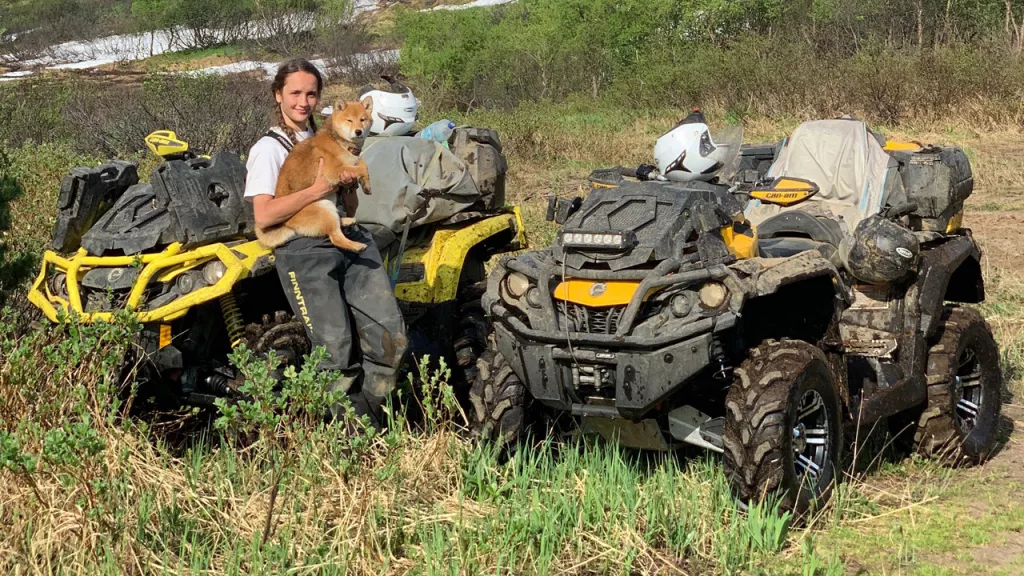 Choosing The Best Machine
If you will be renting your ATV or UTV, you should know a few things to have an enjoyable and safe trip.
An ATV is meant for one person, sometimes two, if it has two seats. Never put a second person on an ATV that wasn't designed for two. Weight and balance are crucial with off-road machines.
Choose an ATV that fits your skill level. Only advanced riders need the fastest or most powerful machines.
UTVs are best for bringing one or more people along on your machine. They offer seating for 2-6, depending on the model, more stability, expansive storage space, and safety features like roll cages and windshields. Some have roofs and enclosed cabins.
Make sure the campground you are considering offers rentals, and check their rules before you book your trip.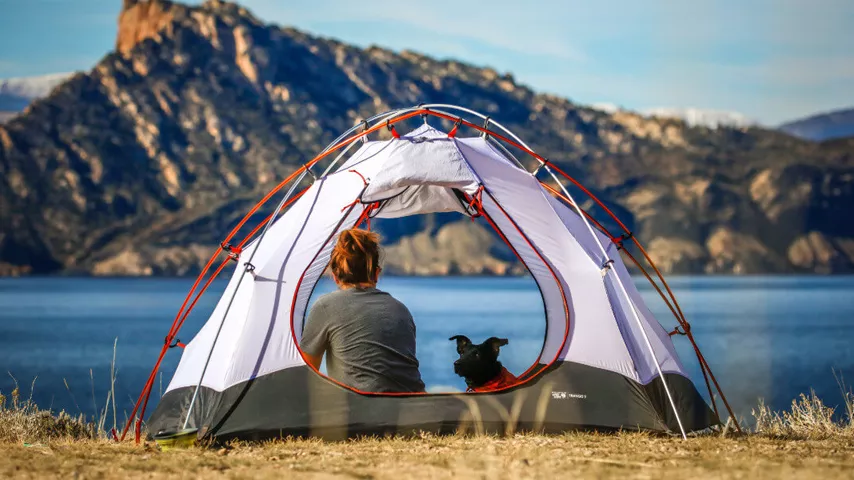 Features of ATV Parks with Camping
ATV parks and parks that allow ATVs offer ATV riding, camping, and various other outdoor activities like hiking, cycling, horseback riding, water sports, archery, and other sports facilities. You will need to check the individual park you're considering to see what they offer.
The Best Campsites with ATV Trails in The U.S.
This list will point you towards many off-roaders' favorite places for camping with ATV trails.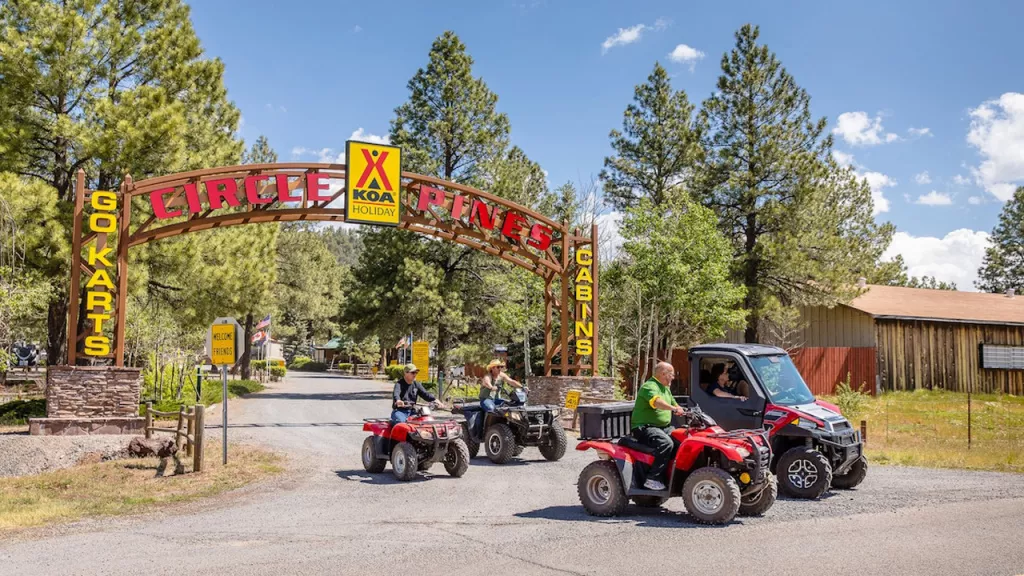 Arizona
Circle Pines/Williams KOA
This campground is located south of the Grand Canyon National Park and only an hour away. You can enjoy hundreds of miles of varied ATV trails, horseback rides, go karts, a pool, mini golf, and a hot tub, as well as popping over to enjoy the Grand Canyon. The campsite offers a snack shop and accommodations for any taste or budget, including cabins, RV spots, Conestoga wagons, tent sites, and teepees.
Salome
Ride the Arizona Peace Trail and stay at the Salome KOA campground. RV and tent spots can be rented for both short and long term trips, and when you aren't riding, you can enjoy mini golf, the clubhouse, a pool, a hot tub, and a mess hall.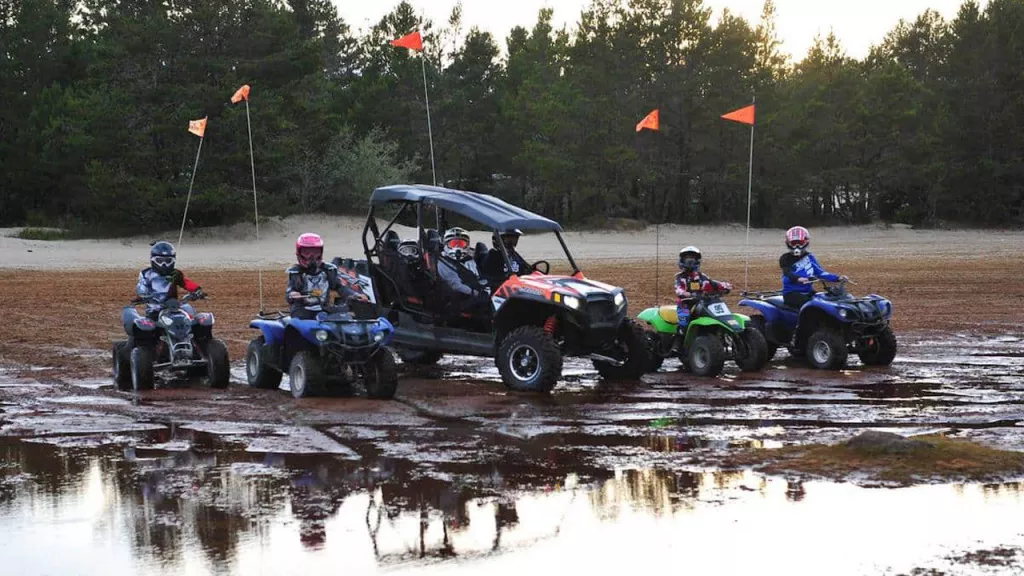 California
Calico
The Calico KOA campground positions you to enjoy the Calico ghost town or to travel to Las Vegas, the Colorado River, and to hundreds of miles of riding trails in nearby areas. Accommodations include cabins and RV and tent sites, and you can enjoy the pool, clubhouse, and a wide variety of other outdoor activities.
Pirate Cove Resort
Enjoy 3,000 miles of riding trails, including easy trails, daring trails, and some with sand dunes. The resort offers cabins as well as beach front camp sites, and there is a restaurant and multiple boat marinas at your disposal.
Trinity Lake KOA
This campground offers hundreds of miles of wooded ATV trails, hiking, and boating, and you have your choice of RV or tent spots and cabins.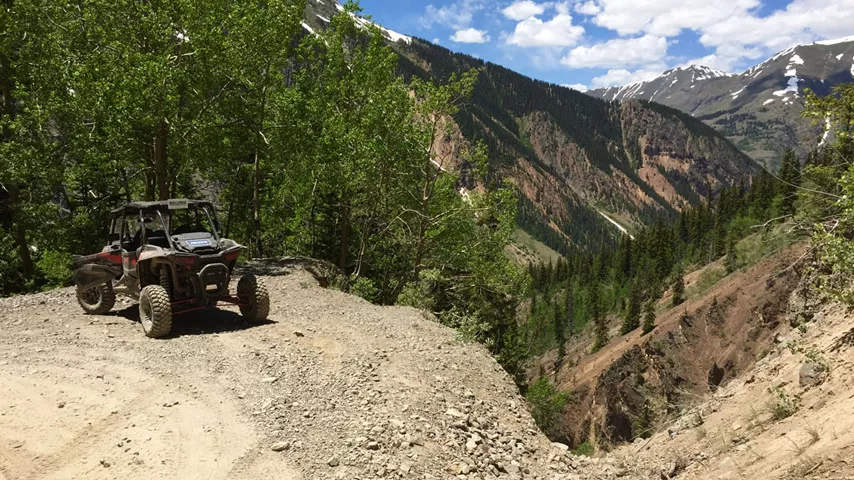 Colorado
Silverton Rock Pirates
This campground boasts amazing alpine views, mountain trails, a ghost town, an old mining community, and vistas filled with wildlife and wildflowers.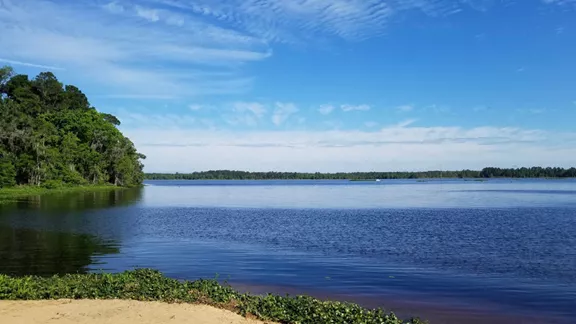 Florida
Lake Oklawaha
At Lake Oklawaha, you can enjoy hundreds of miles of sandy forest trails as well as hiking, fishing, views of wildlife, volleyball, and Corn Hole when you aren't riding. Accommodations include RV spots, RV rentals, and cabins, and there is a pool and rec room.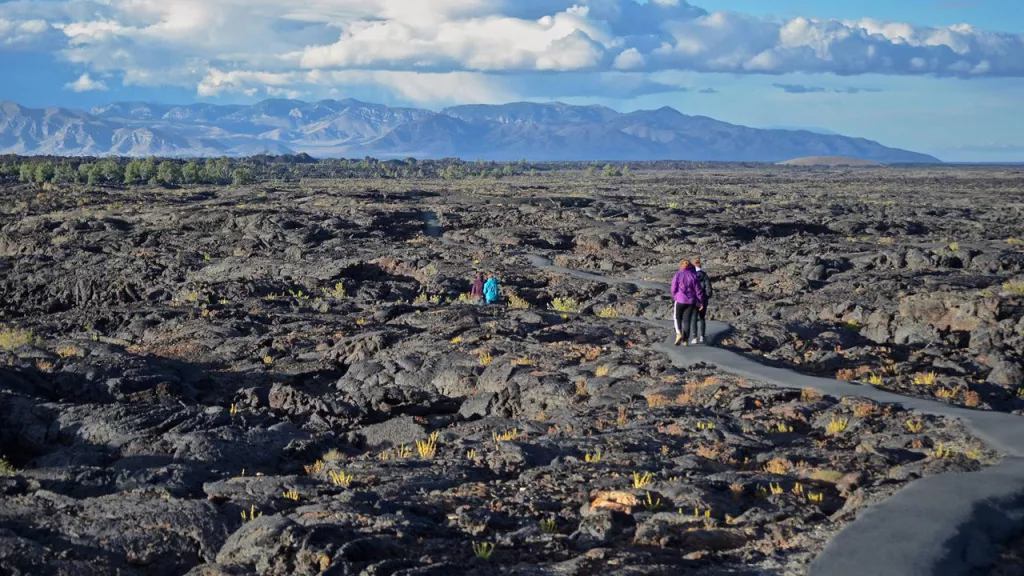 Idaho
Craters of The Moon
Choose this campground for a combination of amazing amenities and the fewest other people. The trails are beautiful, the ones at the highest elevation offering the most spectacular views. When you aren't riding, you can enjoy a pool, snack bar, cable, and Wi-Fi. They offer RV and tent spots.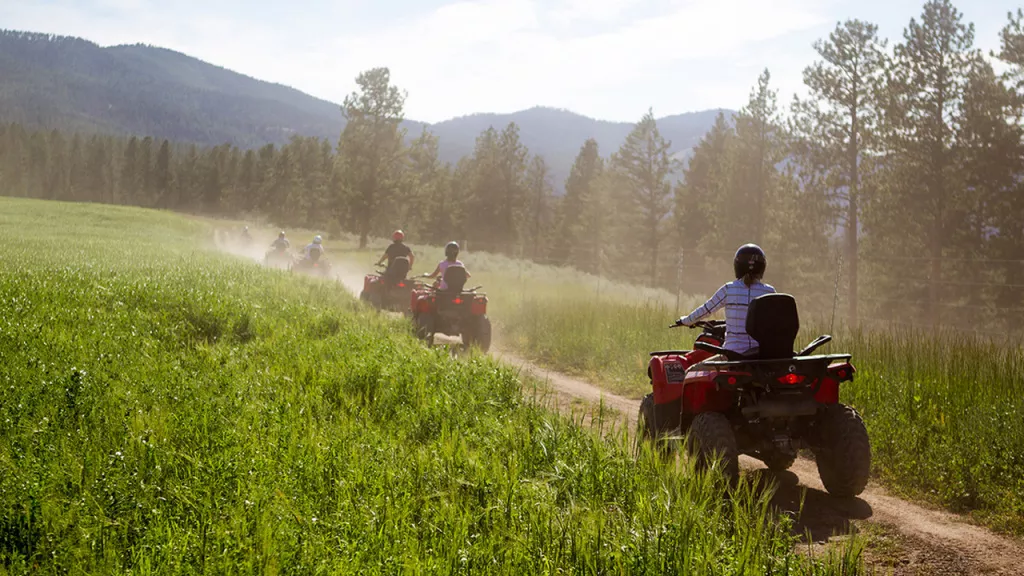 Montana
Paws Up
This resort offers 100 miles of riding trails surrounded by a working cattle ranch where you can also enjoy molehills, stream-riding, and a ghost town. You'll be able to stay in a luxury home, cabin, or safari-tent. When you aren't riding, you'll also be able to enjoy horseback-riding, fishing, kayaking, paintball, a spa, and more.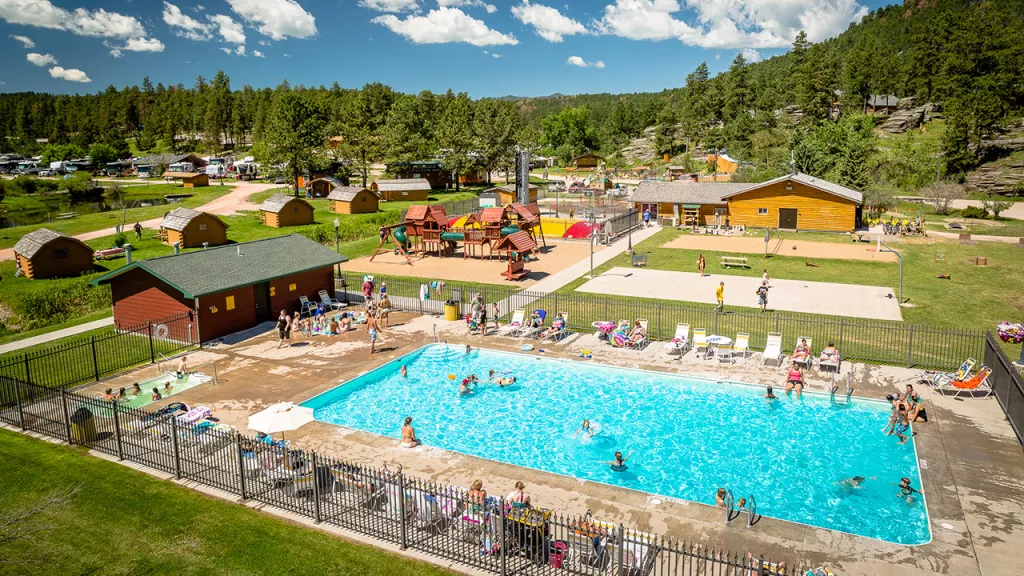 South Dakota
Mount Rushmore KOA
Enjoy Mount Rushmore and the Crazy Horse Memorial as well as ATV-friendly trails. You'll be able to stay at RV spots, cabins, tent spots, or guest rooms.
Spearfish Canyon Lodge
This campsite offers beautiful mountainous views, ponderosa pines, an old rail bed, as well as fishing, and other outdoor sports.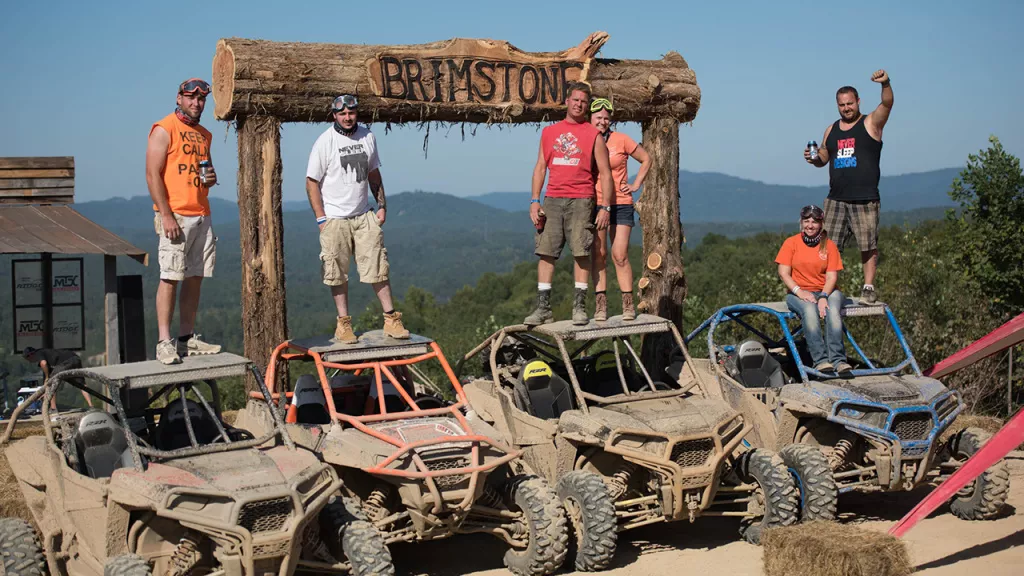 Tennessee
Brimstone Recreation
Year-round riding on 300 miles of scenic trails await. You can enjoy hiking and water sports when you aren't riding.
Windrock Park Campground
Enjoy 300 miles of riding trails and options to stay in cabins, tents, yurts, and barebones campsites.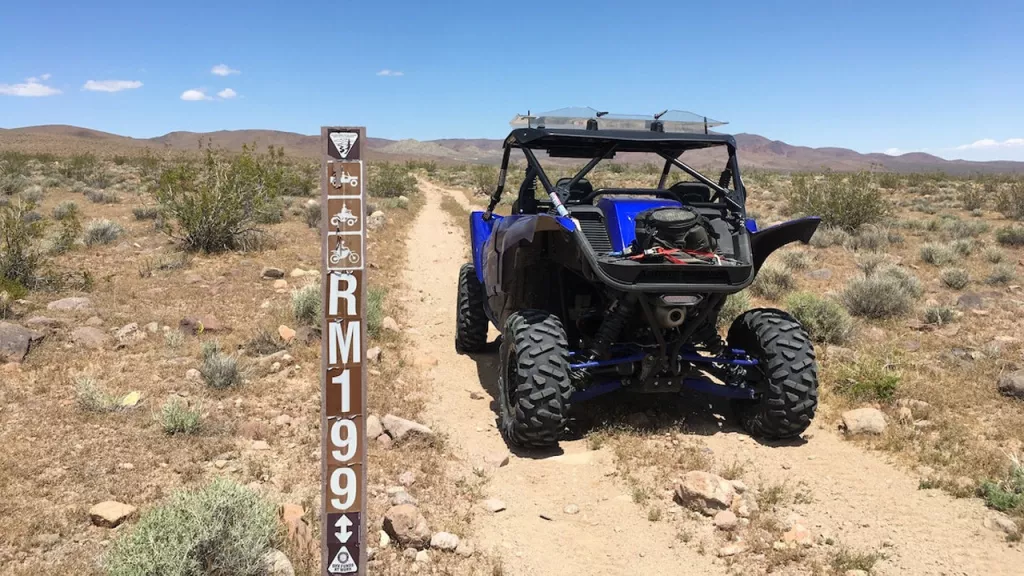 Utah
Fillmore KOA
This campground gives you access to the Paiute Trail and desert trails. When you aren't riding, you can go hiking, fishing, golfing, rockhounding, and more.
Rose Ranch Resort
You can get your ATV fix and enjoy white-water rafting while staying in cabins with fire pits and picnic tables or using your tent and RV and having access to the same amenities.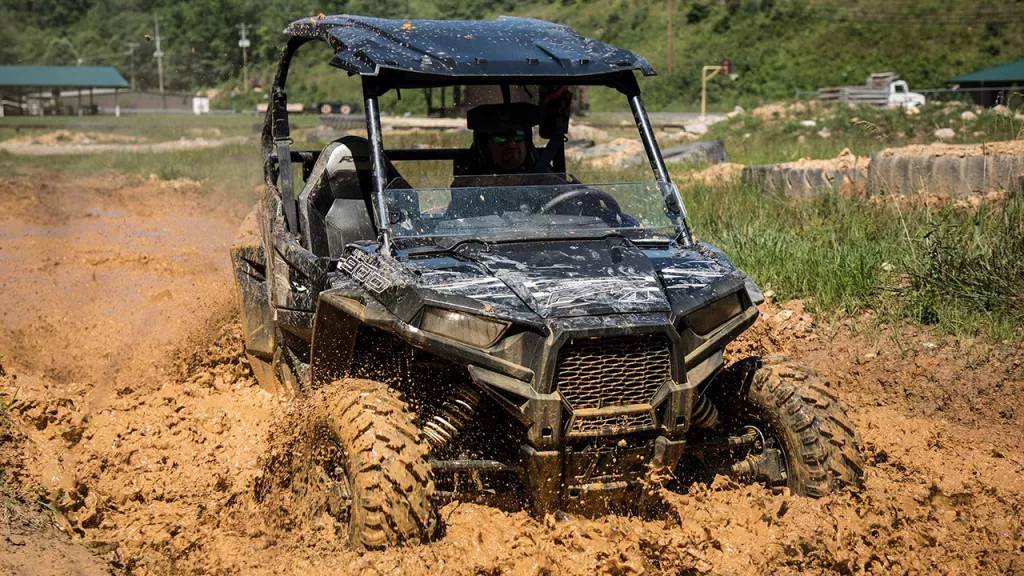 Virginia
Trailhead ATV Resort
This resort gives you access to two trail systems, the Hatfield-McCoy Trail System and the Spearhead Trails System. Between these two trails, you can find trails suitable to any rider. Stay in RV or tent spots or cabins.
More Campgrounds with ATV Trails
We can't possibly cover all the amazing campgrounds with ATV trails. So, if you want something closer to you, Google ATV campgrounds near you and use this list as a guide to gauge the other campgrounds you're considering.
Sign up for more content like this:
Subscribe to our blog