Casual Clothing Vs ATV Riding Gear
20 January 2023
It can be tempting to hop on your four-wheeler in some casual clothes you already own and go on an adventure. But is it a good idea? This post will go over the debate between ATV riding gear vs casual clothing to help you determine what to wear for ATV fun.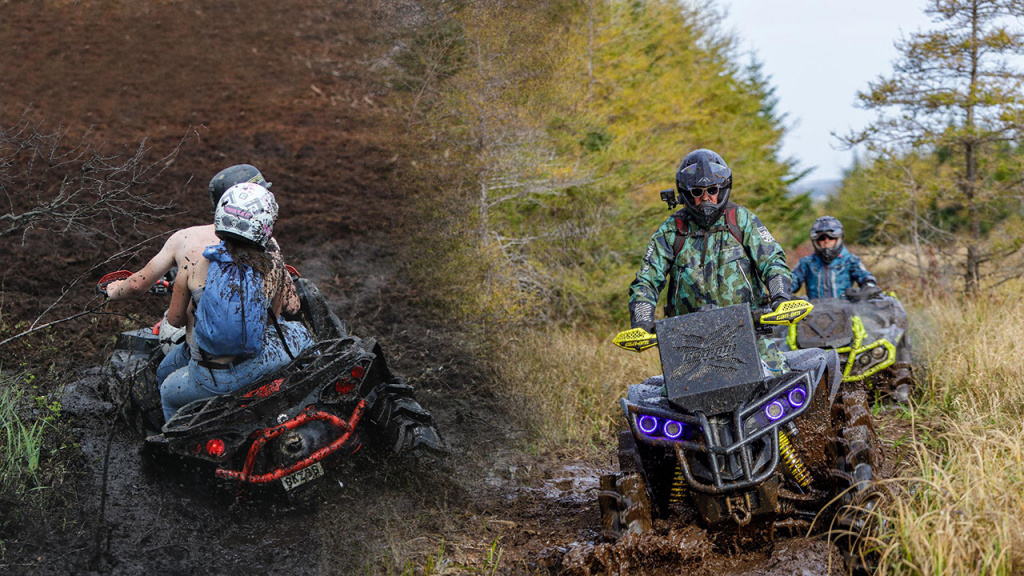 Wearing Casual Clothes as ATV Clothes
Minimum safety advice for ATV riding includes long sleeves, long pants, and maybe a lightweight jacket for cooler weather or added protection. This can make you feel like you can just head out in jeans and a long sleeve t-shirt. And, yes, this will protect you from sunburn and minor scrapes and abrasion from tree limbs.
There are several downsides to wearing casual clothes instead of quad riding gear:
Comfort: casual clothes are not comfortable for long riding sessions, sweating, or mudding. Jeans bunch up, some items may be bulky and restrictive, and cotton doesn't wick moisture to keep you dry.
Durability: casual clothes were not made to withstand the demands of the trail. You'll be replacing them often if you use them to ride, so they won't help you if you want to save money.
Safety: clothes can't offer anything but the bare minimum protection, and off-roading is a potentially hazardous activity.
Not for mudding: clothes will absorb mud, getting you wet, feeling bulking, and weighing you down.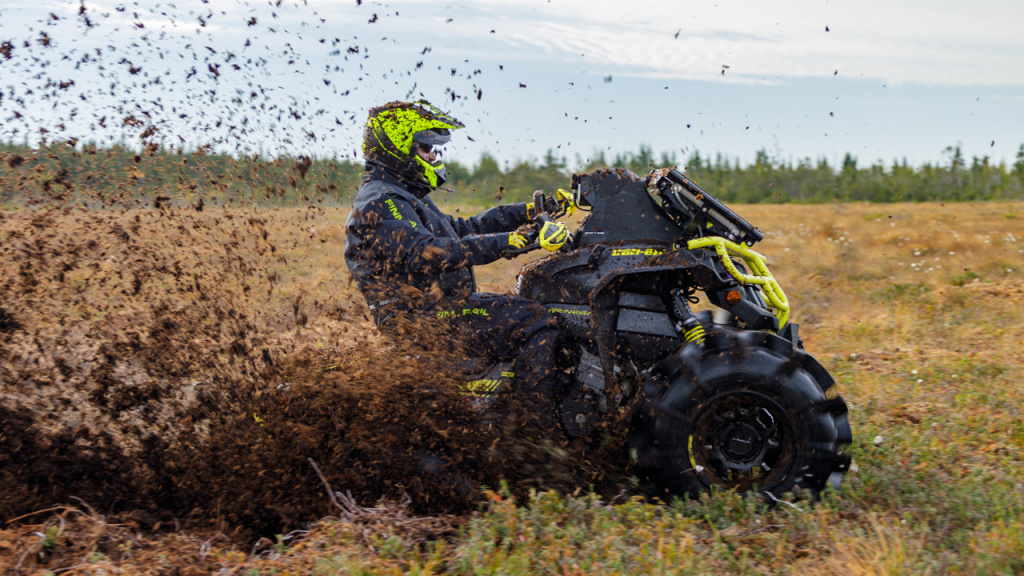 Wearing ATV Clothing and Accessories
Gear made specifically for ATV riding is more comfortable and safer than anything else. It is made to allow a free range of movement and to not weigh you down. The materials, design, and added materials protect you from more extreme abrasions and even crashes. This gear is also made to withstand the punishment of off-roading. The materials, reduced number of seams, and reinforcements allow you to wear the same gear for years. Waterproof and mudding gear keep you dry, comfortable, and free to move. Riding gear also helps you maintain your temperature in a way casual clothes cannot do whether you need to stay warm or cool.
ATV riding outfits are made:
With high wear points in mind.
To protect against branches, debris, and accidents.
To always be lightweight and not weigh you down.
To not restrict movement.
To keep you dry from water, mud, and sweat.
To maintain optimum body temperatures.
To last years despite the friction and wear of this sport.
Off-road
waders
will keep you dry and safe in water and mud
Find out the best look for you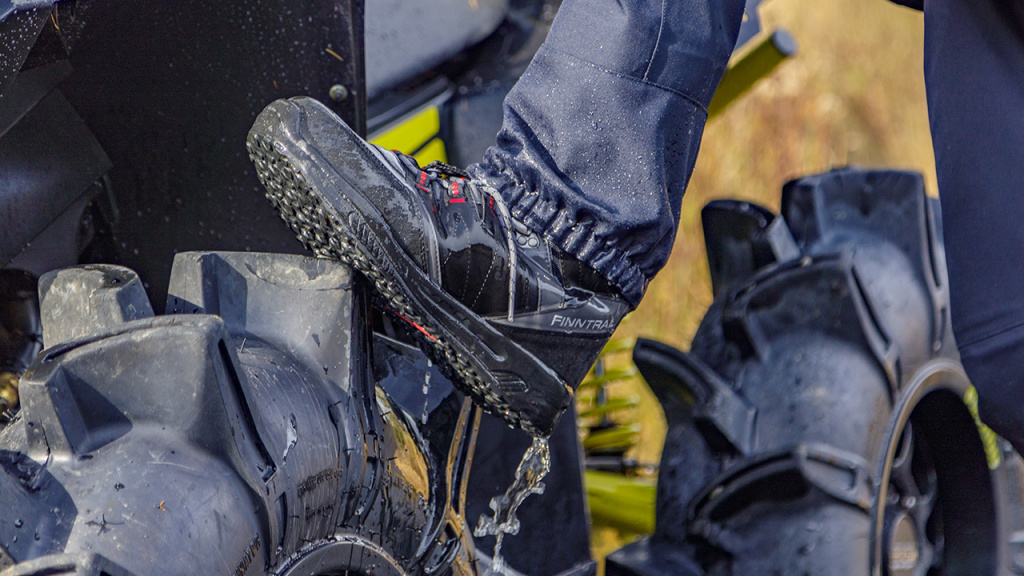 Footwear
The proper footwear for ATV riding is pretty flexible.
There are three primary demands:
Traction
Ankle support
Lightweight
You need sufficient traction to keep your feet on the ATV. You can't control your machine without foot contact. Without ankle support, you could injure yourself or have to cut your riding session short from discomfort. ATV riding is a more physically demanding and tiring sport than many people realize until they go on their first ride. Everything you put on your body needs to be lightweight to keep you energized.
You can wear boots that meet the conditions above, but ATV riding boots are your best investment because they meet all these requirements and provide extra features geared toward ATV riding. If you plan to get off your ATV and into the water, ATV wading boots provide the most comfort and needed protection to keep you upright in the water. Rubber boots and casual sneakers are not suitable substitutes.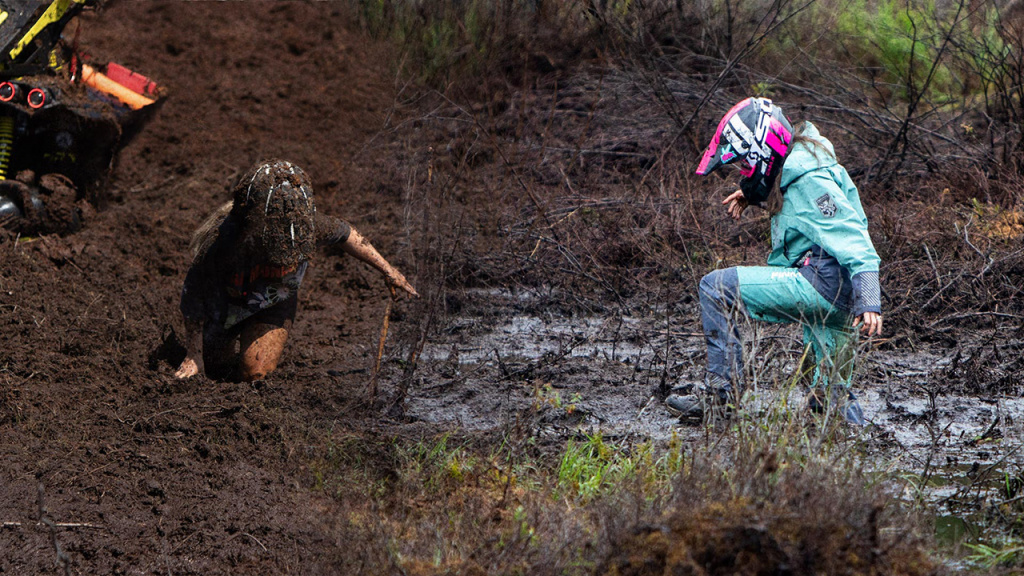 ATV Protective Gear VS Casual Clothes
What to wear for ATV riding depends on the type of riding you'll be doing. If you are going for an hour or two of light trail riding or using your four-wheeler as a utility vehicle such as for construction, farming, or snow plowing, casual clothing may suit you fine. Short bursts of riding or easy riding with little risk doesn't demand the same protections or considerations.
If you plan to go higher speeds, ride on more varied terrain, go mudding, or spend long periods on your four-wheeler, you will need to purchase gear for ATV riding. This is a sport like any other. They all have specialized gear to meet the safety requirements and performance needs of that sport. You'll be putting more pressure on the gear, need more range of movement and freedom, and be raising your risk of serious accidents. You will be uncomfortable and unprotected in casual clothing. Your trip may be cut short because you get tired too quickly. And your clothes will wear out fast.
Specialized ATV clothing is always made with riding in mind. Nothing works as well for your favorite outdoor activity.
Sign up for more content like this:
Subscribe to our blog