Finntrail and Can-Am Create A Co-Branded Gear Line
24 February 2022
We are happy to announce that Finntrail, the global manufacturer of ATV/UTV riding gear for off-road riders, has partnered with Can-Am, the BRP brand in off-road vehicle space. Together, the two brands created an exclusive co-branded line of mudding gear which focuses on performance, comfort, and style - something that many passionate riders are craving.
Can-Am & Finntrail Collaboration
This is a sequential step for both companies to launch a co-branded line of gear for riders who enjoy overcoming off-road challenges, whatever the terrain.
From the very beginning, Can-Am and Finntrail have been taking continuous improvements as the base of their product development to become leading brands in the industry. Can-Am continues pushing innovation in building powerful off-road vehicles, while Finntrail carries on with making reliable off-road riding gear at the apex of technologies.
"We've put a big focus on developing a more specialized gear to make sure you're warm, comfortable and suited up for any condition. This year, we've partnered with the leader in premium mud waders and ATV gear, Finntrail. We're happy to have developed a co-branded line of gear that is extremely durable, waterproof and windproof," said Florence Labrie, Apparel Marketing Lead of Can-Am.
"High-quality gear, unique design and two well-known logos together will soon rock the off-road world with a full set of waders, a jacket and wading boots," said Eugene Gref, Head of Marketing of Finntrail.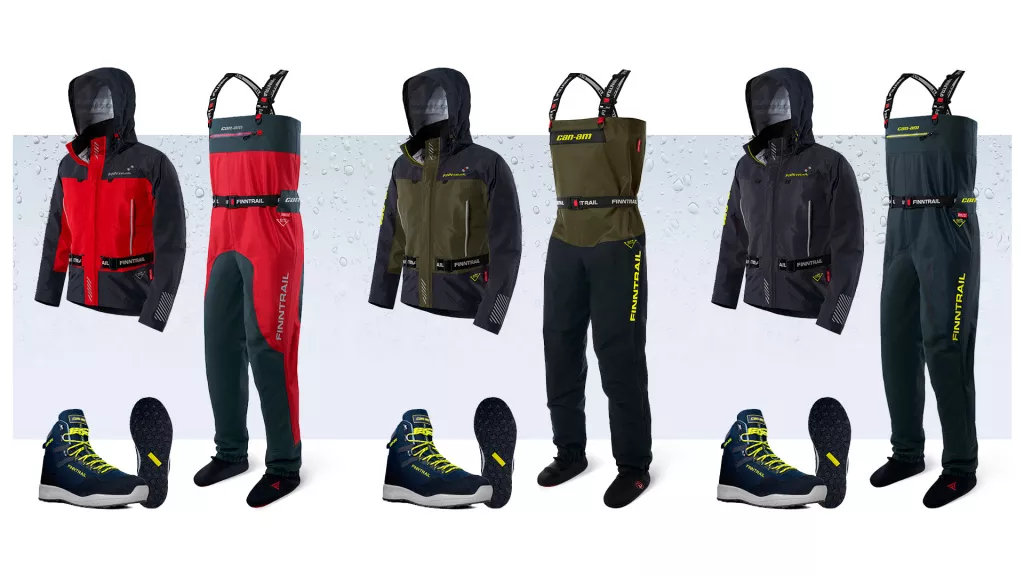 Can-Am & Finntrail Line Of Mudding Gear
The co-branded line is built for long rides and deep puddles. It includes 3 pieces: stockingfoot waders, a jacket and boots. Purchasing all of them will give you the ideal mudproof gear setup for both protection and comfort.
Waders are the most important product in an ATV/UTV riding outfit. They are a type of waterproof overalls with built-in neoprene booties which are designed to perfectly fit into wading boots. If the weather or environments are not cooperating, waders will keep you dry, while heavy-duty boots will ensure solid grip and comfortable wear.
For ultimate protection, a waterproof jacket is worn over the waders. With these three pieces, you may easily cross water streams and mud holes up to 5 ft deep or ride in wet weather, maximizing riding time and eliminating the hassle. Since the gear is lightweight and breathable, it can also be worn for recreational trail riding.
It pays to play it smart with off-roading. No matter the trail, terrain or condition, the Can-Am & Finntrail co-branded line of mudding gear will tackle it all and enable every off-road rider to live his adventure to the fullest.
ABOUT CAN-AM
CAN-AM Off-Road is the BRP brand that offers a complete lineup of ATVs and Side-by-Sides. BRP is a global leader in the world of powersports vehicles, propulsion systems and boats built on over 75 years of ingenuity and intensive consumer focus. Can-Am consistently innovates, gaining the trust of riders in more than 130 countries. History-making is in this company's blood, as they annually offer a full line of upgraded ATV and Side-by-Side vehicles that are designed for riders of all skill levels and age groups. Finding new paths is in their present and their future.
For more information, visit can-am.brp.com
ABOUT FINNTRAIL
FINNTRAIL is a leader in developing ATV/UTV riding gear for hardcore mudding, bogging, trail riding and long-term ATV traveling. Many years of intense development and testing have backed their products' evolution. Being off-road enthusiasts, they understand the needs of the off-road community and test their gear in the field the way other riders will be using it. Ever-advancing designs are coupled with the latest high-tech materials to offer 100% waterproof, breathable, and reliable gear that is modern and stylish as well as functional and comfortable in harsh environments.
For more information, visit finntrail.com