How to Stay Warm and Dry When Snowmobiling
15 October 2021
Snowmobile riding is a blust of thrill and joy. But along with that, comes the age-old question: How to stay warm and dry when snowmobiling. Here is a list of helpful tips you should know before you head out to zoom across the snowfield this winter.
1. Dress in layers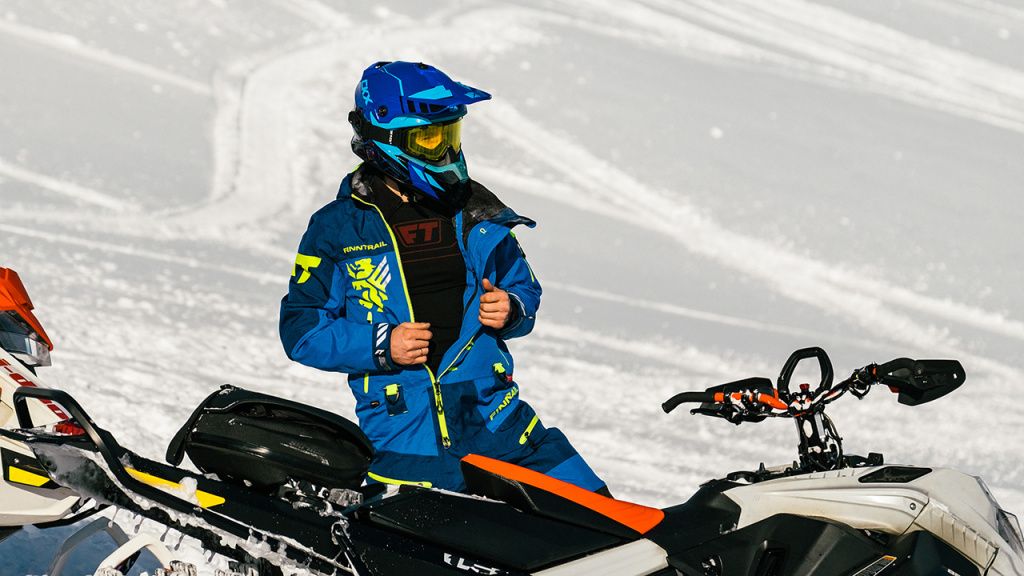 Winter is the most challenging season for outdoor enthusiasts. Since the weather changes all the time, it turns out to be the real science to gear up properly. Would you rather put on all the bulky clothes and sweat when you really get moving or wear light garments and experience sustained freezing when the temperature drops?
The key to comfortable riding in any winter conditions is to dress in layers.
First, you want lightweight thermal underwear. This is the base layer which is responsible for wicking the moisture and keeping you dry inside. Choose the garments made of advanced synthetic fabrics and avoid cotton items which absorb moisture and keep you cold.
Second, wear one or two insulating layers with properties tailored for a certain activity range and weather conditions. This is the mid-layer which traps your body heat and keeps it next to the skin.
And third, pick up a snowmobile suit. Check out below how to do it.
Find out the best look for you
2. Suit up properly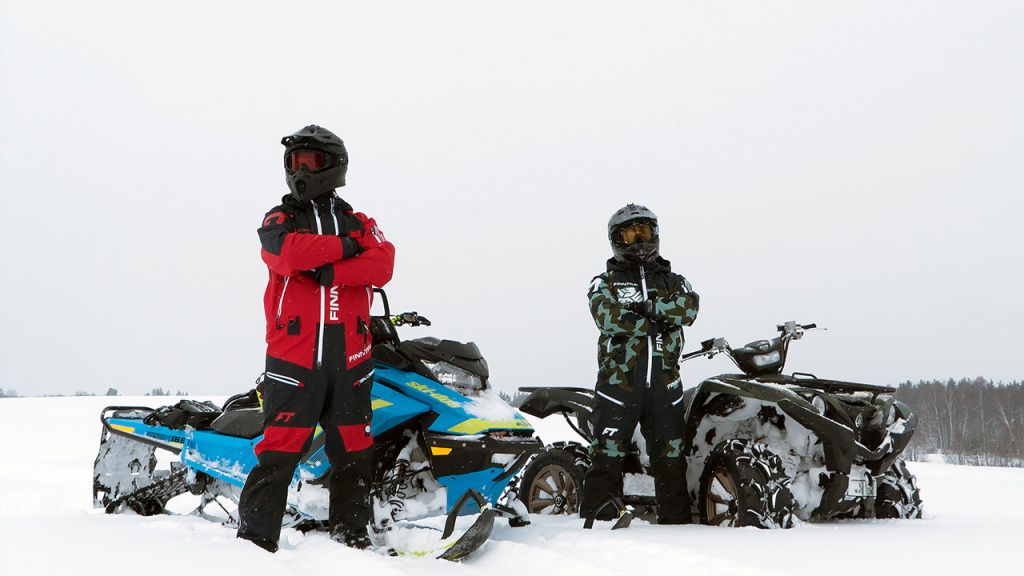 Once you've layered underneath, it's time to choose the reliable snowmobile suit. Do it thoughtfully since the outer layer is your shield (literally) and its main function is to protect you against water, snow, wind, and other environmental factors.
There are two main types available - a monosuit and two-piece suit. The decision to go one or another really comes down to personal preference and the overall feel.
However, many riders don't like the idea to separate the top and bottom since this construction may provide additional exit points for temperature to escape and wind or sleet to enter. Believe us, nothing is worse than a cold or wet rear end, and getting snow up the back of your pants while digging your vehicle out.
So again, it depends on your preference and the type of riding you do. Still, no matter which type you choose, make sure that your snowmobile suit is waterproof and breathable enough to ensure good moisture wicking combined with warmth retention while out riding.
3. Protect your head, face, and neck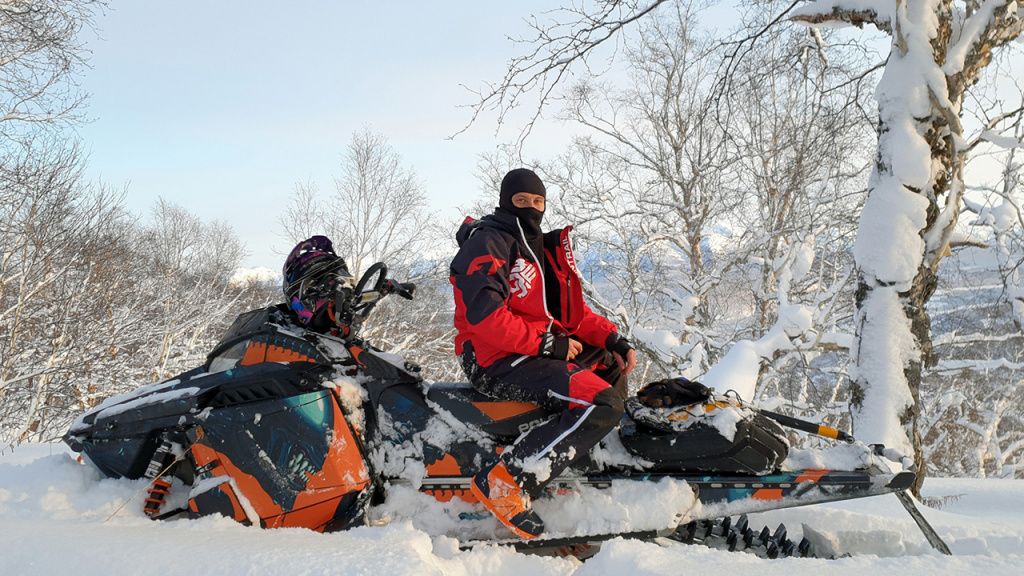 Frostbite is dangerous on the trails. Keep in mind that every inch of your face and neck should be covered. While a helmet (you put on the helmet, right?) is designed to protect your head against any kind of impact, extra items can deliver warmth and wind protection.
A mask or a balaclava is the right thing you need to shield your skin from the cold and wind. Choose the items that are made of performance fabric like polyester, fleece or synthetic-blend. Avoid cotton materials, since they only absorb moisture which can later freeze.
Goggles should also be worn if your helmet doesn't have a face guard. Aside from helping to keep your face warm, a good pair of snowmobile goggles protects your eyes from UV light, the occasional branch that you may ride through, and chunks of snow kicking up from the sled.
Find out the best look for you
4. Keep your hands and fingers warm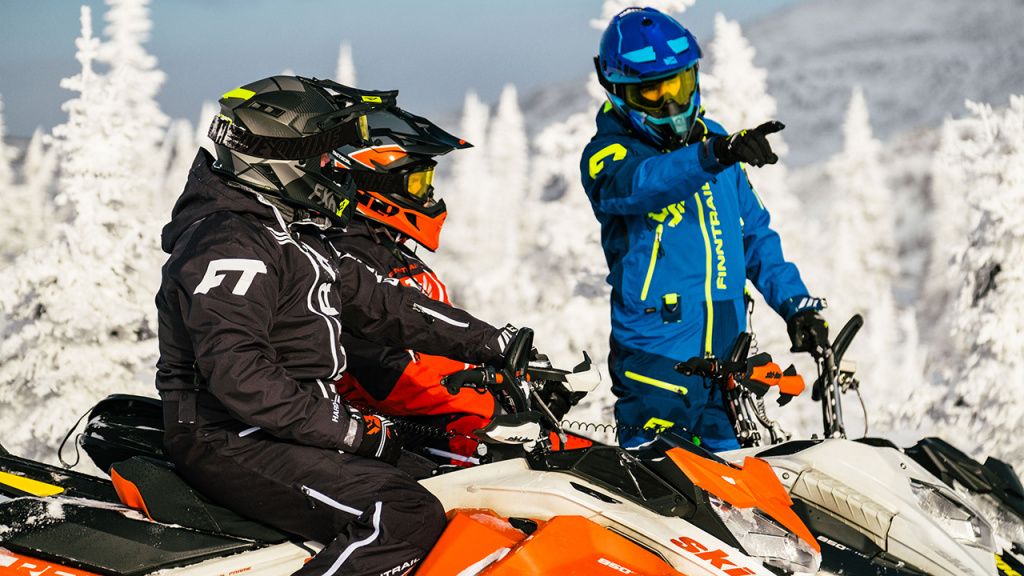 Hands and fingers do need special attention in the snowfield. While heated grips and handwarmers are great (in case they're installed), you still want to get a good fit and high-performance material for your snowmobile gloves. This will keep your hands warm while also having dexterity and precision using the throttle and the brake.
Good insulated and waterproof gloves are a must. But don't neglect a few pairs of varying thickness on board. When you are riding on a trail, you'll want to wear more insulated items. If you are riding hard off the trail, you might prefer less insulation and more precision.
5. Choose the right footwear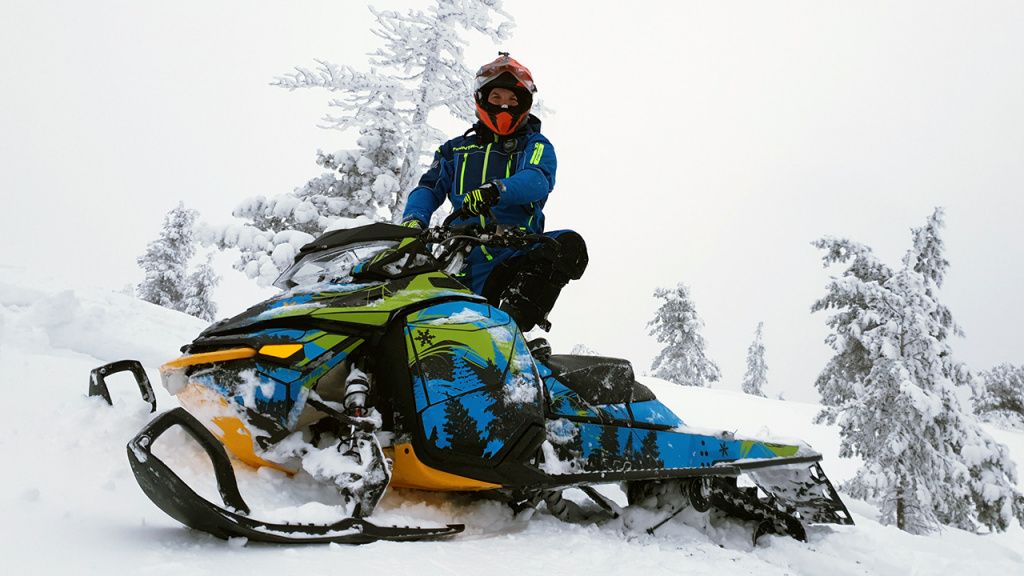 No doubt, cold feet can ruin any riding day and have negative long-term effects. In order to prevent foot-related problems, you need to choose waterproof boots with proper insulation and a firm sole.
Additionally, your boots should be lined with wool, fleece or another moisture-wicking material. And finally, don't buy tight-fitting boots, they should ensure you have maximum agility and control on the sled.
Once you have proper snowmobile gear that ensures your warmth and comfort, you're ready to encounter snow. Crazy snowmobile season is coming. So let's make the best of it!