Interview: Mark Freeman
7 September 2020
Meet the dirt and mud lover with 11 years experience. One of the most popular, one of the wildest YouTube bloggers who know how to make crazy, astonishing and inspiring content! Angry dirt bikes, roaring UTVs, crashes and burns. Hate it or love it, this is true hardcore!
Please introduce yourself, who are you and where people could see you.
Hey there! My name is Mark Freeman, I'm a YouTuber for the past 11 years featuring almost every extreme sport on my channel and also crashing cars and getting muddy daily! I'm 30 years old and from London, Ontario, Canada.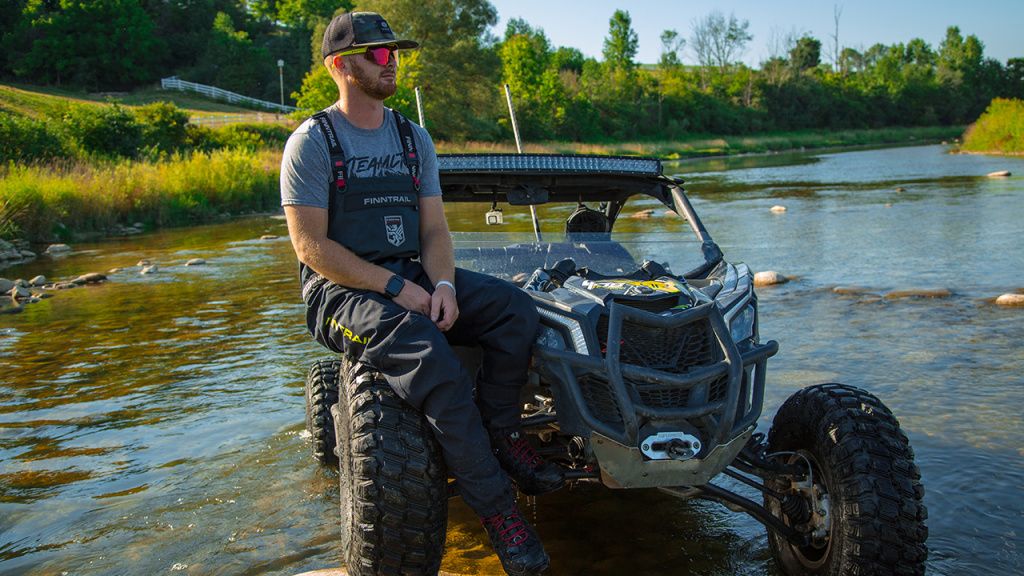 How long have you gotten off the road? What made you take your ATV ride for the first time? How did everything go? Why did you choose this machine?
I grew up on ATVs and dirt bikes, first started getting muddy when I was young then ended up racing at a professional level on KTM race quads. I later transitioned over into the 4x4 world because it was a lot less stressful and way more fun! I first started on an Outlander 4x4 then switched to a Renegade 800 and now I have a Maverick X3 DS.
The Maverick is probably my most favorite machine cause it's very safe and I can get through so much with it and carry a passenger and supplies.
Do you remember your first race in life? Or which race was the most memorable and why?
I remember my first race like it was yesterday, I was on a CR 80 dirt bike and Paisley Rat Track, it poured all night and day and I completely hated it and never wanted to race dirt bikes again.
The CR80 was manufactured between 1980 and 2002 by Honda. It was changed in 2003 to the Honda CR85R and subsequently to the Honda CRF150. Several changes were made throughout the years from being air-cooled to water-cooled and different styling each year. The CR80R Expert started production in 1996. The machine was powered by a 2-stroke engine and utilized a 6-speed manual transmission.
Years later I switched to quads and I raced Gopher dunes and got a third, then Auburn Hills got a second, and then Paisley Rat track where I said I'd never race again and I won! After that I was addicted.
How often do you ride? Is this enough for you? How do you prepare yourself and how do you prepare your machine for the next ride? What do you take with you? Maybe you have some kind of universal kit for riding?
I ride my dirt bike a few times a week at my private track near Thorndale, Ontario, Canada and ride 4x4s every few weeks up north sometimes with KingBossQuad and all sorts of different riders! We always have a ton of fun and get a ton of content for YouTube. My favorite is when we travel to the USA to the Mud events and get to meet all of our followers. On small rides we usually bring tools and lunch but on big rides in the USA we bring a ton of spare parts especially axles! We seem to break a lot of those!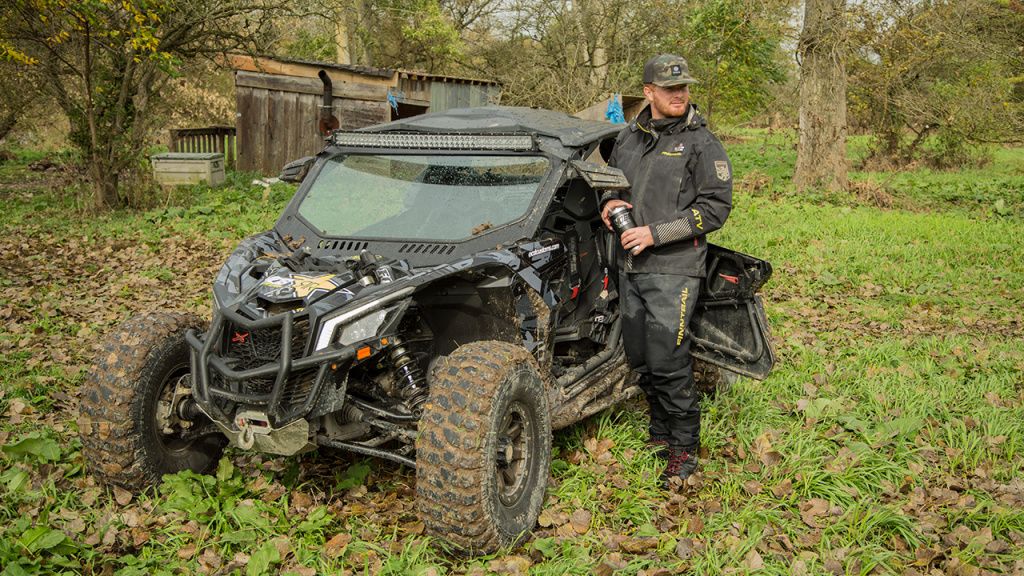 Tell more about your current machines. What did you change in it and for what purpose?
My current machines I have a YZ450F dirt bike for training, a KTM 450 SX quad that used to be my old race quad, and a Maverick X3.
I said I was going to leave the Maverick stock when I first bought it but then the phone started ringing from different brands and the sponsored parts rolled in quite fast. I like to go fast so I didn't lift my machine just boosted it to 200HP with an Evo Powersports tune and put 32's on from SuperATV. I could go on and on about the parts list but my favorite is the shocker pipe and launch control from Evo Powersports, it shoots massive flames at night.
What brands do you trust in tuning?
The brands I trust for my Maverick are obviously Can Am, Evo Powersports, SuperATV, AuxBeam lighting, Rhino Axles, FINNTRAIL Waders. They get me where I need to go and they're always just a phone call away if I get in a bind.
Off-road
waders
are the core piece of riding gear for ATV & UTV riders
Find out the best look for you
Many people know you, watch your videos, and follow you on Instagram and YouTube. But not everyone knows what is your profession, what do you do? Tell us, why did you choose this job? Has it ever happened that off-road skills helped you in your work? Or vice versa, did your work skills help you during the ride?
Everyone knows about my YouTube and Instagram but no one really understands what I actually do... It's a lot more than just having fun all day. I wake up every morning and start by answering hundreds of emails, comments, and just checking on social media. Then I spend a few hours editing the content we filmed the day before depending on how much we filmed or if I have enough content for an awesome compilation.
Then off to the gym to train and out to the farm to ride, film, or just take care of the track. I usually don't get home till 6-7pm then I start off loading footage to be edited the next morning. Most people think I just wake up and piss excellence but there's a lot of behind the scenes work that always needs to be done Especially keeping my machines washed and clean for YouTube.
I'm also my own agent and I work for another company handling their social media influencers so I average 12-14 hour days, the phone never stops ringing.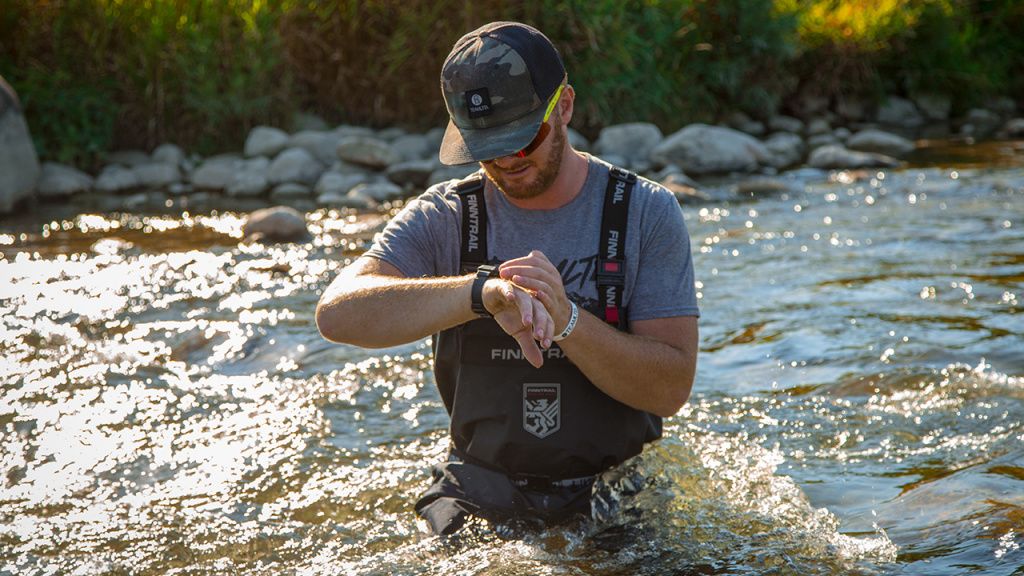 Do you play any other kind of active sports? If not, what would you like?
Other sports I play are volleyball in the winter when my jobs slow down and baseball in the summer, but my schedule gets so busy in the summer it's hard to find time to do anything else.
Some of the videos on your channel are pretty crazy, you know. All these crashes, firing and so on. How did you come to this? Is it difficult to make such videos and where do you get the cars for all this?
Some videos are pretty crazy on my YouTube channel, I never intended to get into this when I first started my channel but YouTube is so saturated now you have to be always thinking of the next thing and thinking of things that most people can't do and what people want to see. That's the main reason I got into jumping cars and travelling the world, the views were 100 times better than racing motocross and it's a lot less hard on my body.
Blitz Round
ATV or SxS?
SxS for sure
Muskeg or Mud?
MUD
Can-Am or Polaris?
Can-Am 100%, you couldn't pay me to switch to any other brand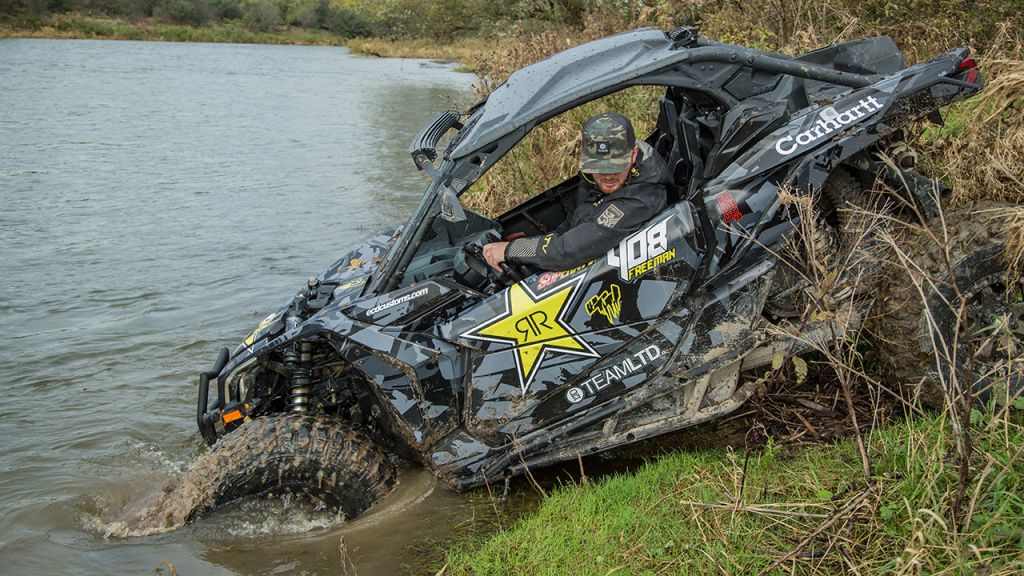 Is there anything to add for our and your subscribers?
I would just like to thank everyone that's helped me along the way, it's been a wild ride and is going to continue to get more wild. I also want to thank my followers, I wish I could meet with you one by one and shake all your hands, you guys are the reason I keep pushing the limits, and no matter how busy life gets…
Friends & Family always come first, they've been here from the beginning, they helped me through all the highs and lows when I wanted to quit, when I broke my back and almost died and they'll be here till the end.
Thank you FINNTRAIL!