ATV Tuning Q&A: Matthew Myler
1 June 2020
Newfoundland tuning! We have prepared for you a new cool interview. This time we have Matthew Mailer and his monster-ATV at a party! Matthew kneads mud and swamps on his charged renegade fully equipped in Finntrail. He is also a cool photographer. Read how Matthew tuned his quad and learn to understand tuning with us!
Hi, please introduce yourself, tell us about your ATV, the configuration and why you chose it.
Hello everyone! Myler is with you. I hope you are all safe and the pandemic has bypassed you.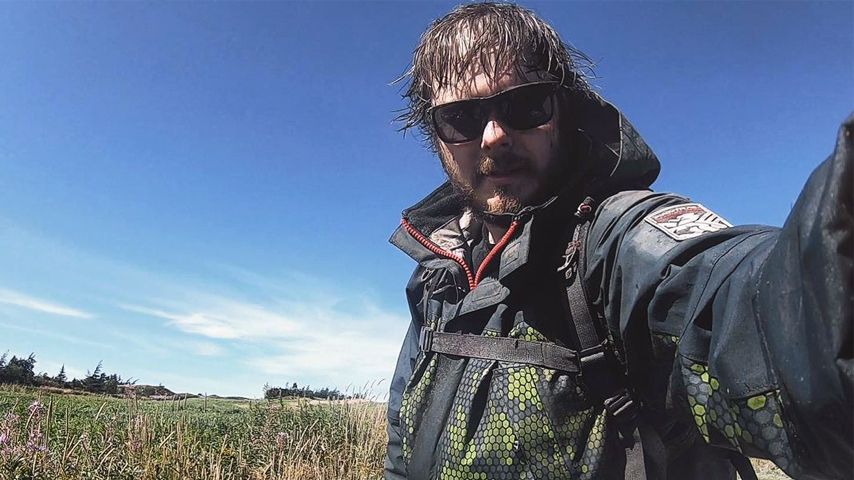 This is the 2015 Can-Am Renegade X XC 1000. I chose the Renegade because I always liked them. In fact, this is my second ATV. I like the Renegade for its sporty, aggressive look, so when Digital Camo came out, I immediately wanted it. I sold my previous 2013 and took this one.
How did you customize your ATV?
Let's start with the engine. Two and a half years ago, I replaced my stock with Mr.RPM 1020 with an increased volume. Replaced everything: pistons, connecting rods, camshaft parts, I have a racing intake here, a 54 mm throttle, a new engine mount. I had an ECU Monster EFI reflash — did it here in Canada.
I use a Power Commander V auto-tuning electronic control unit. Suspension and lift wise it has stock X XC Fox Shocks. In addition, three quarter inch springs and one-and-a-half-inch High Lifter bracket lift. And I also have High Lifter arched a arms. Axle wise, I have two Warthogs upfront.
Behind — one Demon and one stock one. I change the axles all the time because they constantly break, so I buy everything that is available when a replacement is quickly needed. The exhaust is my HMF Performance Series. It is on the atv from day one. It has vector tips on it, so they look a little different than normal, but they sound great, and I really like them. So, I will continue to use them.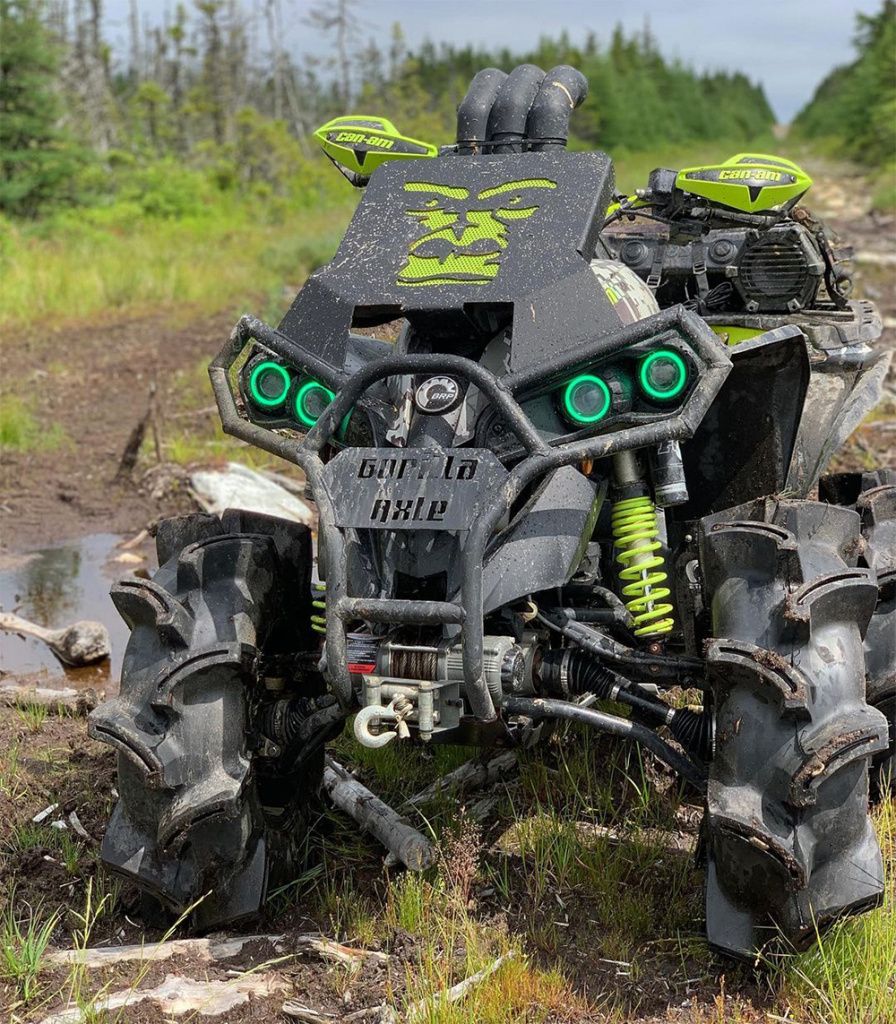 Tires and wheels. I have 29.5-inch SuperATV Assassinators on 14 inch rims. These were the quickest rims that I could get, because I really could not wait to ride. I also have one-inch wheel spacers. Pines Power Sports Marine snorkel kit. This is a custom kit from mech Mike. They do not sell kits, but if you bring your atv to them, they will install everything. I have Full Throttle PowerSports floorboards — I bought it here in Canada. I think that soon I will go into a more racing style to lighten and change the look. I have a QSC STM clutch kit with a Maverick belt, they are bulletproof. I have been using them for several years and will continue to use them. Headlight: Dura Series by NL Light Bar plus off-road accessories.
Additionally, I use green LED rings to give the headlights even more coolness. I'm using winches from the Canadian company Champion. I bought one on sale for $ 90, and they are great winches for the money. If it breaks within a year, I will return it under warranty or just buy the same for $ 90 — in general, quick and easy.
I also have a Boss audio system, I bought it recently, and can no longer wait to blast some tunes while smashing some mud.
I get constantly asked about my shifter. I have a knuckle shifter from Pines Power Sports Marine. I got it from Pines when I got the atv built. You can also get a similar one from the original modification — it will not be exactly the same as mine, but still pretty cool. Most recently, I installed a dual air filter — from Twin Air. Before that, for the last three to four years I have used K&N, but now I just decided to change them.
As I said, I have X XC ATV. In 2015, when I assembled it, I immediately replaced the rear differential lock from the X MR Outlander, just to give it a sturdier rear end.
ATV
waders
are the core piece of riding gear for off-road riders
Find out the best look for you
What do you change most often and why?
Axles change all the time, because they constantly break. And I like to try everything new that is on the market or what I can get.
Tires. I also change them from time to time. Now for about two years I have been at Assassinators, but I want to change them to trail tires eventually. Tires are definitely another piece that I change quite often.
What brands do you trust in tuning?
I like SuperATV, they make everything for ATVs. The Rhino axles are great. I am thinking of switching back to them, I had the most luck with them. They make the Assassinators, and at one time were a breakthrough among mud tires. Another company is the Dura Series, from my buddies from NL Light Bars. I have synthetic rope and headlights from them.
High Lifter — they make great products as well, the front suspension arms are from them. This is probably the best thing I had on the ATV, I really like them. And of course, Can-Am.
How do you plan to upgrade your ATV or what do you plan to improve?
I do not plan to upgrade it anymore. I am pretty happy with the way it is now. If I do anything with it in the future, I will get a set of trail tires and just bomb them around. Well, or if I go completely crazy, I'll take the lift out, slam it down, stretch it, put a set of slicks on it, and see how quickly I can do the eight-mile track.
Advice for beginners. What should a beginner with a stock ATV upgrade first?
The first thing I would do with any ATV would be to buy a proper clutch kit, or a full set of clutches, if possible. A couple of good mud tires, a 30 inch Silverback, for example. One of the cheaper, better-known tires.
A good belt is very important. Maverick belt if you have Can-Am. G-Force Gates are pretty good, but not as good as the Maverick Brp 1, in my opinion. A good winch with a synthetic rope — it is safer.
The rad kits and snorkels are not so necessary at first, except for just some completely crazy situations. If I had to pick, I'd go with radiator kit over snorkels. After all, I do not want the quad to overheat right on the track, because if this happens, and it's pain to ass when it does overheat on the trail.
I mean, snorkels is something you could avoid but if your riding even on trails you're getting dirt, debris and dust packed in your rad all day long and it's not falling under overheats.
Well that's all. I hope it turned out not too long and boring, but I figured i'd just do this right quick. Hope that the pandemic stuff will taper off and everybody can get back to normal lives. Thanks for watching.
See ya!