Interview: No Shot Racing team
18 June 2020
So here they are! Stephan, Michelle, Mike, T.J and Christie — the No Shot Racing team. Today with this cool company we talk about their ATV-predators, count all the championships they got and about real passion in ATV off-road with Finntrail gear. Read the article — feel the real ATV-power!
Hi! Please introduce your team and tell us where people can find you?
​We are No Shot Racing! We originated in Woodlands, Manitoba, Canada. Founded by Stephan Wiebe & Michelle Riding. Our current team consists of 5 main riders, Stephan Wiebe, Michelle Riding, Mike Harrison, T.J Fehr, and Christie Fehr. You can see us at mud racing events across Canada & The United States such as River Run, Filthy Redneck Country Club, Alberta Mud Racing Series, and Manitoba mud/ice racing events.
How long have you been driving off-road? What made you take your ATV ride for the first time?
We have all been riding some sort of off road machines since we were kids. As any young kid, when you see a cool machine, or have a ride on one for the first time your pretty much hooked! No looking back once you have the rush of pressing that throttle!
How many championships have you participated in? How much prizes did you get?
We have participated in countless amounts of racing finals series, but you can't win them all, and there is plenty of amazing competition out there! Between our team we have 38 — 1st place, 24 — 2nd place and 10 — 3rd place.
Do you remember your first race in life? Or which race was the most memorable and why?
We all remember our first race. Pretty nerve racing your first time! Except for Stephan! He's always cool, calm and collected! We think any racers most memorable race will be one of two, your first podium finish, or your first big wreck! Both of those happen to everyone and is all part of racing.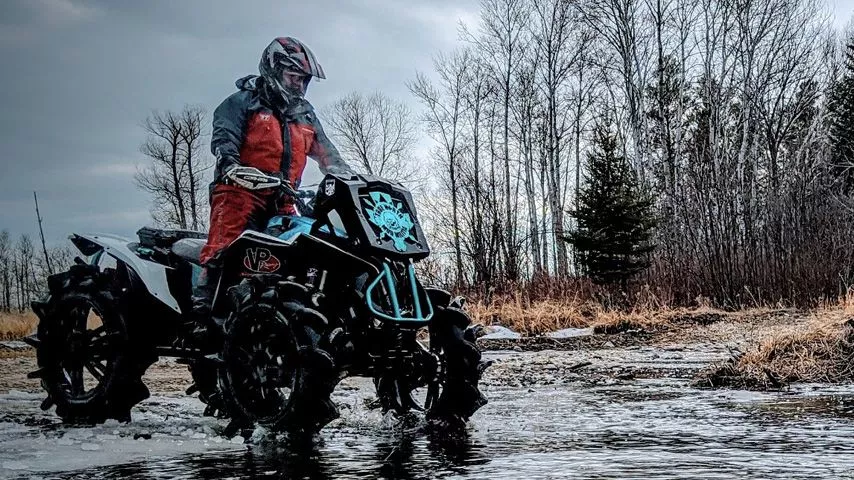 COVID-19 is raging around the world, the competition is canceled, but for professionals it is important to stay in shape. How do you spend your time before or between competitions? How do you prepare yourself and your machines?
Well, most of us aren't to "in shape" lol, but it is important to stay active and get as much seat time as you can on your machine to stay comfortable and fresh. Of course this isn't hard for us because we basically live and breath riding so we get on our machine every chance we can!
Well, how we spend our free time varies between team mates, some of us have kids, work out of town, demanding jobs etc. Every free chance we get though we are either riding, racing, or wrenching on our machines! Before every race we go over our machines to make sure they are in tip top shape! After all it sucks to lose by breaking down or over something silly.
Find out the best look for you
Do you have some kind of universal kit for competition? Any rituals which help you?
Honestly we usually show up the night before, have some fun with friends with a fire and a few drinks and just try to chill before the big day! Racing really is a big family, we all know each other. Sometimes we argue, and fight but at the end of the day we all have the same passion and love for racing.
Tell more about competitions you participate in. How do they usually go? What do you like most about racing?
The competition we participate in are all different! Small, big, mud, ice, oval straight! Basically we just love to race ATV! Usually we show up the night before, the next morning everyone will doing last minute changes to their machines and registering for the race, then it's race time! The thing we like most about racing is just the rush and feeling you get, especially when you over come and opponent!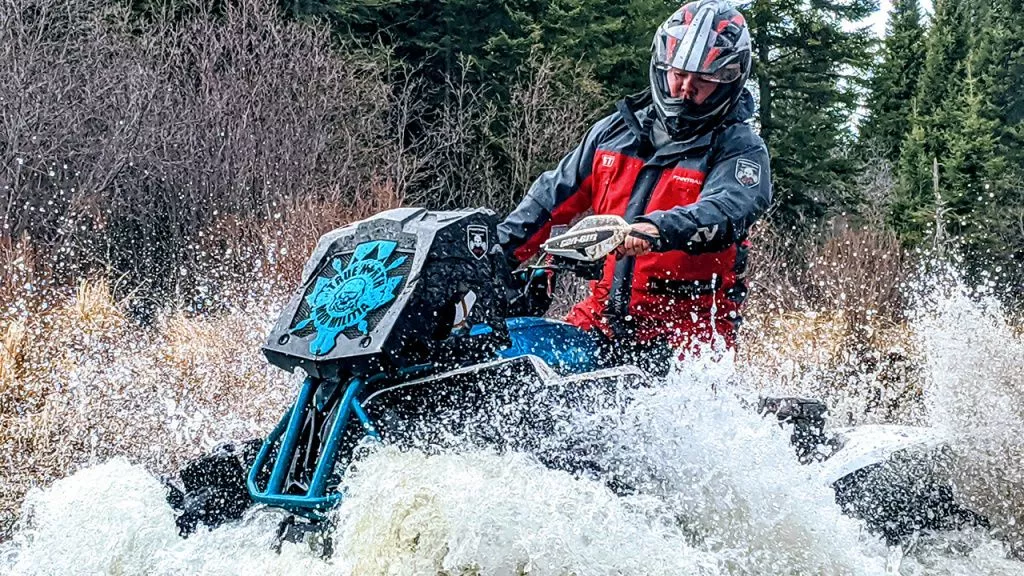 Blitz Round
Mud or Snow?
Definitely mud!
Second Place or third place?
If you aren't first, your last!
ATV or SXS?
Truthfully, they both have their place, but between us all there is only one SXS. So I guess you could say we prefer ATV.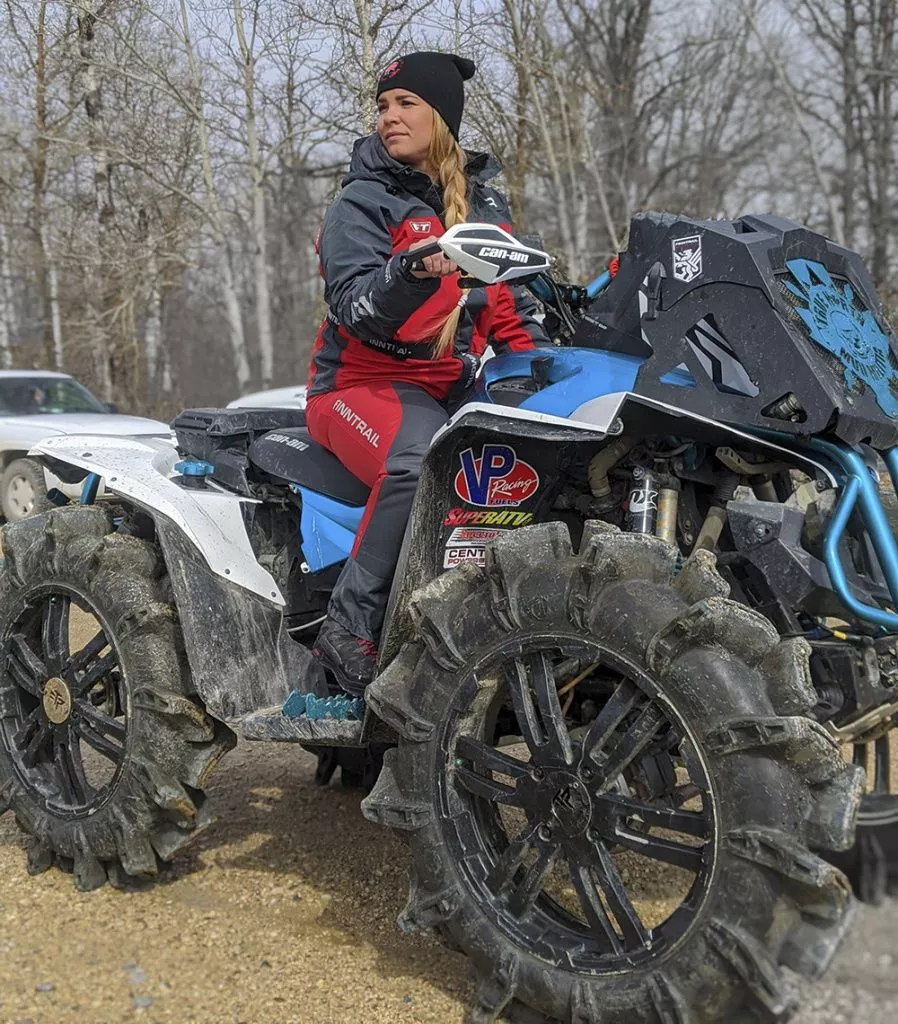 Tell more about your current machines. What is it? What did you change in it and for what purpose?
Well this is going to be a bit of a list but here it is!
Stephan: 2011 Can-Am Outlander
Сvtech/stm clutches from Maddmack motorsports
The Mod Shop 1020 big bore kit & stage 3 cams
Hmf exhaust, pcv programmer, Boss Nos nitrous kit from Century Powersports
Flashed ecu
PG gears maverick rear diff, chromoly driveshafts, and gear box
33" motohavok tires with fuel wheels from Specialty Tire & tube
Michelle: 2006 Can-Am Outlander Max
Full stm clutches from Maddmack motorsports
Get Torqued 1133 big bore kit, race cams, & intake
Exhaust, nitrous kit, and Pcv programmer from Century Powersports
Flashed ecu
PG gear maverick diff, driveshafts, and gear box
Custom super crushlocked 32" super ATV assassinator tires from Specialty tire & tube
Mike Harrison: 2011 Can-Am Outlander
Сvtech/stm clutches from Cvtech/stm clutches, flashed ecu, from Century Powersport
The Mod Shop 840 big bor, cams, exhaust, & dyno tune
PG gear maverick rear diff, and gear box
Custom crush locks on 32" super ATV assassinator tire from Specialty Tire & Tube
T.J Fehr: 2009 Can-Am Renegade
Full Stm clutches from Century Powersports
Pcv programmer, Rhino axels, Boss Nos nitrous kit and countless other parts from Century Powersports
The Mod Shop 1085 big bore, stage 4 cams, full exhaust, & dyno tune
PG gear Maverick rear diff, gear box & front diff
Full Throttle Powersports super crush locks
Super ATV 32" Assassinator on STI beadlocks, as well as on the super crush locks from Specialty Tire & Tube
Custom wrap from RMC Graphx
Christie Fehr: custom 2016 Can-Am Renegade XMR MAX
Cvtech/stm clutches from Century Powersports
The Mod Shop slip on exhaust
Pcv programmer, and rhino axels from Maddmack motorsports
Customs chromoly driveshaft from PG gears
36" super ATV assassinators on super ATV rims from Specialty Tire & Tube
Custom wrap from Lea Marc Inc.
Of course there is much more to add to this list for us all such as custom powder coating, snorkel systems, frame reinforcement, custom wiring etc, but the main once for use is what wins us races!
What brands do you trust in tuning?
Really when it comes to performance parts and tuning we choose a Canadian company called The Mod Shop out of Grand Prairie, Alberta. Our tires we always choose Specialty Tire & tube, any other parts we always go to Century Powersports or Maddmack motorsports out of Winnipeg, Manitoba. We find these companies always got what we need and are always willing to go above and beyond for the customer.
Find out the best look for you
Can you can give an advice for those who are just starting to take part in competitions? How to prepare an ATV for it?
Some advice for a new rider or someone getting into racing would be to build your machine right. Go with what your gut tells you, and do tons of research! When it comes to preparing your ATV it always good to get some advice from some knowledgeable riders/racers or companies who have years of experience in the industry.
Is there anything to add for our and your subscribers?
We would like to add that anyone who is thinking about getting into racing to try it! It's an amazing sport and is like nothing else out there! We hope to see some of you out there in the pit racing one day. Also, we really recommend everyone give Finntrail wading gear a try! This stuff is honestly the best of the market. We have tried so many other brands, but this gear tops it all!