Top 10 Gift Ideas for Off-Road Riders
20 December 2022
Are you looking for the perfect gift for your off-road buddy? You're in the right place. Here are our tried and true gift ideas that will lift your Christmas spirit up. From a top-of-the-line waders & boots combo to inexpensive accessories - there's something for every off-road rider on the list.
Christmas Sale! All these items are now up to 30% off. Hurry up to get the best deal.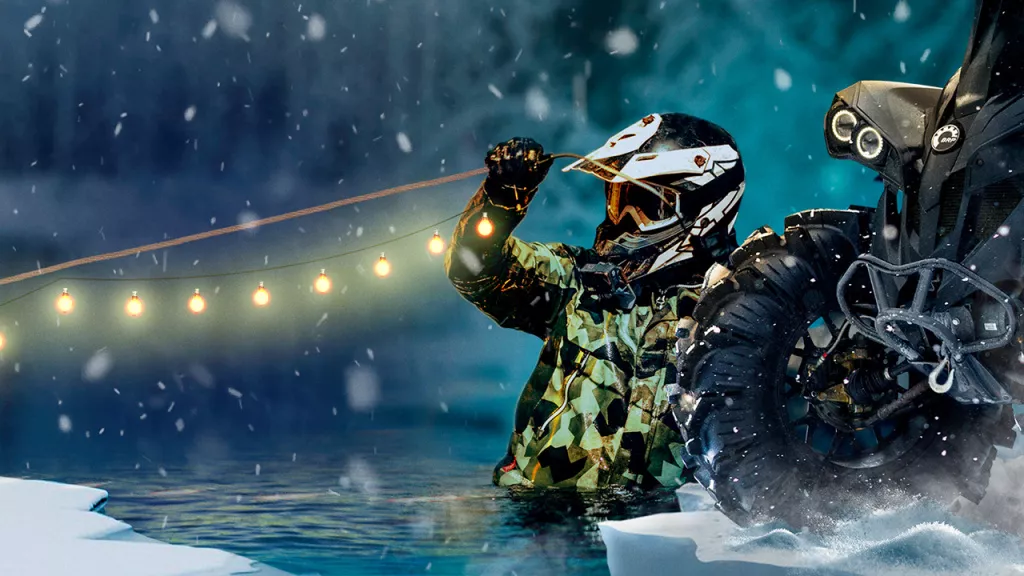 Over $150
A set of the most durable waders with wading boots
Off-road riders DO love new gear. You will never go wrong with a set of "built to last a lifetime" waders and heavy-duty wading boots. More durable protection against water and mud means more funny days on the trails. So, whether the person you're giving these to is a weather-hardened warrior or an entry-level rider, this precious gift will surely make them happy.
Pro tip: To pick the proper size of waders and wading boots, make sure you know the measurements and match them to the size chart.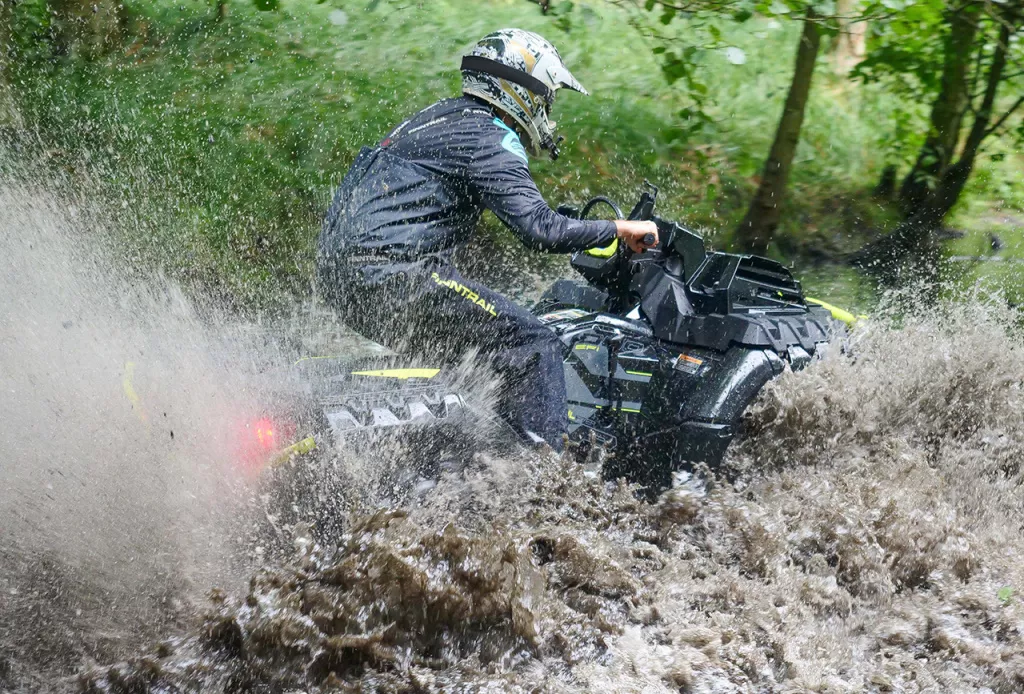 ENDURO LIGHT Graphite Set. Click here for more details or order online
The most advanced off-road waders
A new pair of waders is often the most exciting outfit for a mud warrior. When packed with the latest features and technologies, it can be the most luxurious gift almost every off-roader is dreaming about. So, if you want to make your riding buddy stoked, look for breathable stockingfoot waders made of abrasion-resistant reinforced membrane fabric with dirt-repellent coating and equipped with removable protective knee pads for more protection against impacts.
Pro tip: When buying waders, make sure that all seams are securely taped and zippers are heavy-duty and mud-resistant to handle common off-road hazards.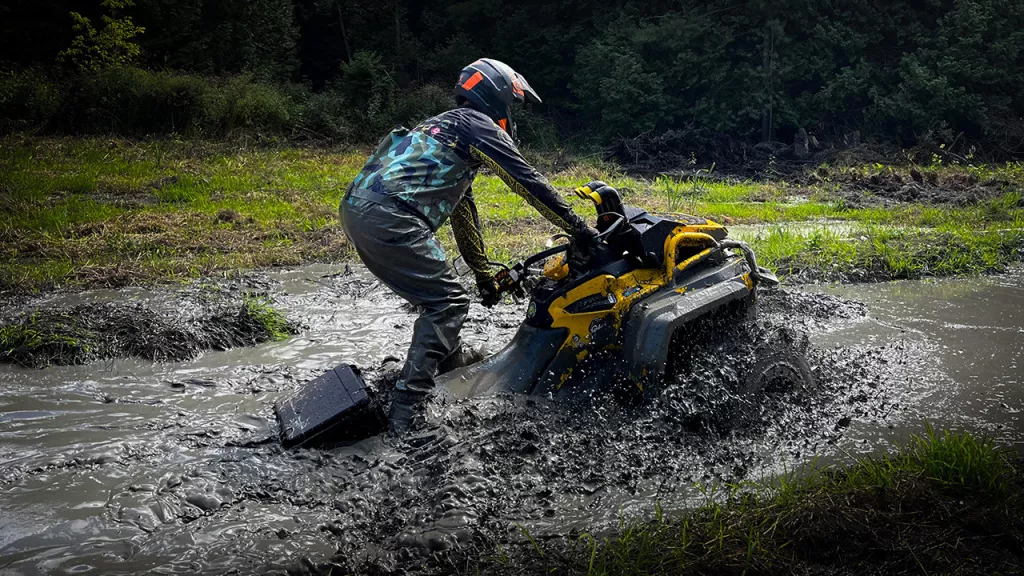 SPEEDMASTER Camoarmy 1528 Waders. Click here for more details or order online
A waterproof jacket for ultimate comfort on the trails
And why not get a waterproof jacket to complete the combo above? Off-road riding jackets made of membrane fabric are perfect for keeping out mud, water, and cold. They deliver a far more enjoyable and comfortable experience for any rider in any weather.
Pro tip: With a wide range of designs and colors in our lineup, you will always find a jacket that will match the waders for the ultimate look.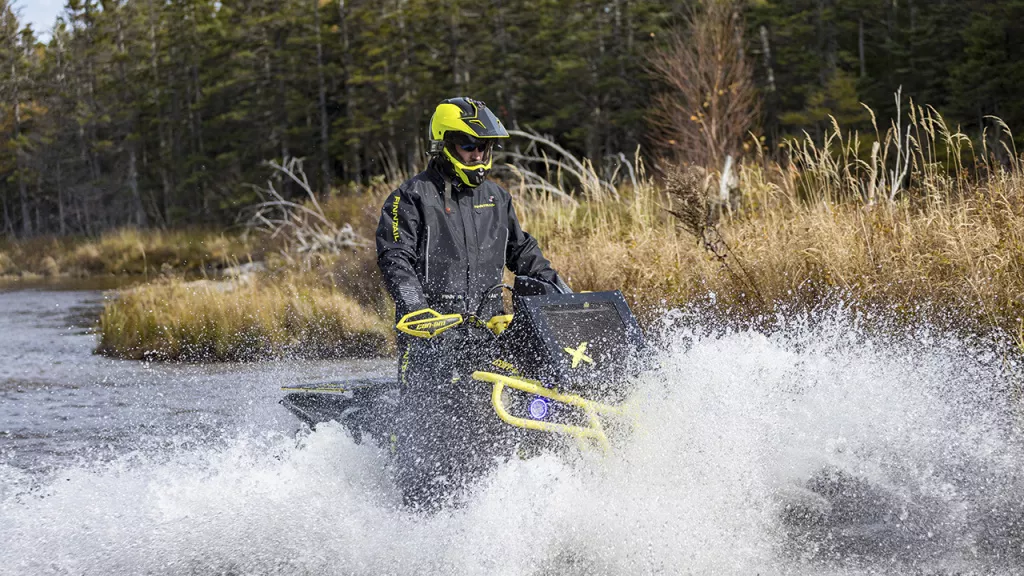 MUDWAY NEW Graphite 2010 Jacket. Click here for more details or order online
Reliable rain suit for rainy weather and wet environments
If your giftee is an outdoor enthusiast, he will definitely appreciate a versatile and all-round outfit. A breathable rain suit is the item that will meet all his needs, since it can be used for a wide range of activities and everyday wear - from off-road riding to yard working on a rainy day. Look for a suit that is waterproof, breathable, wind-resistant and yet lightweight.
Pro tip: For off-road riders who wear a helmet, choose a suit with a fold-away or detachable hood.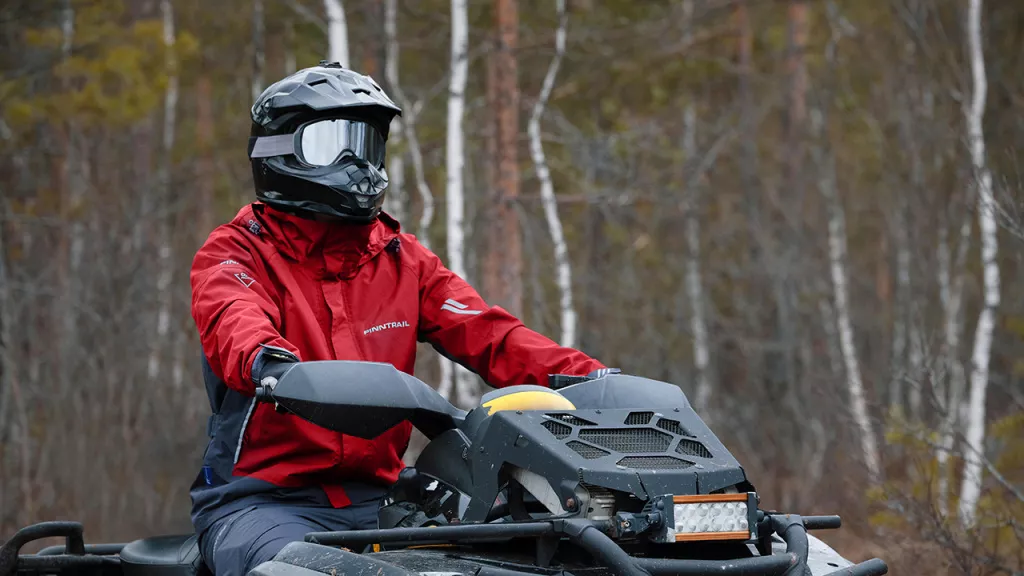 GT Red 3425 Suit. Click here for more details or order online
$50 - $150
Versatile softshell for outdoor activities
Experienced off-road riders use layers to adapt to changing weather. For warmth and breathability during active outdoor adventures in changeable conditions, a softshell jacket is a great option. It can be used as an insulating mid-layer when you ride in the cold and need something more robust than a fleece or for everyday wear in cool weather.
Pro tip: Softshell jackets are a versatile functional garment that can go anywhere, on or off the vehicle.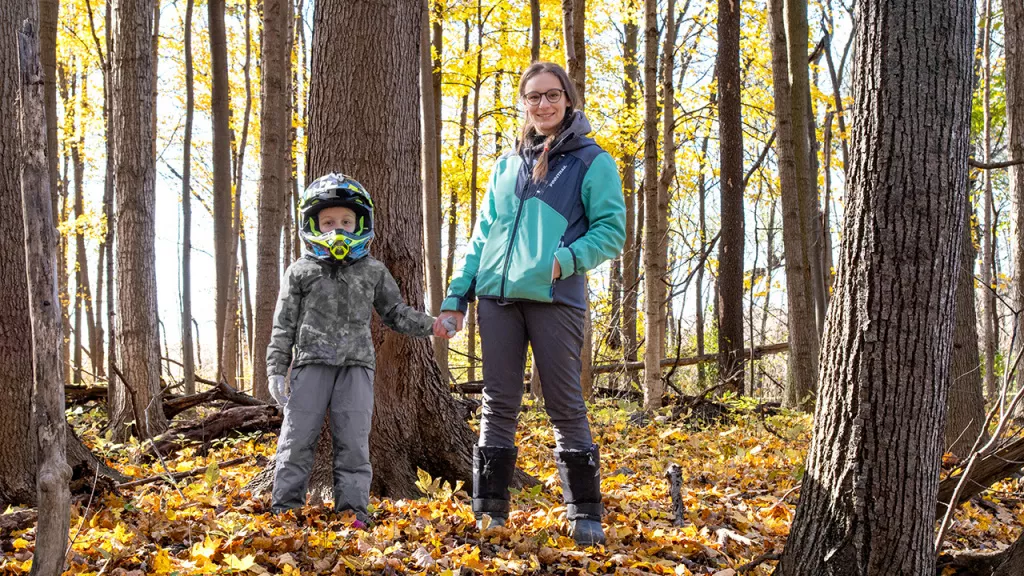 NITRO Green 1320 Jacket. Click here for more details or order online
Moisture-wicking base layer to stay dry all year round
Thermal underwear is a fantastic Christmas gift for an off-road enthusiast. Its main function is to move moisture away from the body to the environment. With a proper base layer, the breathable outerwear (membrane waders and a jacket) works at its fullest. Otherwise, the sweat produced by dynamic outdoor activities stays next to the skin and the chill in the air freezes a rider to the bone.
Pro tip: Thermal underwear comes in a variety of models, to benefit various temperatures and activities. Choose the one that will suit your needs.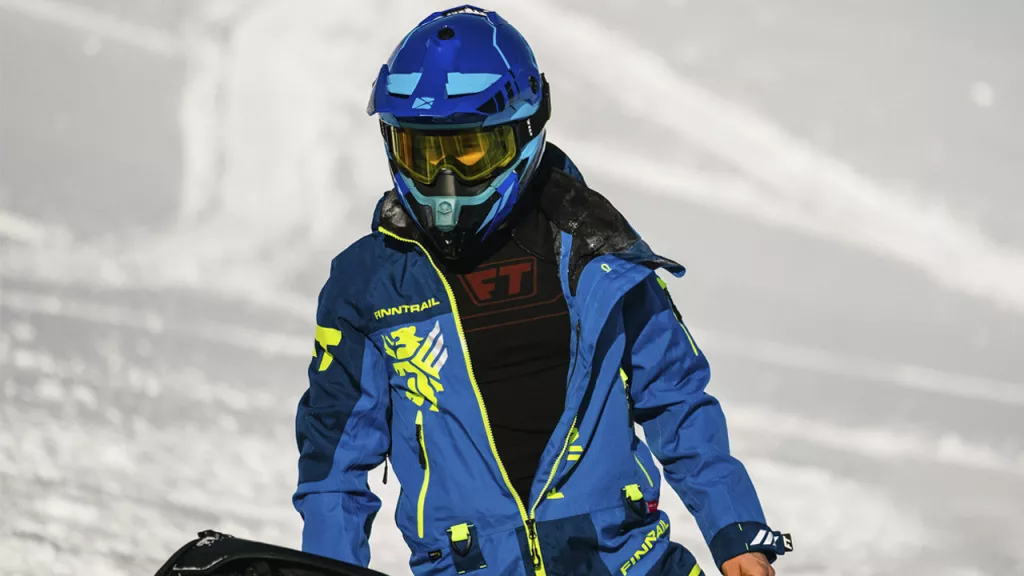 ALL SEASON Black 6205 Thermal underwear. Click here for more details or order online
Under $50
Compact waterproof backpack for wet adventures
The importance of a waterproof backpack cannot be overemphasized on muddy trails. This is an item that will keep all essentials clean and dry no matter how wet the environment. Off-road backpacks are made of super durable fabric that is resistant to wear and tear. For best protection, they feature welded seams and roll-top design.
Pro tip: Make sure you fold the backpack 3-4 times before buckling the top cover to make it fully waterproof.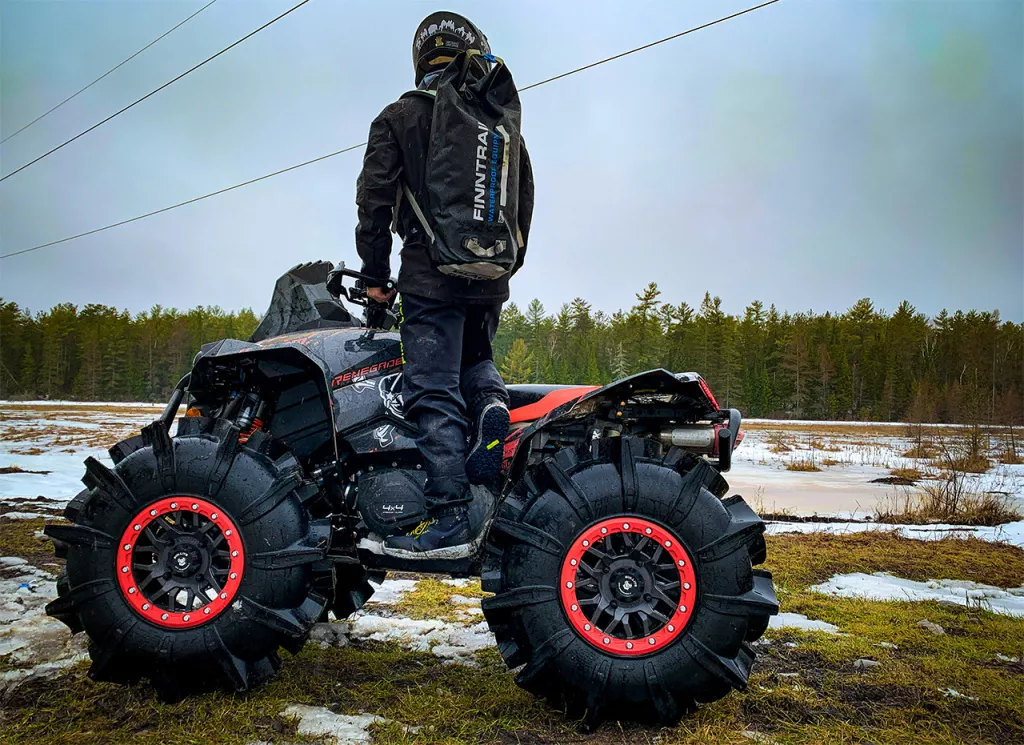 TARGET 20L Black 1716 Waterproof backpack. Click here for more details or order online
Comfortable all-year-round face mask
On chilly days, an off-road rider needs to be protected from head to toe. But even if he bundles up in waders, jackets, thermals, and helmets, his face is still exposed to the elements. Balaclavas help protect the face against cold, wind, and dust. So, if your giftee is an off-roader who rides no matter what, then the face cover is definitely a winning choice.
Pro tip: 100% cotton is not recommended for active wear, since it absorbs sweat and dries slowly. Opt for synthetics or merino wool.
TURBOBALA 9723 Balaclava. Click here for more details or order online
The most versatile waterproof off-road gloves
Losing grip on handlebars because the fingers are frozen is a kind of experience that no one wants to have in his life. Even if your giftee's ATV is equipped with hand guards, it's still important to wear gloves. A good pair of waterproof gloves made with reinforced key areas for the harshest conditions will make you the best gift-giver ever.
Pro tip: If water and mud are definitely a part of your giftee's off-road life, look for a glove that offers 100% waterproofness (remember that waterproof and water-resistant garments are not the same).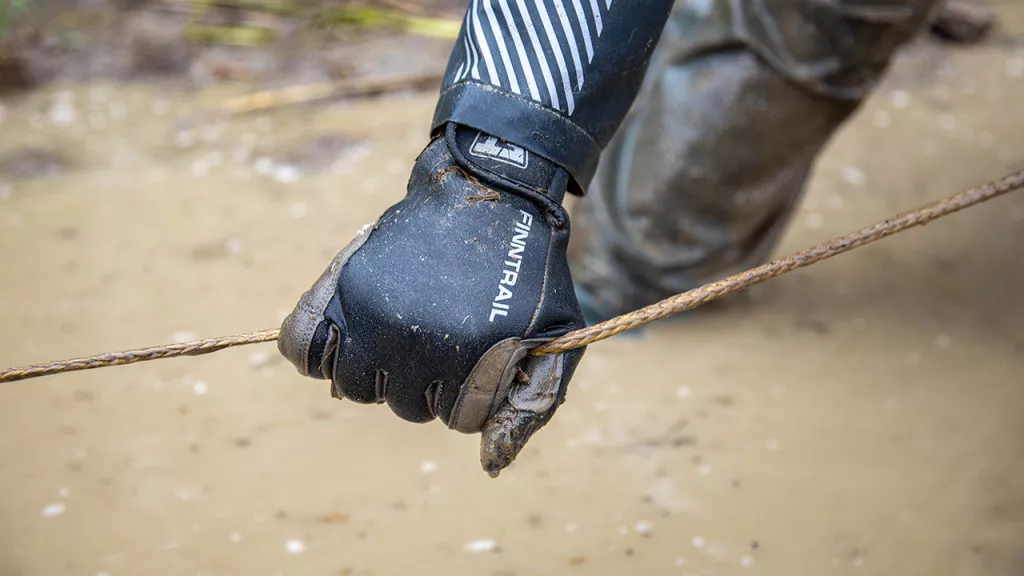 ENDURO Grey 2760 Gloves. Click here for more details or order online
Classic cap for outdoor adventures
Outdoor enthusiasts can never have too many caps. Whether it's to stop the sun beating down on your eyes or a shield from the raindrops as you go riding through all-weathers, a decent classic cap is just the perfect stocking stuffer for almost every rider.
Pro tip: For maximum comfort in hot weather, opt for a cap made of breathable technical fabrics with a meshed back.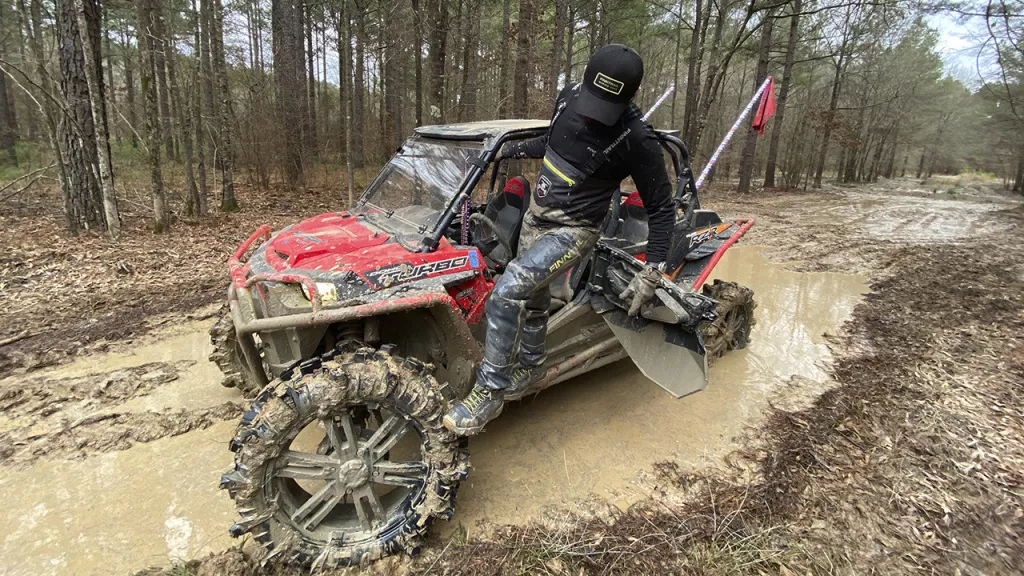 CAP Graphite 9610 Headwear. Click here for more details or order online