Wading Boots vs Rubber Boots: What to Choose for Off-Road Riding
25 July 2022
Your footwear always plays a significant role in ATV/UTV mud riding. In order to choose the best boots for ATV mudding and wet adventures, you need to understand what you're buying and what quality looks like. Read this post to learn about wading boots so you can make a purchase you'll be happy with.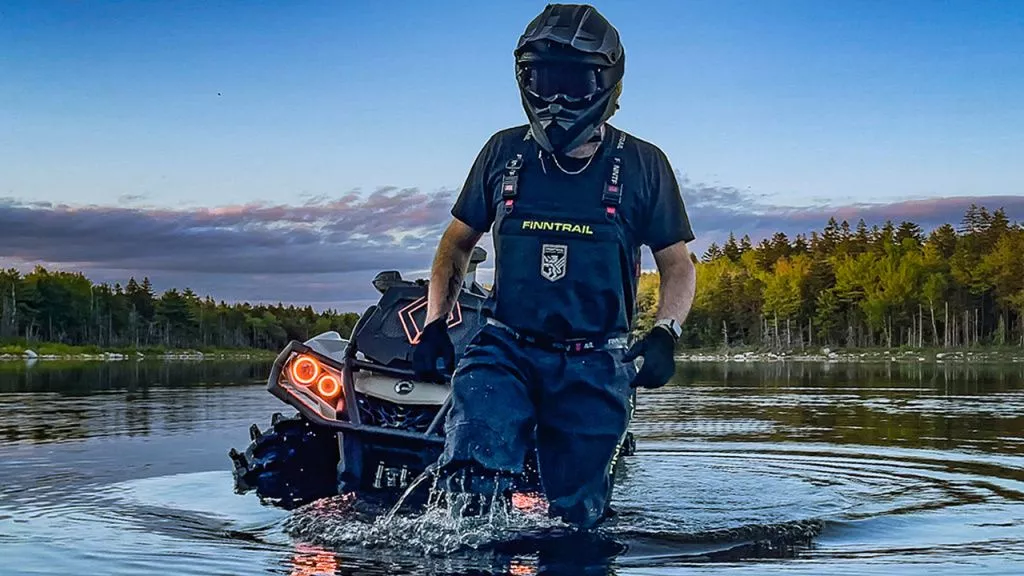 Why Do You Need Special Footwear for ATV/UTV Riding?
Any time we plan on getting muddy or wet while on our four-wheeler, we need special gear and footwear. Even for times when you're just cruising and not riding on tough terrains you'd better leave your sandals, sneakers and other regular shoes at home.
Remember, it's always a good decision to wear special footwear for ATVs when riding on trails. A high-quality pair of ATV riding boots will keep you clean and safe. It will ensure superior traction on the machine and on the ground, make it easier to use the foot brake and protect you if a branch or stone hits your foot.
How To Choose the Best ATV/UTV Riding Boots?
When choosing the best boots for mudding and trail riding, you have actually two main options: ATV wading boots and rubber boots. They are both purpose-built for function. But which type will cover all your needs? Let's see how they differ!
Feature

Wading Boots

Rubber Boots

Purpose

All types of off-road riding: mudding, bogging, trail riding, long-distance ATV trips

Recreational riding and outdoor activities

Worn with

Stockingfoot waders

Suits or casual clothing

Breathability

Breathable and quick-drying, the holes in the sides allow air to circulate around

Not breathable, yet equipped with anti-condensation lining

Material

Made of advanced wear-resistant materials and durable synthetic leather

Made of rubber and 5 mm neoprene

Durability

Ready to handle prolonged exposure to water and mud.

Super resistant to abrasion, punctures, tears and cuts.

Ready to carry you through tons of mud and water.

Less resistant to sharp objects penetration.

Outsole

Rubber outsoles with mud-free tread patterns

Rubber outsoles with tough terrain tread

Grip

Excellent traction in the widest range of wet conditions.

Super grip and feel for the machine.

Good traction on slippery and soft-bottomed terrains

Fit

Tight-fitting.

Easy to pull the boot out if stuck in the mud.

More loose-fitting.

A boot may slip off in the mud.

Ankle support

Strong ankle support is provided in high ankle boots with padded boot collar

Good ankle support is provided by the unique design of the bottom

Weight

Lightweight boots in 2.4 - 4.6 lb range

Midweight boots

Comfort

Maximum comfort and performance on a long trail

Can weigh a rider down over the long term

Product care

Easy to clean with a brush and lukewarm water

Easy to wash in plain water
Here is a quick rundown of the highlight features that the wading boots and rubber boots offer.
Takeaways
Riding in the wrong footwear is like driving your four-wheeler with flat tires. If you feel uncomfortable, then a ride full of expectations will also go wrong. Yet, there is no shoe suitable for any rider, environment, and purpose.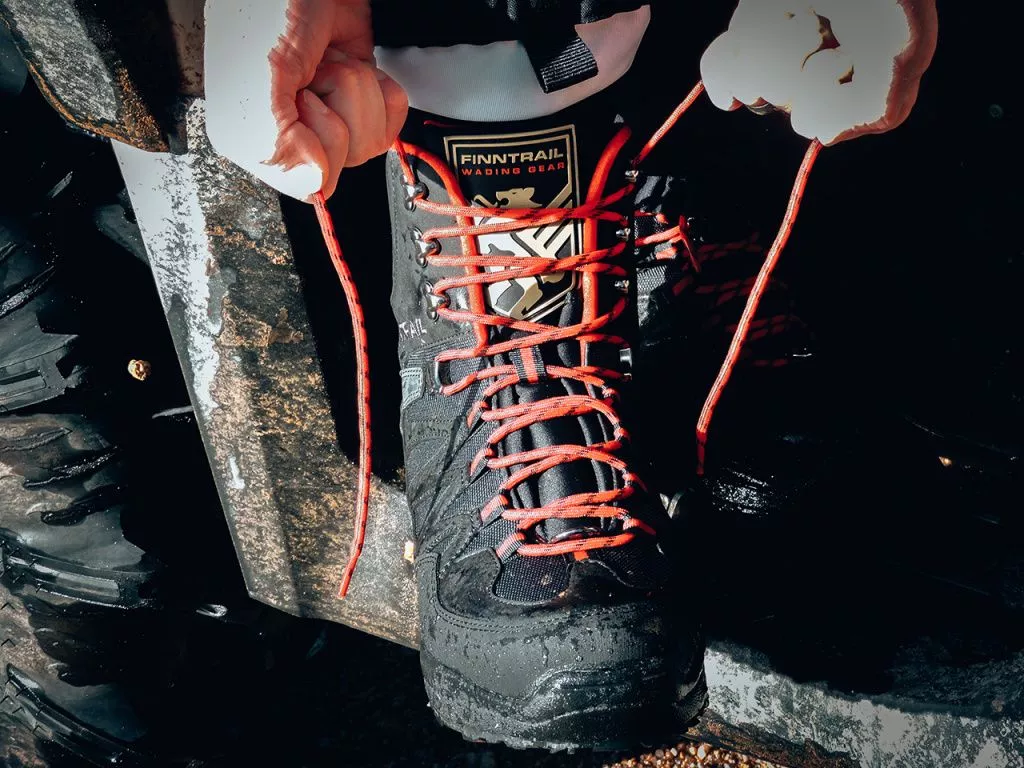 ATV wading boots are perfect for hardcore riding in water, mud, muskeg, and any type of off-road terrain. When worn with stockingfoot waders, they ensure everything that a rider needs - waterproofness, protection, stability, flexibility, and super comfort all day long.
Rubber boots are a great multi-use footwear. They do not demand wearing special stockingfoot waders. With any suit or casual pants, they will keep your feet dry and protected from wetness and muck. But rubber boots feel less flexible and more solid.
Then, the weight matters. Too much weight of rubber footwear will consume more energy and make you tired by the end of a day. Wading boots are usually much lighter. If wearing them, you will avoid rider fatigue.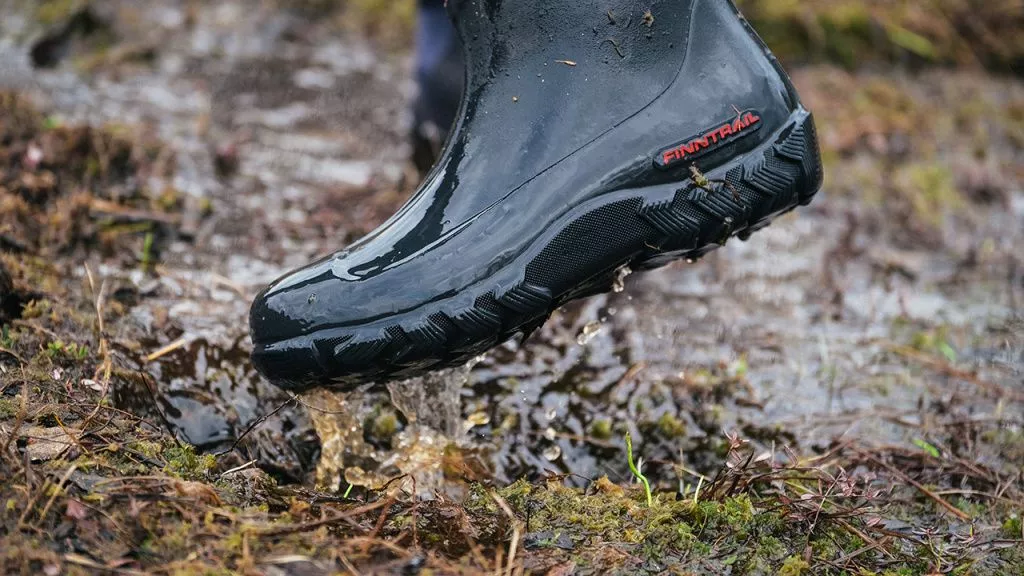 But not all riders are used to wearing stockingfoot waders or like the challenging terrains and environments. Some of them enjoy recreational trail riding in suits and casual clothing or prefer rubber boots just because this type of footwear had been the only available option for off-roaders in recent decades.
So, when choosing the footwear for ATV/UTV riding, follow this general rule of thumb - your boots should fit the terrain and activity, as well as provide the support and comfort you need.
Sign up for more content like this:
Subscribe to our blog