Waterproof vs Water-resistant
19 November 2021
Waterproof and Water-resistant. For many people, it's a pretty common misunderstanding that these terms mean basically the same thing. In fact, there is a huge difference for every rider who has once been stuck chest-deep in a water or mud hole. In this guide, we'll tell you why "waterproof" and "water-resistant" should not ever be swapped as synonyms.
WHAT DOES WATERPROOF MEAN?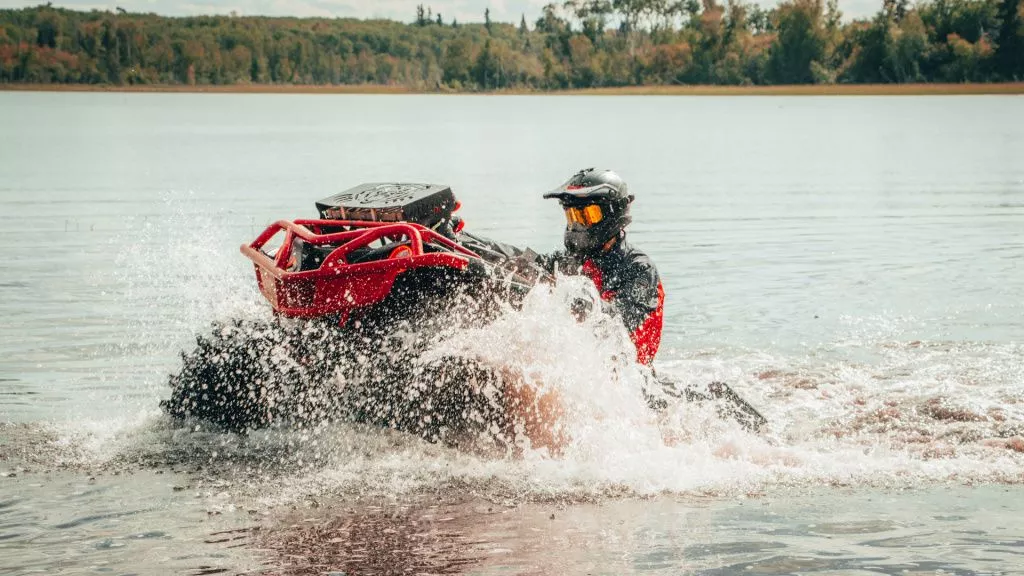 This is actually the top-rated protection against water ingress. When labeled as "waterproof", the garment is meant to provide a complete barrier to water droplets, therefore keeping your next-to-skin layers dry, and you comfortable and warm.
"Waterproof" is exactly what you need as an outer layer, when hitting deep streams, muskeg or mud holes on your ATV. It's also the best choice for any outdoor activity on a rainy day or even on a sunny day when the weather suddenly gets worse.
However, in this sense, a plastic bag is waterproof as well, since it perfectly keeps water from getting beneath it. But if you were riding in a plastic bag, you would overheat and get totally wet – from your own sweat. Right? So, your riding outfit should be not only "waterproof" to stop water from the outside, but also "breathable" to let the perspiration evaporate from the inside.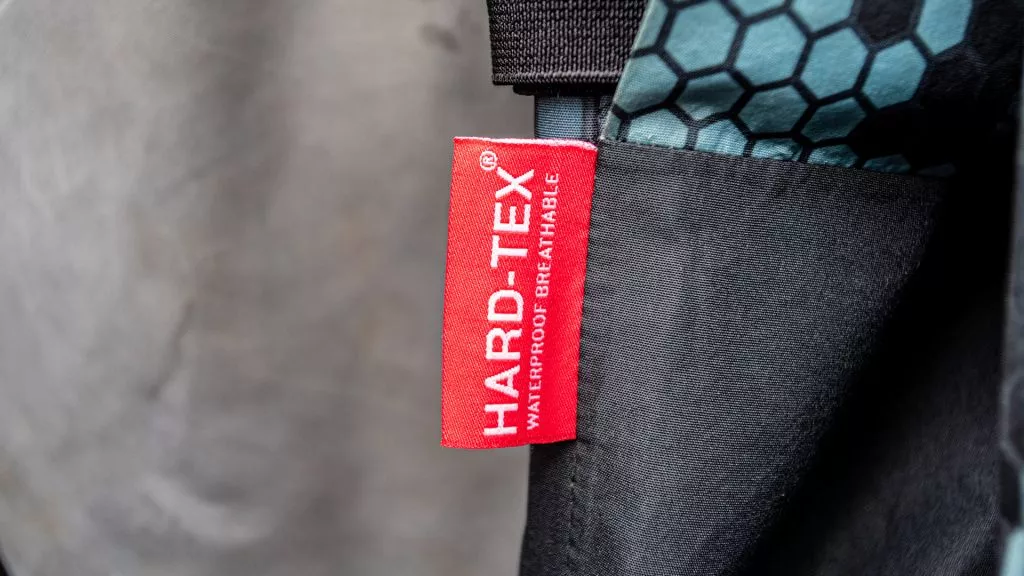 Through thousands of tests and decades of research have come fabrics with a membrane. Today they are at the heart of all high-performance gear. How exactly do they work?
Membrane is a wonderful shell which contains billions of pores per square inch. Each pore is much smaller than a water droplet and therefore stops water from getting in. On the other hand, these pores are larger than vapour molecules and let your sweat easily escape.
Membrane gear is waterproof, breathable, and lightweight. In a word, OFF-ROAD PROOF.
Perfect for prolonged fast-paced outdoor activities.
WHAT DOES WATER-RESISTANT MEAN?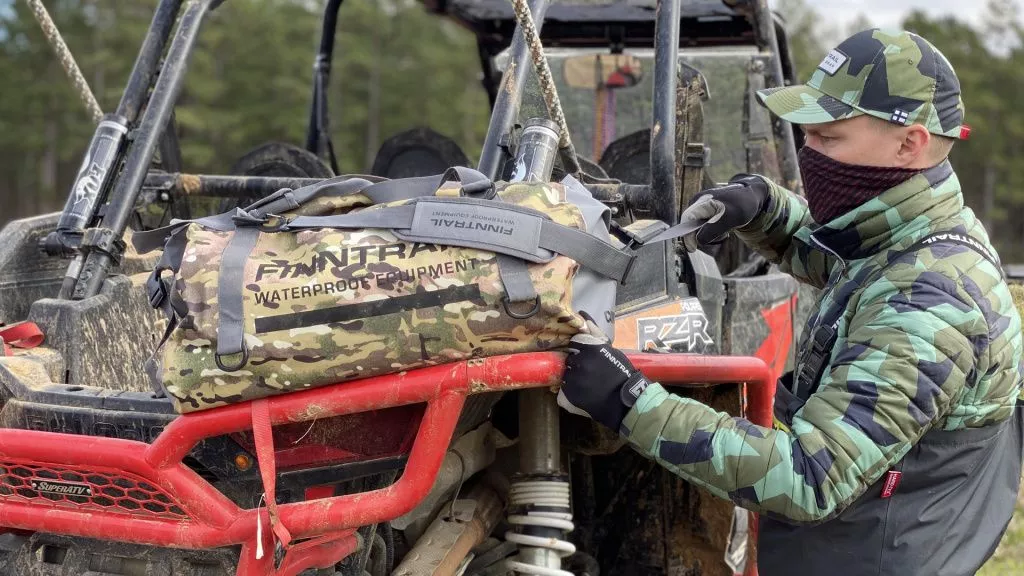 "Water resistance" doesn't offer a 100% complete barricade from water. But it's a mistake to think that water-resistant items are useless, since you don't need the highest water protection every time you go outside.
If a product is labelled as water resistant, it does have the ability to ward off water - but to a certain extent only. For example, light rain and drizzle will do no harm to the product's performance, but in case of prolonged exposure to heavier rainfall and wet environments, you'd better opt for waterproof gear.
WHAT DOES WATER-REPELLENT MEAN?


"Water-repellent" (or hydrophobic) is one more term in the outdoor vocabulary. Consider it in conjunction with the previous two. In fact, this is a special coating which is additionally applied to any kind of fabrics, no matter whether it's waterproof, water-resistant or neither. It makes water droplets bead up and run off the surface, repelling water intrusion.
You may ask – Why to apply water-repellent coating to waterproof and water-resistant fabrics, if they're already great at keeping you dry? The basic reason is that water-repellent treatments prevent water from penetrating the surface of fabrics and therefore help maintain the proper level of breathability.
Once again, the material with water-repellent treatment is not necessarily waterproof or water-resistant. So, make sure you double check that you're getting exactly what you want.
For example, the Finntrail thermal jackets are water-repellent and suitable for everyday use in the city or as a mid-layer on the trails.
WRAPPING UP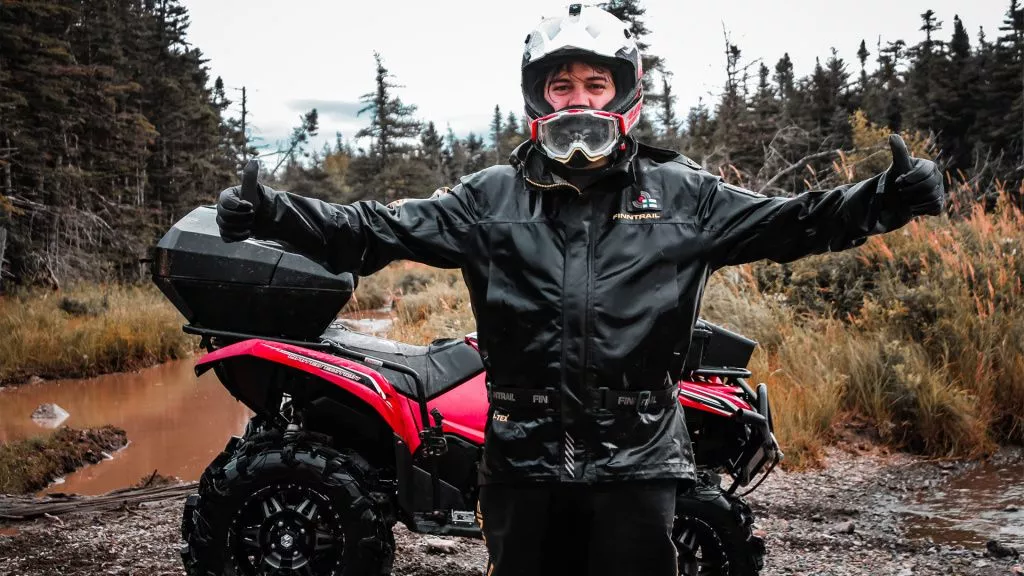 That's all you need to know about waterproofness, water resistance, and water repellency in off-road life. Just in case you need a brief summary to help you choose the proper ATV & UTV riding gear.
Waterproof. Best-in-class anti-water magic (actually, science). Perfect for riding deep in mud and water, whatever the conditions are.
Water-resistant. Not invulnerable to water! But resistant to light rain and drizzle.
Water-repellent. An extra treatment which makes water droplets run off the surface of the fabric and keeps the outer layers protected against liquid saturation.
Sign up for more content like this:
Subscribe to our blog