Interview: Canam Girl
20 July 2020
Who said a girl can't hit the trail on a par with men? Our next guest refutes this with ease! She meets winter riding a snowmobile, in summer she shred the skeg with her ATV. Her hobby surprises her colleagues, but it only amuses her. So, meet — Canam Girl.
Please introduce yourself, who are you and where people could see you.
I am known in the social media world as canam.girl! I started on Facebook, then Instagram, YouTube and now you can follow me on TikTok as @canam.girl!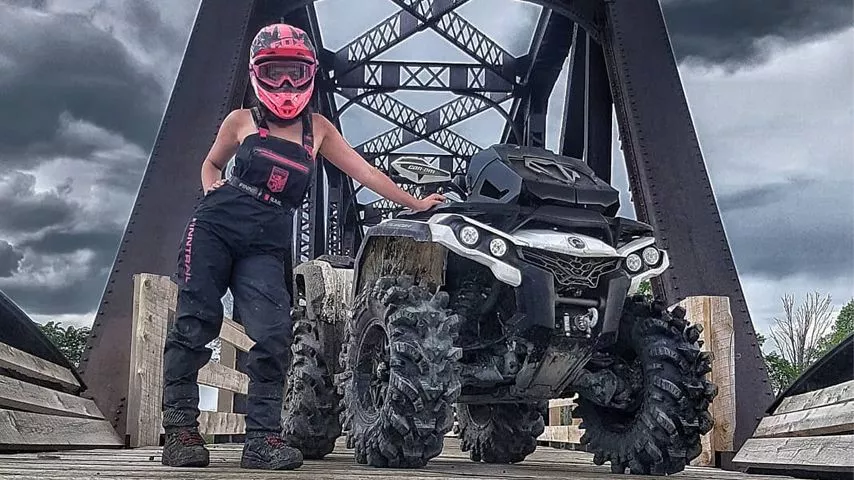 How long have you been driving off-road? What made you take your ATV ride for the first time? How did everything go? Why did you choose this machine?
I have been ATVing for a while now. The feeling of freedom and power the first time I drove an ATV is what started my addiction! Going as deep as I can in water, and getting through difficult mud terrain gives me such a rush! The adrenaline from ripping down a trail is like no other.
With this hobby comes some "uh oh" moments as well that make it interesting. The first ride on my last ATV I was ripping around a bend and lost control right into a tree. Not the best way to break in a new machine but no damage was done. Now I can think back and laugh about it with everyone who was there. Minor compared to a lot of other uh oh moments I've witnessed with fellow riders.
I chose my current ATV because I outgrew my last one which was a Can-am Outlander L 570. That ATV was my first build. Took it from a little yellow stock ATV to a black and pink mud machine. However, I wanted more power! I love the look of an Outlander so stayed in that family.
ATV
waders
are the core piece of riding gear for off-road riders
Find out the best look for you
How often do you ride? Is this enough for you? How do you prepare yourself and how do you prepare your machine for a next ride? What do you take with you? Maybe you have some kind of universal kit for riding?
I ride Every. Single. Weekend. Now with covid-19 I can't go into work so riding during the week when I can as well. No such thing as enough riding! I can ride locally right from home or travel to areas all around me.
To prepare for a ride I always bring my backpack with essentials. Being a female I May require a bit more then some male riders haha. I always pack toilet paper, water, towels, pocket knife, extra gloves, and snacks! I always have random items like types of tape, zip ties etc. You would be surprised how often those items have helped! Also always keep a tow strap in my storage compartment.
Many people know you, watch your videos, and follow you on Instagram. Can you tell us about your job? Where and by whom do you work?
Even though I love getting muddy I am still girly at heart. I work as an Esthetician at the best Spa in my city. My clients and coworkers find it hard to believe what I do outside of work for fun but love seeing all my pictures and videos! Monday to Friday I'm surrounded by females for work then the weekend surrounded by males off-roading! Best of both worlds.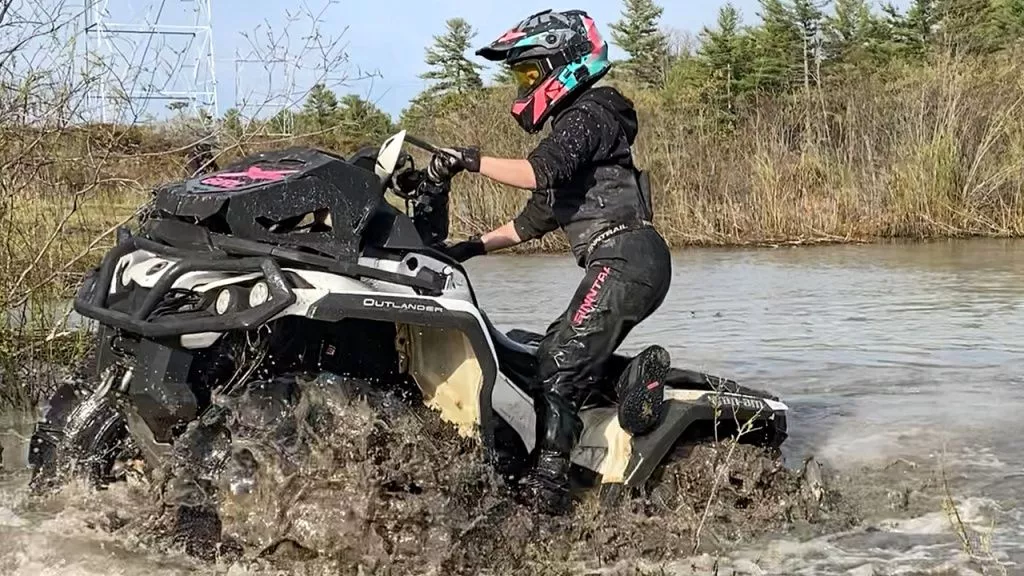 Some questions about your blog: Who is your favorite subscriber? The most annoying comment you've read? Who do you follow on Instagram and YouTube?
My favorite subscribers are everyone that shares the same interest! They have a lot of respect for the sport and I appreciate that. I've had a good amount of annoying comments over the years, mostly the ones saying females can't drive annoy me. It's not often but there is always that one person with a negative opinion. I know a lot of men who can't rip a 4 wheeler like some of the girls I've seen!
Other YouTubers I enjoy following are Ostacruiser, Mark Freeman and Cletus MacFarland!
You started to use TikTok and you got huge audience there. Why did you choose this social media?
I stumbled upon TikTok in January and I'm now hooked. People are extremely creative on there, and absolutely hilarious. I decided to make an account with my content for fun and it seems like TikTok viewers are loving it! It's amazing how 1 post on there can get half a million views in a few hours.
Some people have an opinion that off-road is a hobby for men, that girls often need help on difficult part of trail and so on. We think they are wrong. And you are the person who confirm that. Have you met such an opinion? And what can you say about this?
Yes in the off-road community some men are quick to tell you what to do and how to ride. However I say "some" because 90% of men know women can drive just as good. Luckily it's 2020 and it's getting more common to see female riders! I do enjoy seeing the faces when I ride by a group of guys on their ATVs or go through a spot they wouldn't. Makes me laugh because some are still surprised to see a female ride.
My message to the guys with wives or girlfriends who are just starting to get into off-roading would be to encourage them with productive criticism. It can be intimidating for a new rider being around experienced ones. So help them where need be but let them try, can't improve without making mistakes and we all make them haha.
Blitz Round
ATV or Snowmobile?
ATV
BRP or Polaris?
BRP
Instagram or TikTok?
TikTok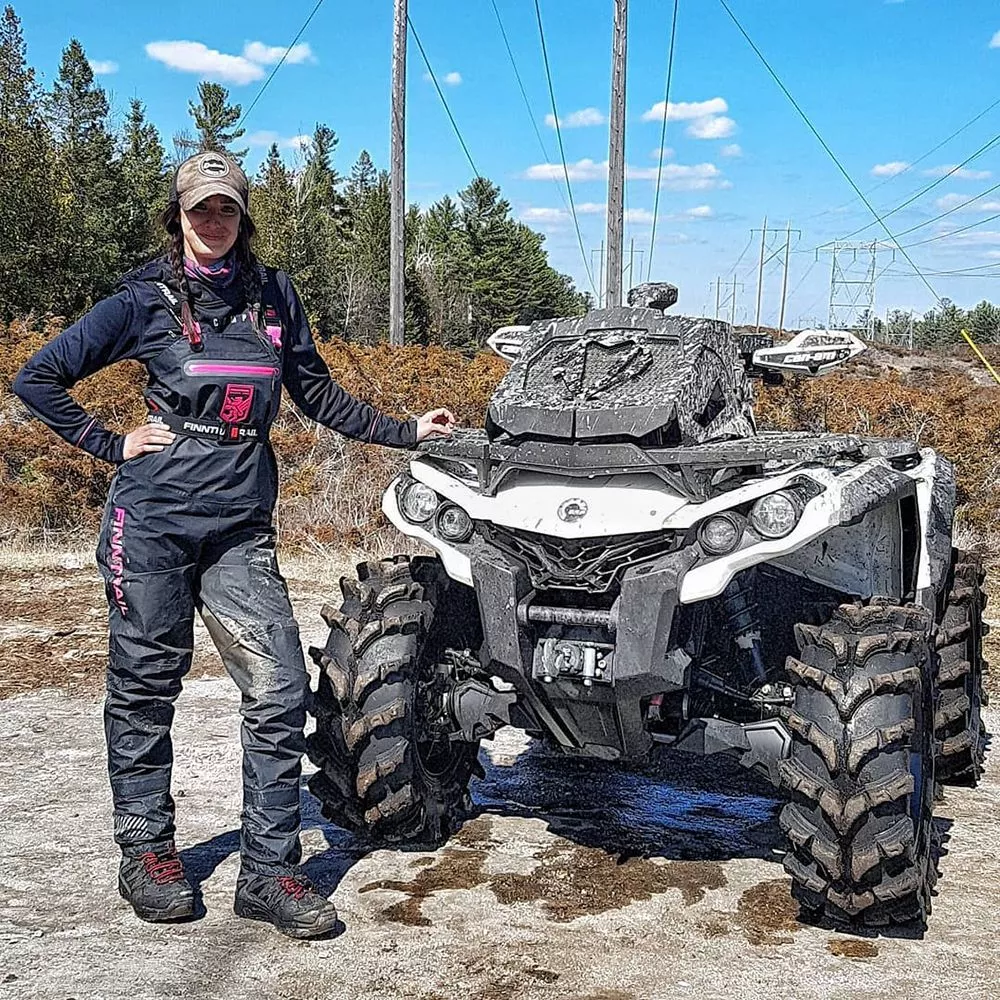 Tell more about your current machine. What is it? What did you change in it and for what purpose? What brands do you trust in tuning?
My current ATV is the new 2020 Can-am outlander 850. So far I've added a rad relocate and extended snorkel so I can go in deep water and mud without worry. Added a slip on RJWC exhaust as well that sounds and looks great! Adds some pep.
Can you can give an advice for those who are just starting to ride ATVs?
Advice for new riders would be, unless you have a lot of extra money don't try to make your bike the best right away. It's an expensive hobby, so slowly make your machine how you want it. Also, just enjoy it! Have fun, get out there, try new things and most importantly be safe!