How to Buy a Used ATV or UTV on the Cheap
11 October 2022
Buying your next ATV is a big decision. It's not only a daunting and time-consuming task, but you might also be spending a lot of money on a used ATV that won't last long and needs repairs. Which is where buying used comes in. You can save a lot of money if you are just starting your ATV journey or want to buy used as a low-price gift to family members.
It's important to note that the process is different than when you buy a used car. With used prices being kept at a high level due to the lack of depreciation on ATVs, you might be expected to pay more than you thought. This is because used ATVs are made of tougher stuff. A 2010 used car may have 200,000 miles on the clock and in poor condition. A similarly aged ATV will still be going strong if it has been maintained properly.
Play the waiting game for your next ATV purchase. Getting the best deal takes time, sometimes months, and longer in an off-season. Used ATV websites such as ATVtrader.com, ATV classifieds, craigslist and Facebook marketplace are good sources. Plus, you might be lucky to pick one up at a good price if someone needs to raise cash quickly.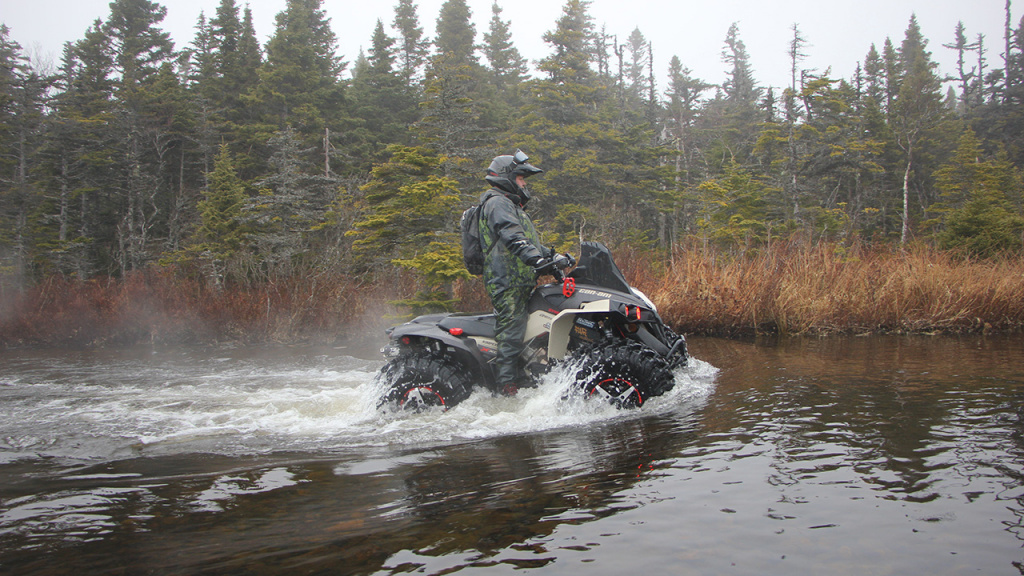 Searching for Low Price Used ATVs Online
The keyword "ATV" might be the obvious way to start. Owners often leave this vital information out of their title, and you might not find the best priced deal by searching it. Other names such as Quad, Four-Wheeler or UTV could be used instead.
If you want to get a wider scope of search results begin with the model's name. Examples are:
Can-Am: Renegade, Outlander, Maverick, Commander
Honda: Foreman, TRX, Recon, Pioneer, Rubicon, FourTrax, Rancher

Yamaha: Grizzly, Kodiak, Raptor, YFZ, YXZ, Viking

Polaris: Scrambler, Sportsman, RZR, Ranger, General

Suzuki: Vinson, King Quad

Kawasaki: Prairie, Brute Force, Mule, Teryx4

Arctic Cat: Wildcat


Textron: Alterra
Off-road
waders
are the core piece of riding gear for ATV & UTV riders
Find out the best look for you
Apps and Websites to Get the Best Price on ATVs
Facebook Marketplace
The best part about Facebook marketplace is that sellers are using it more as it's quick and simple to list an item. You can setup alerts and filter by price when you search too. Meaning when a new item appears under your search term, you will be notified and can be the first to message the buyer and buy it. Ideal when looking for a cut price deal on your next ATV.
Craigslist
A very common place to buy used ATVs. It can be full of junk listings that are trying to scam you. If you download a powerful app called CPlus for Craigslist it adds extra features. Including being alerted when a new item is listed and price filters. Which you can setup for your ATVs search terms similar to Facebook Marketplace. Being first in line to contact the seller and pick up your next ATV quickly.
eBay motors
Despite being less popular locally, eBay is good for specific filtering. Meaning you might find the exact ATV that you want for the right price and buy. But with eBay being nationwide, your ATV can be bought for right price, but on the other side of the country.
ATV Classifieds
This site acts as a marketplace for sellers and buyers to communicate. Ideal for focusing on sellers in your area, getting a better sense of community.
ATVTrader.com
Filtering your search even more, this website caters to both the type of ATV you are looking for and the area you reside. There is a lot of dealers on this site though, so proceed with caution.
ATV Clubs
These are great to reach out to members to buy their ATV for sale. They will at least know someone who is selling one. They are the real experts too, giving you signs on what to look out for and what price to buy yours.
Tips When Inspecting a Used ATV
Ask Sellers Questions
If you know how long an owner has kept an ATV, why they are selling it and their response tells you a lot about it. If you allow kind human interaction to make the seller trust you, they may slip hidden info on the ATV or surface any sales techniques.
Inspect the Oil
Engine oil can be checked using the dipstick. On inspection, the oil may be super clean, meaning the owner has just changed it to possibly clear out any issues which is a red flag. If it is dirty, then ask when it was last serviced. If you are ever unsure about the seller's response, check the oil filter to see its condition, and when it was last changed.
Inspect the Coolant Level and Quality
Wait for the engine to cool down fully before opening any caps. Inspect the radiator too, as ATVs go through a lot of abuse in everyday use and any damage may cause engines to overheat and you'll have a bigger problem on your hands. The green or orange color should be throughout, and other substances such as oil in the coolant reservoir is an immediate warning.
Driveline and Axle Inspection
These are common items that wear out over time. A raised ATV abuses these components even more and owners should have replaced the axles with extreme angle components designed for lifted ATVs. Otherwise, CV joints and bearings take on extra load, so check these and their boots on each axle. If any of these are split, it is a big warning sign. Along with grinding or crunching noises during driving.
Check the Frame and Overall Condition
Crashed ATVs have evidence of frame damage. Any bent or cracked steel work in the shock tower areas could indicate the ATV has had a hard life. Check evidence where the underbody conditions, where the ATV may have come into contact with rocks too. If the ATV sits crooked or leans in any way on a flat surface, then the chassis has been deformed as well.
Broken plastic bodywork, cracks in paint or obvious repairs may be ok as long as the underbody has not been impacted. But owners who take pride in maintaining their ATV would have dealt with these, and a good condition, well maintained machine is the ideal outcome when searching for a cheap used ATV.
Sign up for more content like this:
Subscribe to our blog