RACHEL Graphite 1520 Waders
for women
Article: 1520
12 Reviews
Free shipping worldwide on orders over $290
100% Secure Transactions
1 year warranty
DETAILS

RACHEL Graphite 1520 Waders
Designed for female riders, these waders ensure a women's specific fit and sizing, as well as excellent protection from the elements. With a nice, slim silhouette, the Rachel waders feature durable four-layer membrane fabric and extra reinforcement around the legs where most of the abrasion happens. The ergonomic knee cut and adjustable suspender system deliver even more flexibility and comfort for long rides. Come with a large zippered chest pocket to secure the essentials you need on the trails.

• Durable four-layer fabric with a HARD-TEX® membrane
• Dirt-repellent TEFLON™ Coating
• Ergonomic knee cut
• Elastic suspenders and a belt with a YKK buckle
• Large water-resistant chest pocket with a strong zipper
• Inside pocket with a moisture-resistant zipper
• Drying loops
• 3M Reflective elements
• Built-in 0.16 inches (4mm) neoprene booties with a reinforced sole
Technologies

Durable membrane fabric

Reliable dirt-repellent coating

Extra strong fastening products
3M reflective elements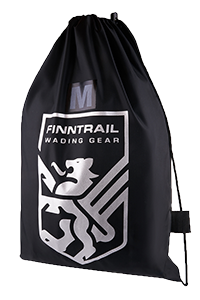 Carrying bag included
SIZE CHART
Stand straight with back flat against the wall, keeping the chin parallel to the floor. Measure the distance from the floor to the top of your head.
Wrap the tape measure under the armpits across the widest part of your chest.
Stand up straight. Find the bottom of your ribs and the top of your hips. Wrap the tape measure at a level halfway between them. Make sure it's pulled tight, but isn't digging into your skin.
Place your feet together. Wrap the tape measure around the widest part of your hips.
Measure the length between your crotch and the bottom of your ankle (or the expected bottom of pants).
Measure from the center back of your neck (at your spine) along your shoulder and elbow to the wrist.
Switch the measurement system here
Waders size
Take your waist and hip measurements. Choose the largest girth. Measure the inseam from crotch to ankle. If you are looking for ATV waders, add from 0.8 to 1.2 inches / from 2 to 3 centimeters to your inseam measurement. Match the measurements to the size chart.
* When measuring the hip girth, place a tape measure around your body at the top of your hip bone. This is usually at the level of your belly button.
Q&A
How can I pay for my order?
We accept the following payment methods:
Credit card information is always encrypted for a secure purchase.
If needed, you can request for an invoice in order to make payment directly to our bank account.
Is my credit card charged as soon as I submit my order?
Yes, your credit card will be charged when you place your order, and the products in your order will be reserved for you. If your credit card is declined, your order will become void and you will be sent an email confirming this. Please check the status of your order or try another card and place the order again if your order is voided. Also, please, do not hesitate to contact us by email [email protected] with every question you have.
If my order is submitted on the FINNTRAIL site, does that mean that all of the items I ordered are available?
Our online inventory numbers are synced many times per day, and most orders are fulfilled promptly after submission, as you would expect. However, if timing is such that an item did happen to sell out just before you submitted your order, we will get in contact with you (usually by email), and inform you of the situation.
What shipping options do you offer?
Nowadays we offer free standard ground shipping for orders over 290 USD/EUR/CAD. For other orders the standard shipping cost is 25 USD / 20 EUR / 19 CAD.
Delivery time varies by location.
Please, contact us by [email protected] if you want your order to be shipped with another shipping method.
Can you ship the order to another address?
Yes, but please note that the billing address and the name on the credit card has to match that of the customer for the order.
How can I return or exchange my order?
If you are not satisfied with your order, you can return it for a refund or exchange it. Find more info at the returns and exchanges page.
How can I become a dealer?
Just visit the dealers page and you will find all the information about a partnership with us.
You can also contact us by email if you want to discuss the terms of cooperation with us [email protected]
What is the difference between waders with built-in boots and stockingfoot waders?
Waders with built-in rubber boots have been used by off-road riders by habit and due to lack of alternatives. They have several drawbacks though, especially for off-road riders. Rubber boots do not support the ankle. Also, if you are stuck in a swamp, it's much easier to pull your waders out when you are in stockingfoot waders, because they are fixed with the boots on the ankle, and are more lightweight then waders with built-in rubber boots. Stockingfoot waders are much more common and reliable now, and they have plenty of advantages over the waders with built-in rubber boots:
Built-in neoprene socks

. 4mm neoprene socks with glued seams and a reinforced insole provide comfort and protection. They should be worn with wading boots.

Proper ankle support

. Unlike rubber boots, wading boots provide proper ankle support, so the chance of injury is minimized.

Lightweight

. In terms of comfort and weight, wading boots are comparable to trekking boots. After a full day of riding, there will be no fatigue.

Mobility

. Since legs are well fixed in wading boots, it is easier to walk in sticky swamps or mud, and it is easier to pull your feet out if you get stuck.

Durability and protection.

Do I need to order any accessories?

Base layer thermal underwear is the trickiest thing. Riders usually think they don't need it in summer. The thing is, you need it not to warm yourself but to control thermal insulation and proper sweat evaporation. It is made specifically to be worn under waders and jackets as the first layer. The same goes for thermal socks.

Waterproof bags and backpacks are must-have for your belongings and dry clothes.

Waterproof smartphone pouch will protect your phone from water. With a waterproof pouch you can take shots under the water or use your smartphone without needing to clean your hands every time you use it.

Gloves provide extra comfort when riding ATVs and UTVs, and keep your hands dry and protected from sharp twigs and stones.

Check the headwear page to find balaclavas, buffs, hats and caps to complete your off-road warrior set.
Why should I wear underwear and of what kind?
In most of cases, all the problems with sweating during the ride are associated with cotton under your gear. The fact that you sweat is normal, but wearing cotton under the membrane is a mistake.
A membrane is made for gear to "breathe". It allows air to flow inside out and sweat to evaporate, while not letting outside moisture come inside. If pure cotton is worn as thermal underwear, the water and sweat path ends there. Because cotton is an absorbent material, it holds everything that the skin emits and makes it uncomfortably moist inside the gear.
It is very important to put on a proper thermal layer that does not retain moisture under the membrane. It also doesn't have to be 100% synthetic. Blended fabrics with a minimum amount of synthetic fibers (even 20%) may work. In general, the less cotton, the better the moisture wicking quality is though. This also includes the top and bottom of the gear, and socks.
For the cold season, use additional insulated thermal underwear as a second layer after the base layer thermal clothes — a fleece is a good choice.
How should I clean my gear? Are there any rules?
How should I store my gear? Are there any rules?
Our blog comes in handy. Learn more in How to store gear. This short article covers all the questions on the topic.
How do I choose the right waders?
There are several factors to consider. All membrane waders are durable, lightweight and breathable, so they are comfortable at any time of the year.
Please remember to wear thermal underwear as a base layer for the membrane to work most effectively. Thermal underwear keeps you comfortable by transferring moisture away from the skin.
We like to divide gear by type of riding:
If you plan to ride from time to time and don't plan to overcome hard off-road obstacles, Wademan waders will be enough. They are made of a durable 4-layer fabric with a HARD-TEX membrane and have a minimum of seams, especially on the inside of the legs.
If you prefer hardcore riding, take a look at Enduro waders. They are made of a durable five-layer HARD-TEX membrane from the feet to the waist. Also consider Aquamaster waders. They have no cross seams on the inside of the legs, and are reinforced with a durable five-layer HARD-TEX membrane. Both choices have a minimum of seams on the inside of the legs, so they are more resistant to wear.
We also have waders with zdirt resistant zippers: durable and technologically advanced Speedmaster-Zip which provide incomparable comfort in the moments when you need to do the deed.
Waders with built-in rubber boots are quite popular, but waders with wading boots are technologically advanced, safe and comfortable and are becoming more popular nowadays because of their advantages. So, think twice when buying waders — make a right choice.
How do I choose the right size?
We have an easy-to-read sizing chart to help you find your size. Men's and Women's sizing is shown there. If you choose the boots for a woman, choose one size smaller boots, as 8 men US size boot equals 9 US for women.
If you still have any questions, feel free to use the site chat or contact us by email [email protected]
REVIEWS
Most of users rate this product as exellent. You may write your own review below:
the best combination of price and quality. I have been looking for these waders for a long time.
I am quite tall at 5'9" and size XL fits me perfectly. I love how they sit on my waist, very cool waders!!
Great product! I'm 5'3"" and it's alvays been such a chore to find suiting waders but finally I found Finntrail rachel and these are game changer! Perfect fit for me right on! Wonderful petrol color and no leaks what so ever!!! Now I can ride in style and comfort! xoxo
Best choise for a small women like me hands down. Great mud and water protection, fits my curves very well and does not restrict movement.
Comfortable and beautiful everything is super. But I don't recommend putting your phone in your front pocket. Better use waterproof phone case for this.
Phoebe Jackson
2022-12-05
Don't usually write reviews but why not if I'm gettin' a discount for that lol. Waders are cool tho
Ordered these for my fiancé, they fit her like a glove! Now we ride together and never get wet!
This is THE colour I dreamt of
omg finally I got them I'm so ready to try 'em out!!!
Great fit, love this product

Awesome waders! They are my first girls waders and I'm totally in love with them. They fit perfect, it's like they are specially made for my body. Many thanks to the customer service, they helped me to choose right size.
PRODUCT CARE
HOW TO TAKE CARE OF MEMBRANE GEAR
Like everything, gear loses its useful properties with each wash. Try to minimize the number of washes and the gear will last a long time.
Clean your gear from adhering dirt and rinse under running water.
Washing by hand: To remove minor impurities, it is enough to use ordinary soap, a soft bristle brush or a sponge.
In a washing machine:
"Membrane fabric" or "Hand wash" mode in cold water with a thorough rinse.
Use only special detergents for membrane fabrics (do not use laundry detergents, conditioners and bleaches)
do not wring
do not use dry cleaning
After washing turn the gear inside out and hang it to dry in a well-ventilated area.
After drying the inside, turn it inside out again and leave it to dry completely.
Do not dry gear near bonfires, heaters and in direct sunlight.
If possible, store the gear flat, upright, in a dry and ventilated area
Use clothing covers to protect the membrane from dust. The dust clogs the membrane structure and "blocks" breathing.
Pay attention to creases: do not leave them during storage. Creases can damage protective layers, which lead to micro cracks on it and decrease effectiveness of gear.
Notify me when the item is back in stock
We will send you an email notification when this product becomes available.