How to Buy an ATV At the Best Price
20 October 2022
ATVs can be expensive. When shopping for an ATV, you want to buy your machine at the best price. The good news about buying an ATV is that dealerships put them up at different prices, meaning you have different options in front of you.
But the question remains, how do you buy your ATV for the best price? This piece explains a few tips you can equip yourself with when buying an ATV.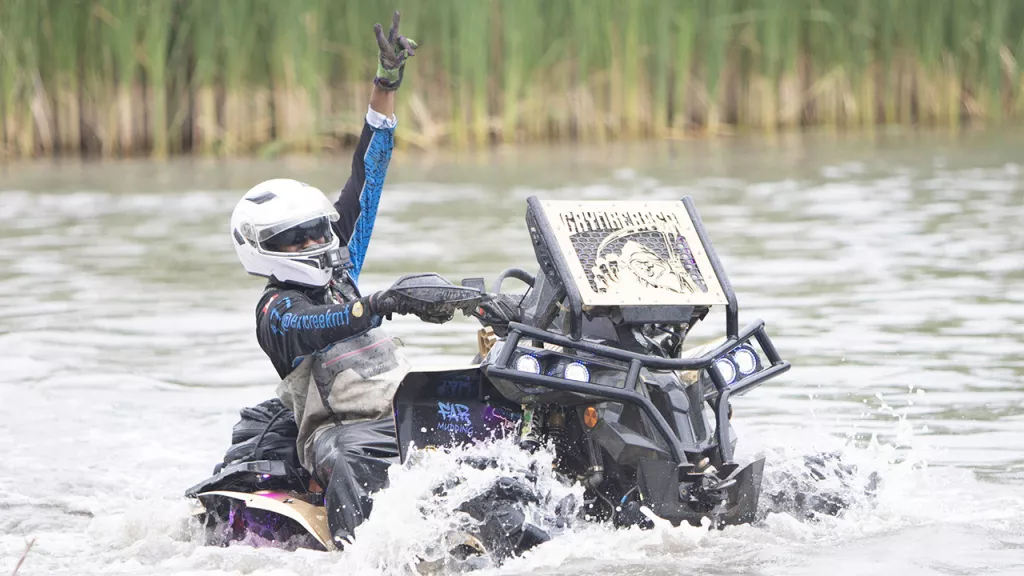 When Is the Best Time to Buy An ATV?
One common question people always ask when planning to buy an ATV is what time of the year is best to buy a four-wheeler for the best price? Although there is no specific time of the year to buy an ATV, some periods of the year are better than others for getting a great deal on your next ATV purchase.
For example, Early January to late February seems a good time to buy an ATV, as people tend to put up their machines for sale after Christmas, creating a surplus supply of ATVs. The end of summer is another good time of the year to buy an ATV since people want to avoid the cost of ATV storage over winter and sell their quad at low prices.
However, this doesn't mean buying an ATV during the spring and summer months is a deal breaker. You only have to note that there are more ATV buyers during these periods of the year, and you may likely spend more buying an ATV.
Off-road
waders
will keep you dry and safe in water and mud
Find out the best look for you
Tips for Getting an ATV at the Best Price
Now, let's get into the meat of the article – how to buy cheap ATVs. If you do your homework well, you will get an ATV of your model at the best price. Here are some tips to guide you through:
1. Know Which Model to Buy
Your first step to buying an ATV is to know your desired model. You have probably seen an ATV model that you cherish from a friend or neighbor that you would like to have your hands on. It is also cool to have a backup option, meaning having multiple desired models should you not find your first choice at your budget. This will help narrow your search when you step into the dealership.
2. List Available Dealerships
Again, dealerships offer different prices for their ATVs, and you want to know the available options around you. Do this by searching through Google and listing available dealerships with addresses and prices if available on their websites.
Some dealerships also dedicate sections of their websites to reviews from past customers. This will help you know which dealership has the best deal. Follow this by contacting their sales representatives to confirm which models are currently available and if they have your specific model.
3. Consider Used Models
One good means to buy an ATV cheaply is to consider buying a used ATV. Studies show that new vehicles lose about 15% of their value once driven out of the dealership.
If you don't know where to buy a used ATV, you can start your search on Craigslist and Facebook Marketplace. You can also leverage online communities that let ATV owners sell their used four-wheelers to intending buyers, increasing your options of having the best deal.
4. Don't Be Carried Away by the Price
Prices are important when buying an ATV, but they shouldn't be the only deciding factor for your choice of ATV. Other factors, such as the brand, model, size, and features, also play significant roles in deciding which ATV is a good buy. Hence, don't finalize your choice of ATV on the altar of low prices. You will find models with good features that still sell at reasonable prices.
Similarly, an ATV that carries a high price tag doesn't mean it is the best on the list. The important key here is to do your research very well.
5. Set a Reasonable Budget
Though prices shouldn't be the driving power behind your choice of ATV, you still need a reasonable price range. What you will get out there is dependent on your set budget. If you are on a low budget, be ready to bargain for a well-used ATV, and if you are on the other side of the budget, you will get a new four-wheeler with the best features.
However, it is also best to negotiate your ATV before concluding on a price. Many ATV dealers put up their ATVs at high prices during advertisements. If you notice this, don't let it chase you away from having a deal with them, as the prices are open to negotiation.
6. Avoid Loans
An ATV buying guide is incomplete without this: avoid buying on loans.
Loans are not free and will reflect in how much you pay for your ATV. It is best to try as much as possible to buy with cash. This will give you access to the best prices and massage your bargaining ego, so you can haggle the price enough and buy at the best price.