How to Choose the Right Exhaust System for Your ATV
12 September 2022
Exhaust systems are a common ATV and UTV upgrade. Since you're here, you probably want or need one on your machine. This post will tell you how to choose ATV exhaust systems.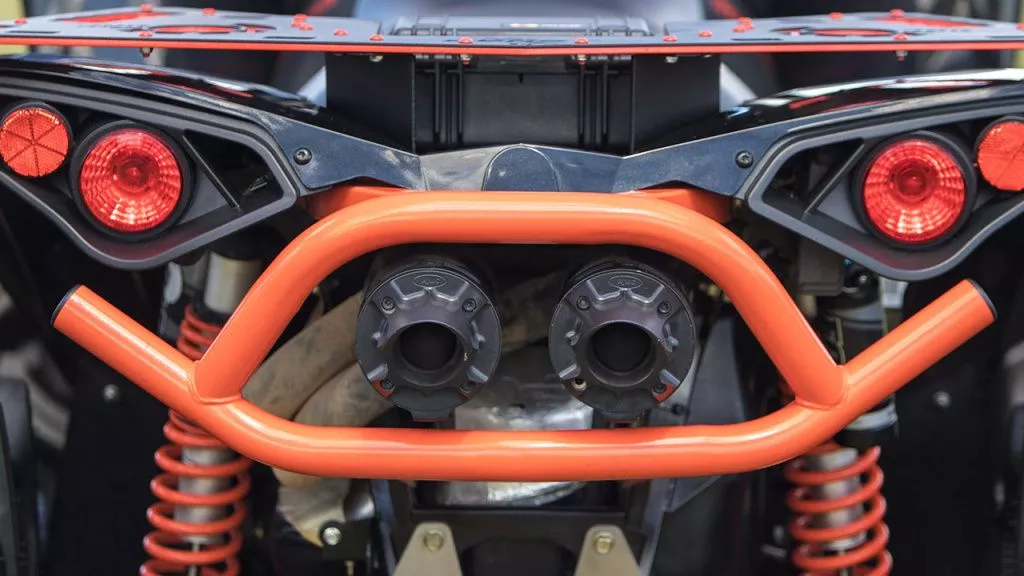 How to Choose ATV Exhaust System Upgrade Benefits
There are so many aftermarket exhaust systems available that you can find ones that offer a wide range of benefits. To narrow down your choices and get an upgrade you'll appreciate, you'll need to prioritize what you want out of your upgrade.
You may simply want to replace a damaged exhaust. Even still, you'll need to know what to replace it with.
You may want to upgrade your exhaust for ATV power, noise reduction or enhancement, a new look, or weight reduction.
New ATV exhaust tips or slip-ons may achieve sound modification or cosmetic goals. Choose an ATV full exhaust system for power upgrades or weight reduction.
Notes About Power
Power is one of the primary reasons for upgrading the exhaust. Even though manufacturers are building increasingly powerful ATVs, they are holding back with their factory exhaust systems and depriving us of the true power these machines can offer. Thankfully, there are plenty of aftermarket exhaust systems to help us all achieve the best bang for our buck.
Most aftermarket systems that reduce noise have to sacrifice some power to achieve it. You might still have more power than you do now, which you may be happy with. HMF Racing's Titan Series, and Yoshimura's RS-2 are exceptions. You'll experience impressive power and less sound. You can also choose a tunable exhaust system so you can have the utmost power when you're out riding where no one will mind the noise and reduce the noise when you're hunting or on trails with noise restrictions.
Do be aware that noise doesn't always equate to power. While less noise usually comes with some power reduction, robust noise doesn't mean you have more power. It depends on how well the exhaust system is built. Some just add turbulence in that creates a lot of noise without providing power. When making sure you know how to choose exhaust upgrades, consider the following tips.
Off-road
waders
will keep you dry and safe in water and mud
Find out the best look for you
Quality
Material
Make sure your potential new exhaust system is resistant to corrosion. It's going to encounter massive amounts of sand, mud, and water, so it needs to be able to take it. Those who use their quads for work may expose their exhausts to fertilizers and insecticides too.
Aluminum is lightweight, which is a plus, but it is only partially corrosion-resistant, so it might be best suited to easy trail riders.
If you plan to work with or get dirty with your quad, you may need to invest in a stainless steel exhaust. They're a bit more expensive, but they're the most corrosion resistant, so they'll last a longer time.
Make sure any exhaust you buy is brushed or polished because it will extend its life.
Build
Welded exhaust systems will withstand the vibrations and high pressure much better than exhaust systems held together with rivets and partial welding. Entirely welded exhaust systems will still have bolts to attach the system to the vehicle, but they are not held together with them.
Brand
Don't buy a quad exhaust system from just any brand. Select a manufacturer who uses research to build their exhaust systems and has a reputation for building quality parts.
But don't feel you have to hit the websites trying to figure out what is the best ATV exhaust brand. CT Racing is the grandfather of ATV aftermarket parts, well-respected in the industry. You might also look at Duncan Racing International, FMF Racing, HMF Racing, LED Performance Engines, Yoshimura, Starting Line Products, Pro Circuit, QuadBoss, and MBRP Powersports.
Spark Arrestors
You should buy an exhaust system with a US Forest Service-approved spark arrestor. They prevent fires, and having one increasingly determines whether you can ride on trails and in parks. If you're concerned about power, any reduction in power should be negligible.
Tip
This isn't a how to choose the best exhaust system question, it's more of an installation tip, but it can't be ignored. Every upgrade you make to your vehicle needs to be done carefully and following the instructions in your owner's manual and the manual for the aftermarket part. Quad exhaust pipes are one of the most crucial components to get right.
When you add a new exhaust system, it will drastically change your fuel to air ratio. Make sure you recalibrate to compensate for the change or you may have rough rides, no rides, or ruin your engine.
Sign up for more content like this:
Subscribe to our blog