How to Determine That You Have Mud Riding Waders
4 September 2022
All waders are not equal, particularly when you really need them such as when you're in deep water and mud. But how do you know that you have the waders you need? What do you look for in mud riding waders?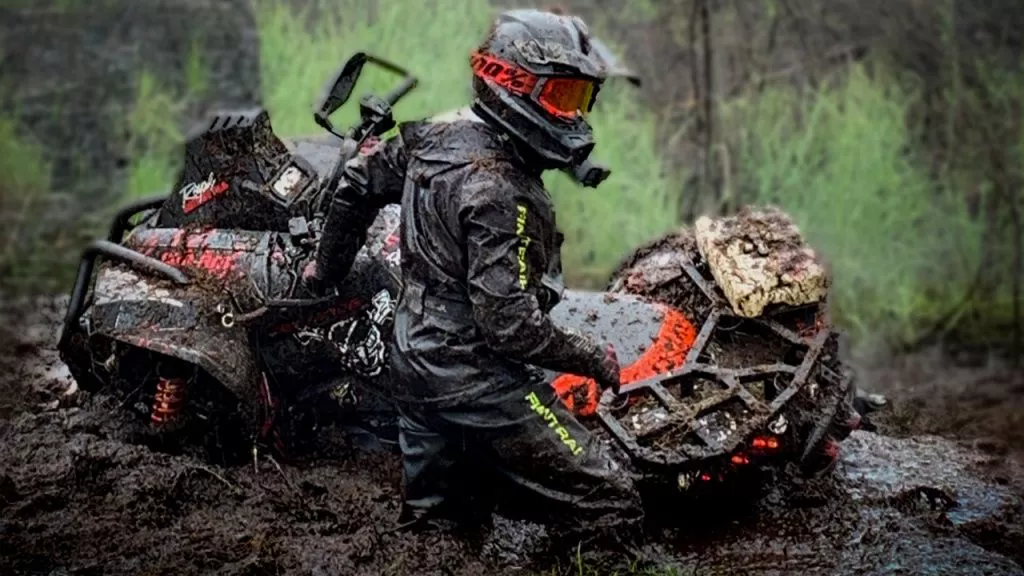 ATV Mud Riding Waders
The first thing you want to do is differentiate between ATV waders and your basic fishing or hunting waders.
Your traditional wader was a pretty basic creation intended for fishing or hunting. They're good for walking around in wet environments. They're not great waders for ATV riding with all of the sitting, standing, bending, and getting out and walking around outside of the water as well as enjoying water and mud.
As more people discovered the joys of ATVing and the disappointment of using traditional waders, sports gear manufacturers innovated to create waders specifically designed for the needs of off-roaders and the first ATV waders were created.
Today, you can get the best waders for ATV use. They are more lightweight and built with an ergonomic fit that doesn't restrict movement, so you have a comfortable set of waders that move with you without bunching or tearing. They're made of advanced membrane breathable fabrics so they can be comfortably worn for long periods of time whether you are in or out of the water and mud. They repel dirt so they can be easily washed, because off-roaders are dealing with a lot more than water. They also have reinforced areas exactly where ATVers need them to keep you dryer and increase the durability of the wader.
The creation of stockingfoot waders helps you achieve a more customizable fit, because you can match the boots to your feet and your waders to your body. They also provide ankle support and better grip in mud, water, and on the vehicle than traditional waders. Stockingfoot waders are now considered the best ATV waders.
ATV
waders
are waterproof & breathable riding gear
Find out the items that suit your needs
How to Get the Best Waders for ATV Mudding
While ATV waders are all better for ATVing than traditional waders, they don't all offer the same effectiveness at helping you tackle your favorite mudding spots.
You'll do best with ATV chest waders with drawstring closures at the top to prevent splashes from entering your waterproof barrier from above. Internal pockets with water-resistant covers are a nice bonus.
You'll want to get the most lightweight waders you can find because mud will try to weigh you down. Stockingfoot waders are your best bet in this area.
Make sure any waders you purchase have a dirt repellent coating to make it easier to get dirt, mud, and debris off.
Stockingfoot waders are more likely to stay on your feet in the mud because they already fit more tightly to your feet. Their ankle support will also better protect you from injury. And they are made of more durable materials to protect your feet from punctures and abrasions from whatever might be in the water or mud you're walking in.
Neoprene waders are best for cold temperatures because they provide superior protection from the cold, but they don't evaporate your sweat. Breathable fabric waders are better for average or hot temperatures.
Some waders come with mud-resistant zippers. Make sure to look for that in the specifications, or you could be in for a nasty surprise.
There is More to The Perfect ATV Mudding Waders
You don't need to just find the best ATV mud waders. You also need to be mindful of certain things.
Wading boots
Make sure you get the right size for your wading boots. They need to be about the same size as your hiking boots or just a tiny bit bigger than your regular shoe size, so they fit you snuggly but allow room for thick socks.
Don't try to wear hiking boots, thinking you'll have fine grip. Even waterproof ones won't pair with your ATV mud riding waders and provide a waterproof seal and they won't help you stay upright in water.
Caring for mud riding waders
You'll also need to take care of your waders so they continue to be the best waders for ATV riding.
It's best not to wash them in the washing machine, but if you need to, use detergent meant for technical fabrics and wash them on the gentle cycle. Ideally, you'll be able to hand wash your waders in the tub. This will keep them from getting creases in them that can shorten their life and lead to leaks.
Don't put them in the dryer unless the instructions tell you to do so.
Restore their waterproof coating whenever needed. You can do this after you wash your ATV mudding waders, whenever you notice the waterproofing is getting weak.
Sign up for more content like this:
Subscribe to our blog