How to Determine the Difference between an ATV Helmet and a Motorcycle Helmet
23 October 2022
Whether you own a motorcycle or an ATV, safety requires that you go with your helmet on. While putting on your helmet when riding your motorcycle on the open road protects you, your helmet when exploring the dirt terrains with your ATV achieves this same goal.
However, motorcycle and ATV riders find it difficult to differentiate between helmets for motorcycles and helmets for ATVs. Although a helmet, regardless of design, protects you, they are designed differently. Hence, you want to know what separates an ATV vs. motorcycle helmets for optimal protection.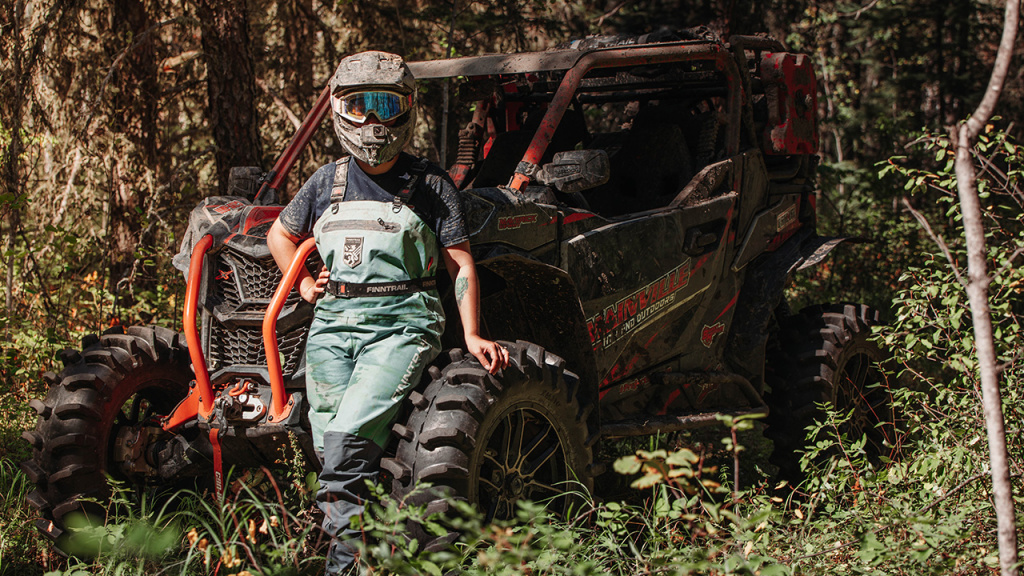 Why Are ATV Helmets Different from Motorcycle Helmets?
Motorcycle helmets are different from ATV helmets due to their uses and designs. although the aim is to protect riders, motorcycle riders are exposed to different factors from what ATV riders are exposed to.
For example, a motorcycle rider experiences great wind when on the bike, necessitating wind protection. This reflects in the design of motorcycle helmets, as they are sealed against wind and other outdoor elements.
On the other hand, an ATV rider is more likely to experience mud, rocks, and other obstacles due to the type of terrain he journeys, requiring some form of different protection from what a motorcycle rider needs. This also is evident in the build of the helmet he uses.
Another way to differentiate motorcycle helmets from ATV helmets is their bulkiness. Street motorcycle helmets are sleek, while motocross helmets are bulkier for more protection. A good ATV helmet should offer chin guards and protection against front-facing crashes. Some ATV helmets also feature a visor, protecting the rider's face in dusty environments.
ATV
waders
are the core piece of riding gear for off-road riders
Find out the best look for you
ATV Helmets Vs Motorcycle Helmets
Motorcycle Helmets: Protection against Crashes
On-road experience differs from off-road experience, separating the type of protection an ATV rider needs from what a motorcycle rider needs. A motorcycle rider uses busy roads with other vehicles and is highly susceptible to falls and crashes. Hence, his helmet should protect him should he falls and crashes.
A motorcycle helmet is sleek and aerodynamic, ensuring it glides along during a crash without protruding, which is impossible with an ATV helmet. An ATV helmet is not designed to slide should a crash occurs, exposing the rider to injury. Plus, a motorcycle helmet is designed with high-speed impact protection at the front for enhanced protection.
Another great feature of a motorcycle helmet worth discussing is the aerodynamic design. Even if you are not thinking about a crash, the aerodynamic design of a motorcycle helmet is a great feature you don't want to miss from your motorcycle helmet. This feature helps reduce fatigue from high wind during a ride. Plus, it helps reduce noise when riding at high speed.
Since the aerodynamic trait of a motorcycle helmet doesn't eliminate noise during a ride, the helmet is further built to keep out noise, ensuring riders enjoy their rides even at high speeds.
This is not so for ATV helmets, which allow noise in that racers can hear their opponents' positions.
Motocross Helmets: Protection against Mud and Dust
An ATV helmet is not made for on-road riding, rather for off-road adventures. Again, riding an ATV exposes a rider to mud and dust, which is considered in the design of ATV and UTV helmets but not so with motorcycle helmets.
Hence, if an ATV rider decided to go with a motorcycle helmet, he would hardly go far before noticing he was not protected against dust and mud. This would also result in dust and dirt entering the helmet, a potential cause of loss of visibility. This means it is wrong to wear a motorcycle helmet on an ATV.
Also, although motorcycle helmets provide some ventilation, it is not up to what ATV helmets offer, which is needed for comfortable riding.
Another means to determine the difference between ATV helmets and motorcycle helmets is the space for riding goggles. While ATV helmets have this space, motorcycle helmets are lacking. As an ATV rider, you need riding goggles to protect you from dust and dirt, which is unnecessary for a full-face motorcycle helmet.
Also, since off-road riding is a challenging physical activity, no thanks to hot weather, you can't avoid sweating. But since motorcycle helmets don't provide enough ventilation, it is not a good fit for ATV riding.
Finally, ATV helmets are exposed to dust, and frequent cleaning is essential, which is why they are designed for easy cleaning. Some ATV helmets even come with removable pads.
Sign up for more content like this:
Subscribe to our blog