How To Install ATV Mirrors
3 November 2022
Mounting ATV mirrors can quickly up your visibility by over 100% if done right. All of a sudden, you'll be able to see what's coming up behind you or what you've left in your dust. This is a brilliant safety move to keep you from backing into any obstacles as well as keeping fellow riders in sight behind you.
Knowing how to make a UTV side mirror is an easy task. All you'll do is perfect the angle, set the mirror in place, and use the mounting hardware in order to get a secure attachment to your rig. You can even learn how to mount mirrors on a UTV with a windshield by following along here.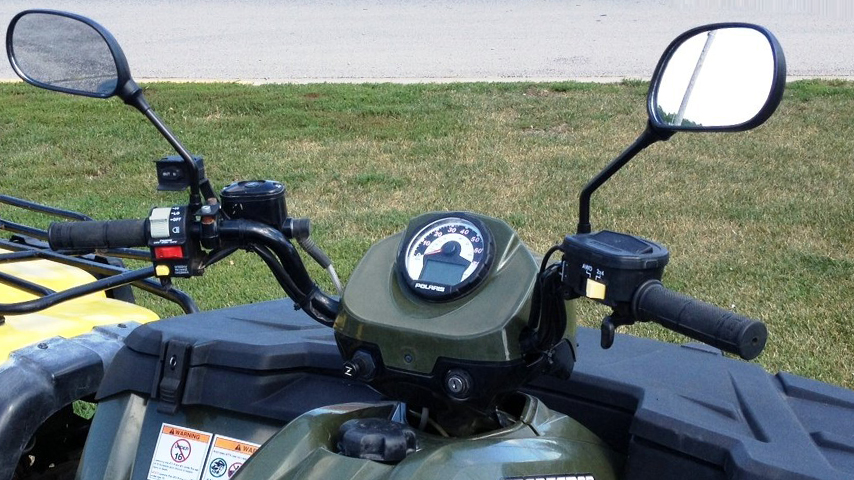 Get Everything Prepped
You can quickly have everything ready for your installation simply by making sure you have everything you'll need. This means taking the mirror and mounting hardware out of the boxes and double checking that you have the correct tools to fit any screws that are involved.
Next, clean off the location you want to mount the mirror. It's best to start with a clean surface.
Install Brackets
Now, if you're mounting a rear view mirror you may need to install a mounting plate onto the mirror itself. For rear view mirrors, find the brackets and the hardware that comes along with them.
Decide how you want the mirror to be placed and install the brackets onto the mirror accordingly. This will determine how they can be mounted onto the actual ATV, so you may need someone to help you hold the mirror and decide on the angle.
Install Clamps
Next up, we'll mount the clamps to the cage itself. If you have a windshield, you'll just need to mount the clamps on the lowest spot where the windshield stops.
You can decide how high up you want the mirror and give it a test before securing the clamps. Tighten these screws well and the piece will hold tightly to the cage.
Mount the Mirror
Now you can finally add the mirror. Connect the brackets to the clamps on the cage with the hardware that came with your kit. Often this is done by tightening a piece on the clamp.
Adjust your angle, mount your mirror, and you're all set!