How to Repair Cracked Plastic on Your ATV
7 April 2022
You can reduce the chances of finding cracked plastic on your ATV by washing your machine after every ride and riding intelligently, but cracks are still going to happen eventually, from the trail or just time. So, you'll need to decide how you're going to handle cracks. It is possible to replace the plastic part, but it's expensive. Most of the time, people choose to repair their existing plastic.
What May Cause Cracks in Your ATV Plastic?
ATV plastic can crack on impact with an object or animal on the trail or in an accident. You will, of course, want to ride so that happens as infrequently as possible, but it's not likely you'll 100% avoid ever cracking your plastic this way.
The plastic also cracks with time. If you love riding and keep your ATV for many years, it's inevitable. The plastic will dry as it ages and eventually crack. This will happen faster if you don't care for your machine.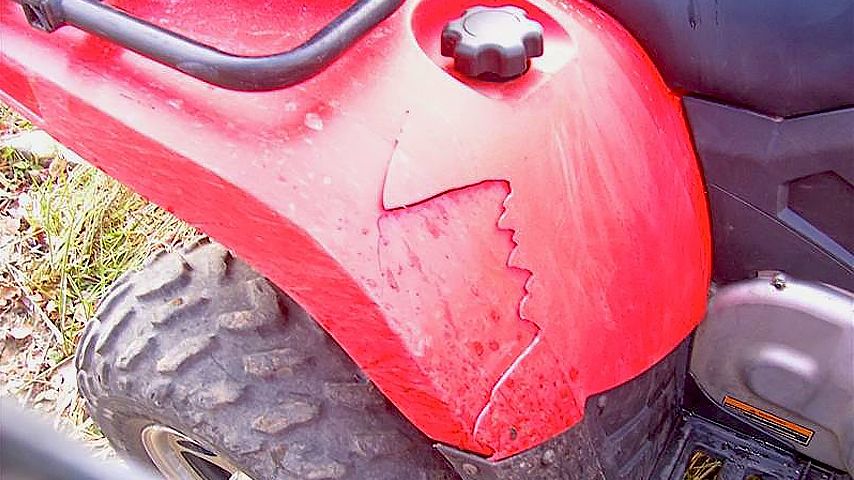 Can You Fix a Crack in Plastic?
Yes. It isn't possible to make it look brand new like it has never been cracked, but you can make the plastic stable and the crack much less noticeable. It isn't hard to do either. If it's a large crack, your biggest hurdle will be investing a little money in a plastic welding/stapling gun.
It isn't surprising if your plastic cracked around fasteners. You can use the repair methods listed below and still fasten the plastic as always.
Should You Replace or Fix the Plastic?
You should choose to replace the plastic if you just can't stand your ATV looking less than new and don't mind spending the money or if the crack is somehow so large that it is impossible to piece it back together in any feasible way. Otherwise, fixing the plastic is a satisfactory solution to most riders and saves you money.
The plastic parts don't impact the operation of the machine, so it's a question of aesthetics and how much you want to spend on that or whether you'd have something flapping around or not. Having plastic flapping around without being able to fix it, would be cause for replacement. You'd have to remove the old piece and reinstall the new part.
Off-road
waders
will keep you dry and safe in water and mud
Find out the best look for you
How to Repair Cracked Plastic on Your ATV
For smaller cracks
Things you'll need:
plastic welding epoxy
whatever tool the epoxy requires for application
Small cracks that are less than a few inches long can be pieced back together with a plastic welding epoxy. It should hold the pieces together securely enough to seal the gap visually and make the plastic relatively strong. Even if it does break again, it'll probably break in that same spot and be easy to repair again.
It's very easy to do. The instructions may vary depending on the product you purchase, but the steps should be similar.
You'll clean the plastic with something that removes dirt and grease like isopropyl alcohol. You may have to mix the product. There will be instructions for this.
Apply the product as instructed. If you need any special tools for this, it will tell you and/or supply them.
There will be a set time, often very short like 5 minutes. The cure time for it to fully dry may be an hour. If you are doing the job in cold or humid weather, the curing time will be extended.
For larger cracks
Things you'll need:
plastic welding gun
staples or stainless steel mesh (the staples may come with the gun)
metal cutters to cut the mesh (if you're using mesh)
a screwdriver to push the mesh into the plastic
You'll need to purchase, or borrow, a plastic welding/stapling gun. These can cost anywhere from $30 to $200. Research any gun before buying it to make sure it will do a satisfactory job. There are also variations in guns that may impact your purchase like whether it is a stapling gun or whether it comes with a smoothing blade.
Welding guns with staples allow you to staple the plastic from the underside for a strong and flexible bond. The gun sort of welds the staple into the plastic.
If you don't have a gun with staples, you can purchase some stainless steel reinforcing mesh to weld onto the underside of the plastic with the gun.
Either way, you'll line the plastic up as close as you can to how it was originally positioned to meld the metal to the plastic securely and seamlessly. You should let it cool after welding before attempting to do anything else with it.
If you'd like to smooth out the crack to make it less noticeable, you can use one of those plastic welding epoxies on top of the crack. You can sand it after it's dry for the smoothest finish.
Some plastic welding tools come with a blade to smooth the crack with. This will also help you achieve the best possible look. The gun will supply instructions on how to do this step.
Sign up for more content like this:
Subscribe to our blog