How to Safely Ride Your ATV in The Rain
31 May 2022
Riding an ATV in the rain with plenty of mud and the rain falling is an exhilarating experience, a peak outdoor adventure. When it's done wisely and safely. Potential pitfalls range from being uncomfortable to crashing your ATV, so enjoy the fresh, wet weather, after reading these tips on how to safely ride your ATV in rain.
Keep Your Body Dry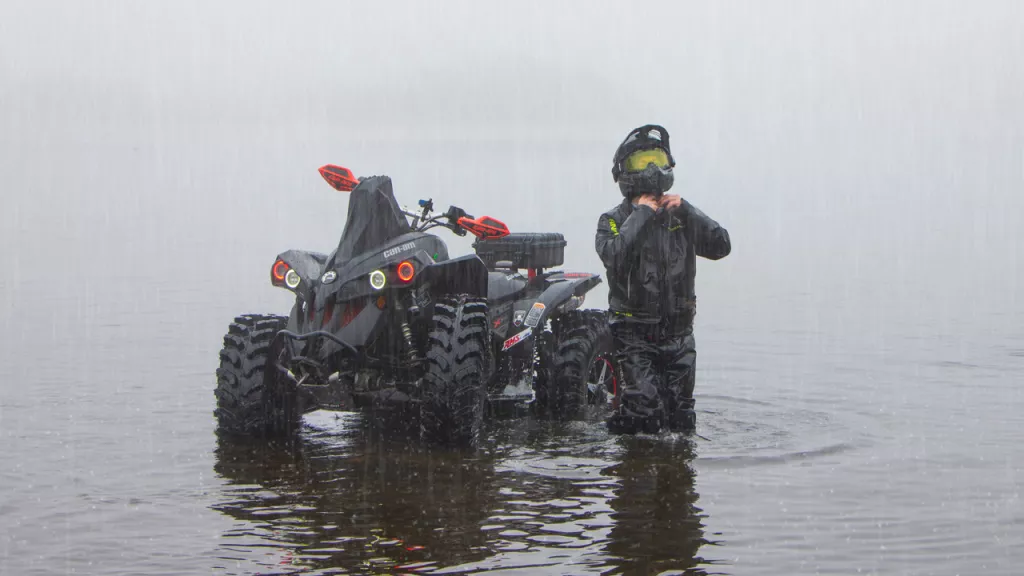 You'll need the proper riding gear to keep yourself dry and comfortable and to protect your body in the event of an accident. If you get too miserable, you may get distracted and not be able to ride as safely or you may have to cut your ride short.
There are one-piece rain suits that will provide the easiest and most foolproof protection, but you'll want to find ones that aren't too bulky and fit your budget, so you are comfortable, not distracted, and have a free range of movement.
You can also purchase a waterproof wader and jacket set for greater fit options and often a price that's easier on your budget. These should keep you good and dry while providing an optimal fit and a full range of movement.
You'll need an ATV helmet, which is always needed for ATV safety, and eyewear that won't fog up. All that moisture in the air will definitely fog your visor or goggles, so make sure you have fog-resistant goggles, open the vents in your helmet or otherwise increase ventilation, depending on your helmet, and consider adding a water repellant to the visor.
Also make sure that you have ATV riding gloves with an active waterproof coating (it hasn't worn off) so you can maintain a firm grip on your steering wheel.
Waterproof boots with excellent grip so you won't lose your footing are needed for comfort and safety.
ATV
waders
are waterproof & breathable riding gear
Find out the items that suit your needs
Prepare Your ATV to Safely Ride in The Rain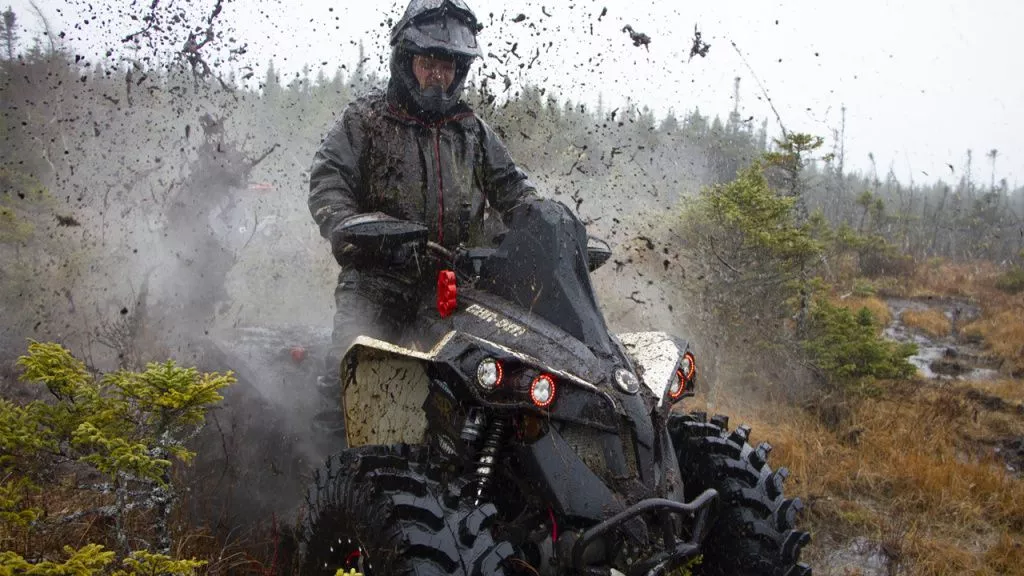 First, don't rush out in the rain when your ATV is still new to you. Wait until you've become accustomed to how it works in easy, moderate, and muddy terrain. You don't want to be figuring out things about your vehicle while you're in the rain. You need to be completely in control.
Protect your ATV from water damage
ATVs are tough, but they can still short or be deprived of air that makes them run, and they aren't damage proof.
Cover exposed wires to make sure they don't get wet from below or above. If you don't, they could short out and cut your fun short mid-ride because your vehicle is just dead.
Consider snorkeling your ATV to make sure that deeper mud and puddles don't damage your vehicle and again, put a stop to your fun. If you plan to ride in the rain often or go mudding, snorkeling may be a great investment. Otherwise, your only choice is to try to avoid deep puddles and mud.
Check the Wheels
To safely ride your ATV in the rain, you'll need to make sure your tires have good treads and are otherwise in good shape and that they have the right amount of air in them (whatever's optimal for your tires).
Have a Winch or Towing Rope
While riding in the rain, you'll encounter mud and you might get stuck. If you haven't already done it, this is an excellent time to buy a winch or some towing ropes. Purchasing a winch anchor or bringing a small metal bar like an ice climbing anchor with you can help you find something to tie your winch cable or tow rope to even if nature isn't providing you with anything.
How to Safely Ride in the Rain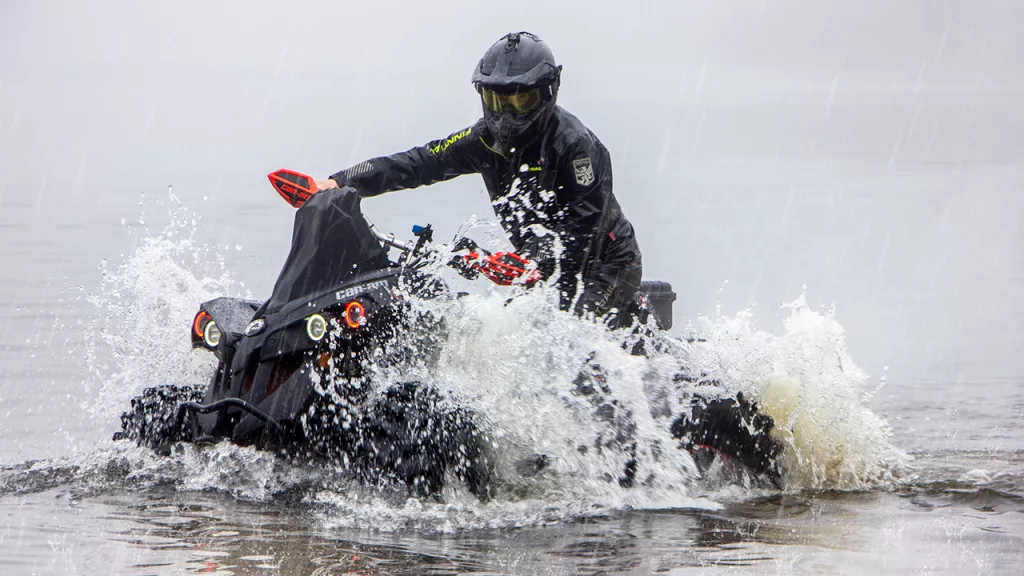 Don't stop in the water
If there is any way you can control it, (if your ATV dies, it just dies and there isn't much you can do) don't stop in the middle of a puddle or mud. It will make you more likely to get stuck and it could inhibit the air flow to the engine and let your engine die.
Drive slowly and carefully
Both acceleration and braking take longer, so plan for your vehicle's responses to be slower. Allow for plenty of room between yourself and other riders, more than usual, in case there's spray from their vehicle and so you have plenty of time to brake. Avoid hard corners and take corners more slowly and carefully when riding in the rain.
Just like with your car, standing water can cause hydroplaning. And slick spots are... slick. So avoid the ones you can and be slow and careful crossing them when you must. Avoid making jerky or sudden motions and use your momentum more than the accelerator to move.