How to Size and Buy ATV / UTV Riding Gear
9 June 2022
For both comfort and effectiveness, it is crucial that you buy ATV riding gear that fits you correctly. When buying off-road waders or a jacket online, sizing is quite possibly the most important consideration. So, measure yourself before making a purchase and thoroughly check the measurements of any you intend to buy.
Why Is It Important to Choose the Correct Size of Waders?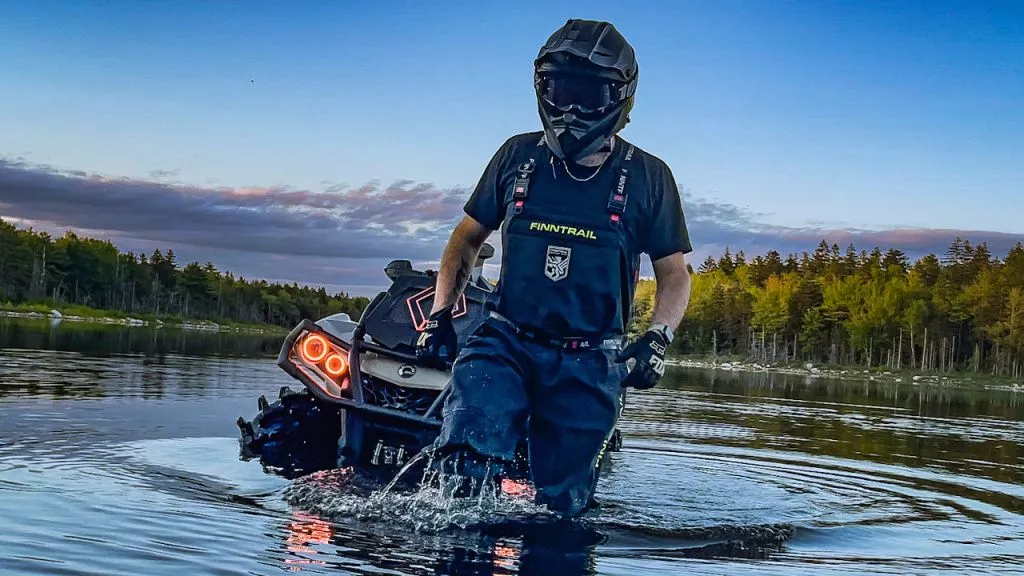 Choosing the correct size not only equates to comfortable wearing. It also determines the longevity of the riding gear.
If the gear is too small, your range of movement will be greatly limited and you may not be able to wear as many layers as you need. The tight fit will put undue stress on the seams and shorten the life of your garment.
If the gear is too large, it will bunch and crease and flop around which will be uncomfortable and distracting. With too many folds in the material, the life of the gear will be crucially shortened.
How to Size ATV Waders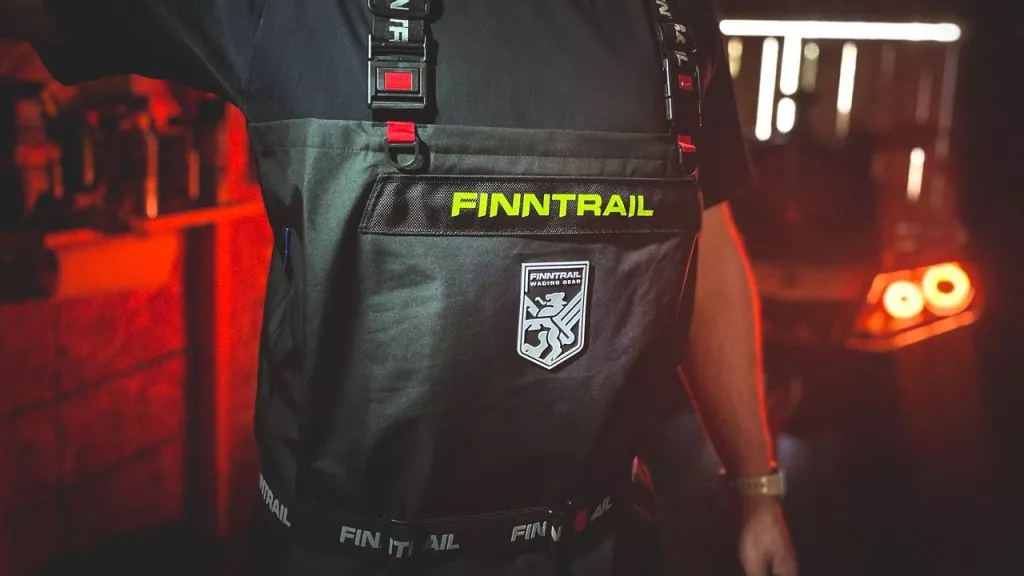 When buying ATV waders online, you can easily measure yourself at home. The only piece of equipment you need is a tape measure.
Pro Tip. To take the accurate measurements, we recommend to put on the layers you'll be wearing under your waders when you ride. Since you'll likely be wearing these waders in a variety of temperatures, choose medium-weight clothes, dressing the way you would when you need a light jacket.
Step 1. Take Your Upper Body Measurement.
Men should choose the widest part of the upper body. This may be their chest or waist.
Women will need to take their chest, waist, and hips into consideration, since women waders are specially designed to fit the lady's figure.
Stand straight but relaxed and wrap a tape measure around yourself, making sure that it's straight so you get an accurate measurement. If you don't feel confident that you can do this alone, you can get someone to help you.
Hold the tape measure so it fits to you but isn't too tight and note where the end of the tape measure meets a number or line on the other side.
Step 2. Take the Inside Leg or The Inseam Measurement.
Stand on a flat surface in your bare or sock feet, with your legs slightly apart, straight and relaxed.
Tuck the end of the tape measure that says zero under your heel, the tiniest bit that will allow it to stay.
Run the tape measure up the inside of your leg, against your leg, naturally, not too tight or loose, until it reaches the crotch of your pants. Note the line that meets the crotch of your pants.
You may want to do this multiple times to make sure it's right. You might feel more secure getting someone else to help you.
With these 2 simple measurements, you may already pick the proper size of the stockingfoot waders. Check out the Finntrail sizing chart.
EXAMPLE. You've got the following measurements: your waist is 112 cm (44.09″), your inseam is 85 cm (33.46″). Then, you need a size XL Finntrail waders.
Off-road
waders
are the core piece of riding gear for ATV & UTV riders
Find out the best look for you
How to Size Wading Boots with Waders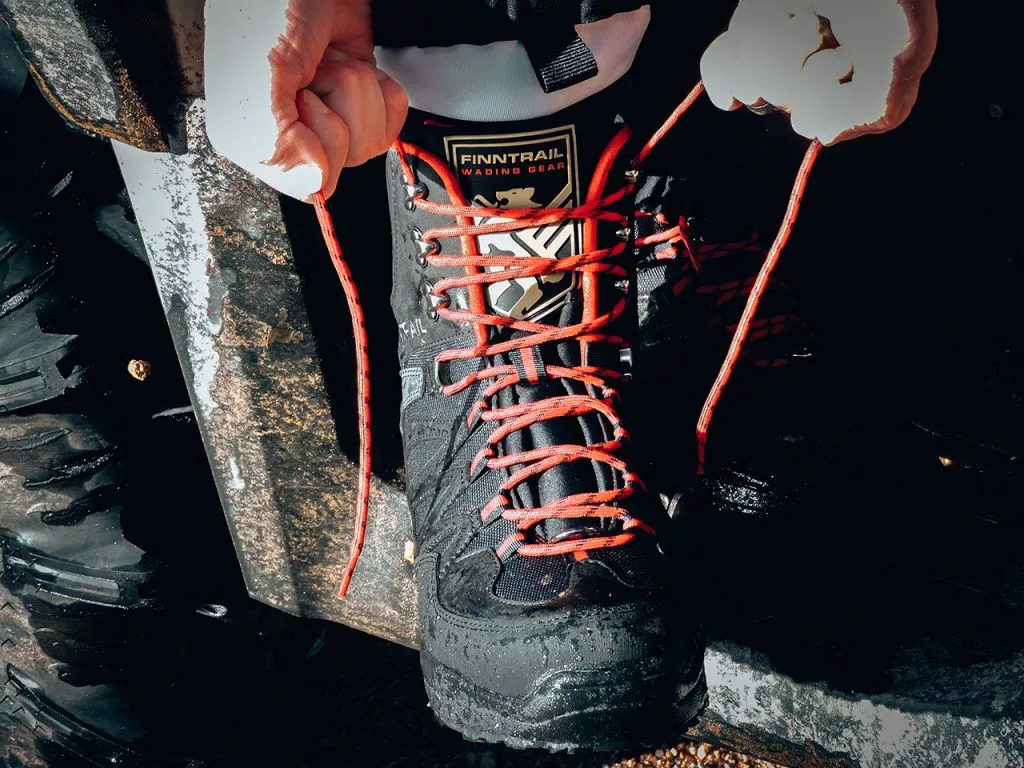 Step 1. Learn your foot length.
Place your foot on a blank sheet of paper. Mark the outer edges of the foot with a pencil or pen. Measure the length from the heel to the tip of the longest toe.
Step 2. Add extra 0.5 cm (0.2″) to your foot length.
You'll be wearing your boots over 4 mm neoprene booties of your stockingfoot waders. They will need more room in the shoe. So, add 0.5 cm (0.2″) to your foot length and you will get a proper comfortable fitting.

Then, check out the Finntrail sizing chart.
EXAMPLE. If you add 0.5 cm (0.2″) to your foot length and get 27 cm (10.6″), then you need a size 9 Finntrail boot.
Pro Tip. If you wear a half size, try going a half size bigger. The boot may feel a little big, but the comfort and circulation of your foot is more important.
EXAMPLE. If you get a half measurement like 27.5 cm (10.8″), round it up to a 28 cm (11.02″) and order a size 10 Finntrail boot.
How to Size ATV Riding Jacket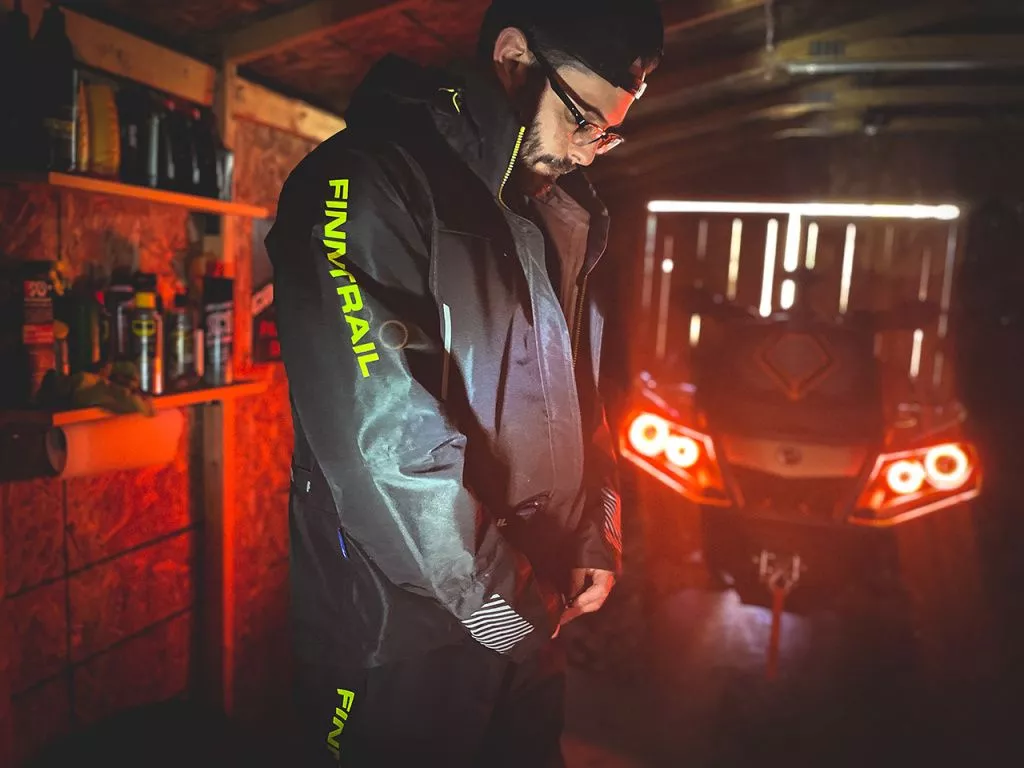 Pro Tip. Wear the layers you'll be riding in when you plan to wear the jacket.
Step 1. Take Your Upper Body Measurement.
Stand straight and relaxed, breathe normally, and wrap the tape measure around the widest part of your chest or waist. For a waist measurement, you'll measure around your body an inch above your belly button.
Step 2. Measure your height.
Step 3. Get your arm length measurement.
Measure from the center back of your neck, over the top of your shoulder, past your elbow, and down to the point where your hand starts to widen at your wrist.
Then, check out the Finntrail sizing chart.

Order ATV Riding Gear and Check for Proper Fit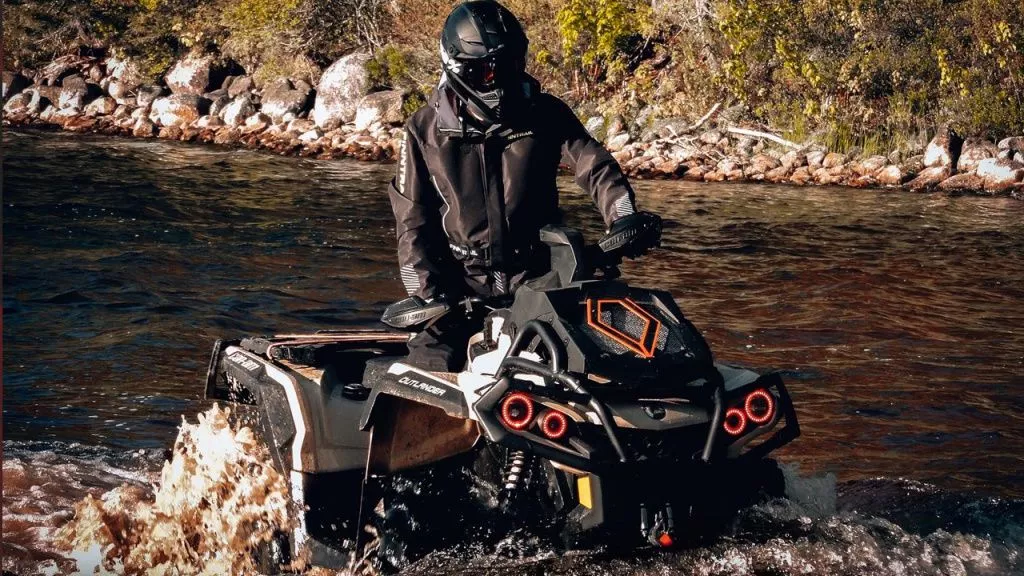 While the ideal way to make sure your ATV riding gear fits is to be able to try it on before you purchase, you can't always find the items you want without ordering online.
No problem. The online store provides you with detailed measurements, so you know that what you're buying matches the measurements you took.
When your gear arrives, try it on. Put on your jacket, waders, boots, whatever you purchased, and sit on your machine to see how it feels and how you can move in it. Don't go for a ride! If you ride in your gear, you won't be able to return it.
The gear should fit you without binding or restricting or moving around too much. If there are safety pads or anything else location specific in the gear, make sure they line up where they should go, such as knee pads over your knees.
However, if you're not 100% sure that your measurements were accurate or the size offered on the website exactly fits you, please contact the FINNTRAIL service team at [email protected]. We are here to help you choose the best ATV / UTV riding gear for your needs.