INTERVIEW: Adrenaline Junkie
15 April 2020
Who they are without their wheels? Geniuses, billionaires, playboys philanthropists? Or just interesting guys with whom you can chat heart to heart? You watch their videos on YouTube, you follow them on Instagram, and we suggest you get to know popular bloggers a little closer. This is the Finntrail view.
Ladies and gentlemen, please welcome Adrenaline Junkie!
Please introduce yourself, who you are and where people can see you.
Hey, my name is Julian, however, online I'm known as Adrenaline Junkie. I run the YouTube Channel AdrenalineJunkieProd.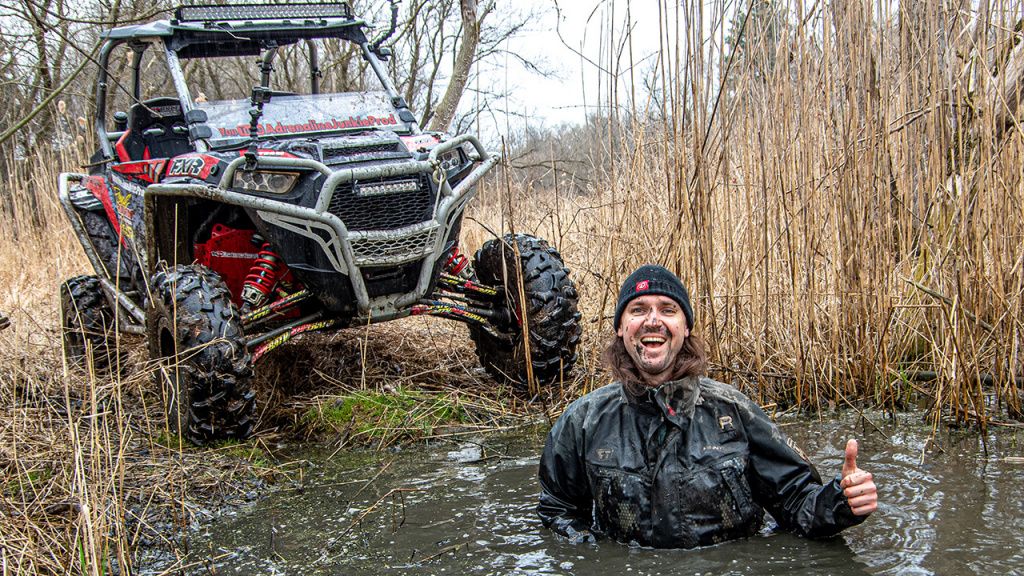 How long have you been off-roading? What made you start riding? Tell us about your first ATV or UTV experience. What was it? How did everything go?
I started off-roading at a young age. It's funny but the first thing that actually got me into offroading is when my grandfather bought me a Power Wheels battery powered Jeep CJ. I was 2 years old and I drove that thing in the yard and up and down the sidewalks non-stop. I would ride it until the batteries died, charge them and ride again.
As I got older my love for Jeeps grew. When I was 12 my father bought an old Jeep Wrangler and we started fixing it. Later that year I learned to drive it and would drive it around on our property as much as I could. Shortly after, I got a Honda 3 wheeler and an ATV. I built multiple Jeeps and ATV's after that and my hobby turned into an obsession.
In 2011 I purchased my first SXS, it was a 2011 Polaris RZR 900XP. Shortly after that I started the YouTube channel AdrenalineJunkieProd and the rest of the progression can be seen on there.
How often do you ride? Is this enough for you? How do you prepare yourself and how do you prepare your machine for your next ride? What do you take with you? Maybe you have some kind of universal riding kit?
I ride as often as I can. It depends on my work schedule. Usually in the warmer months I plan riding trips at least 2 weekends out of the month but I also ride at home since I live outside of the city. When I go on longer adventures I take a gear kit with me. You can check out some of the things I take by watching one of my YouTube videos. (Links at the end of the interview, just hold on)
Tell us more about your current machine. Your RZR is not stock at all. What did you change on it and for what purpose?
Currently I ride a 2017 Polaris RZR XP Turbo that I have had since new. It is heavily modified for trail riding. The machine has a lot of components on it from our sponsors and other brands I trust. There are a lot of SuperATV components on the machine, such as the Bumpers, A-Arms, Steering System, Radius Rods, Axles, Drive Shaft, and many more items. Recently the tires I have been running on the trails are usually ITP Blackwater Evolution's but I have run many different tire setups. I also have a full Turbo Back HMF exhaust system, Rival Powersports skid plates, McNasty Customz Firewall and Fender Guards, as well as, Fuel and KMC aftermarket bead lock wheels.
Inside the machine I have G-Force Off-Road seats and Harnesses as well as a Razorback Technology infrared belt temperature gauge. I utilize RAM mounts to hold a lot of my other accessories for filming videos as well as my Samsung Tablet for GPS. I utilize LifeTime Trail Maps GPS software when riding in the United States. You can see a detailed walk around of my machine on my YouTube Channel. (Link at the end of the interview).
What brands do you trust?
Obviously, I am a huge fan of Finntrail Wading Gear! We quickly started working together after meeting at a trade show in Canada in 2017.Later that year Finntrail came on board as one of our first YouTube Channel supporters.
Aside from Finntrail another title sponsor of our channel is SuperATV. I have been utilizing their products for many years. They saw some of our videos and they really liked our content. They contacted us and expressed interest in helping to support the channel by outfitting my RZR Turbo with many of their products. That partnership started around the end of 2017. I am a huge supporter of their brand and have been for many years. Recently Finntrail teamed up with SuperATV which made me really excited.
The main title sponsor of our channel for the last 3.5 years has been Royal Distributing. They were the first brand to truly support the AdrenalineJunkieProd brand, they believed in us early on. They are one of Canada's leading powersports suppliers and sell all of the best brands for UTV's, ATV's Motorcycles and Snowmobiles. For more information about how the #TeamAJP RZR Turbo is outfitted head over to our YouTube channel and see it in action.
Off-road
waders
will keep you dry and safe in water and mud
Find out the best look for you
Many people know you, watch your videos, and follow you on Instagram. But not everyone knows that you work in frontline healthcare. Tell us, why did you choose this career? Has it ever happened that off-road skills helped you in your work? Or vice versa, did your medical skills help you during a ride?
I have been a thrill seeker from a young age. I am always out looking for an adrenaline rush, whether I am riding or working! Many people may not know that I work in front line healthcare. I am a Registered Nurse in a busy Emergency Department in Ontario, Canada. I enjoy high paced and high stress environments. Therefore, my career in emergency healthcare and my love for motorsports go well together.
Since we like to ride hard there have even been a few situations on the trail where I have had to use my emergency medical training. I have witnessed a few severe UTV/ATV accidents over the last few years and in a couple situations the riders were severely hurt or almost died. However, luckily our riding crew were able to work together to get them to safety. I guess you could say my training at work has helped me while out riding multiple times, although I don't like seeing scenarios that require that.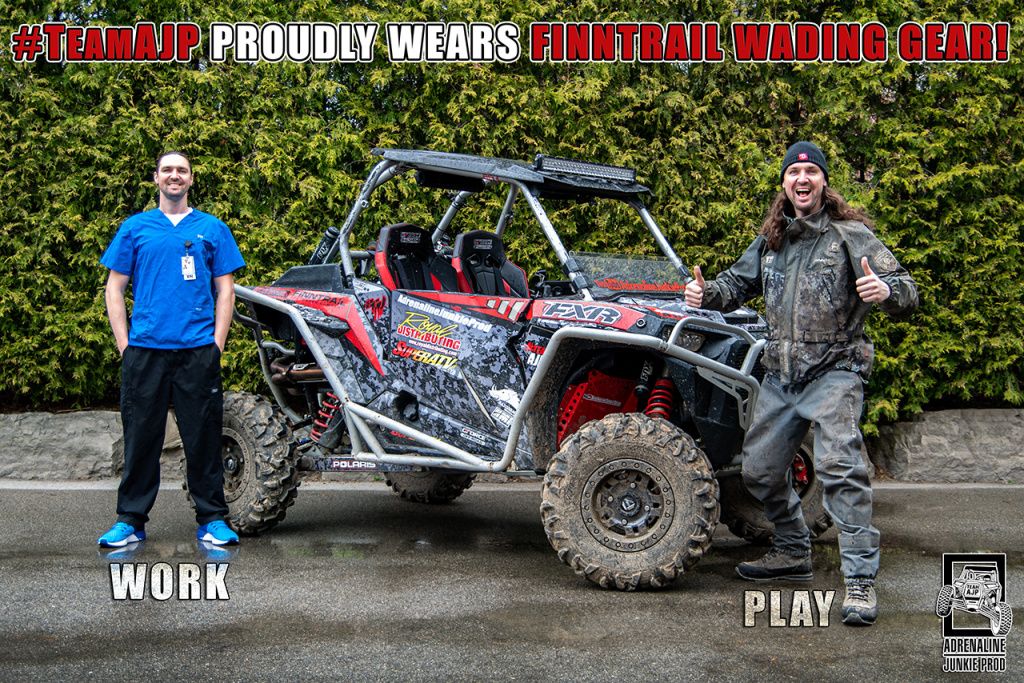 Currently the situation around the world is unstable, people are dealing with a new virus and a global pandemic. Can you tell us how things are in Canadian hospitals? Some kind of insider's info?
As everyone knows, currently we are dealing with the Corona Virus. Globally things are quite uncertain. Since I work in front line healthcare this is a very hectic time. I find that when I going out for a ride in my UTV or working on it in the shop helps me relax. I call this Throttle Therapy or Trail Therapy. It helps me get my mind off the stressful things going on around me.
The number and severity of cases continue to grow in Canada and things have become very serious next door to us in the United States. Luckily, the hospital I work at has not been impacted too severely yet and I hope it stays that way. This pandemic has impacted many of my travel plans for the channel this season. We have had to cancel all of our trips. I am hoping everyone reading this and all those who watch my videos are staying safe and healthy.
Share tips for riders on how to deal with the pandemic? How do you not give up on your favorite hobby at these times?
As much as we all want to go out and ride we have to remember that the most important thing we do right now is socially distance ourselves and not congregate in large groups, even if it is out on the trail. We cannot be selfish, we must put the safety of others in front of our need to go out and have fun. We must do our part and stay home if we can to control the spread of the virus.
If we do go out for a ride we must make sure to keep our distance. When out riding we should not ride too hard so we do not cause any injuries or serious breakdowns. Such situations compromise our ability to self distance. Healthcare services are already overloaded without having to deal with off-road accidents or injuries. If you can't ride then hopefully you can work on your machine in the shop or watch some riding content online to keep you entertained.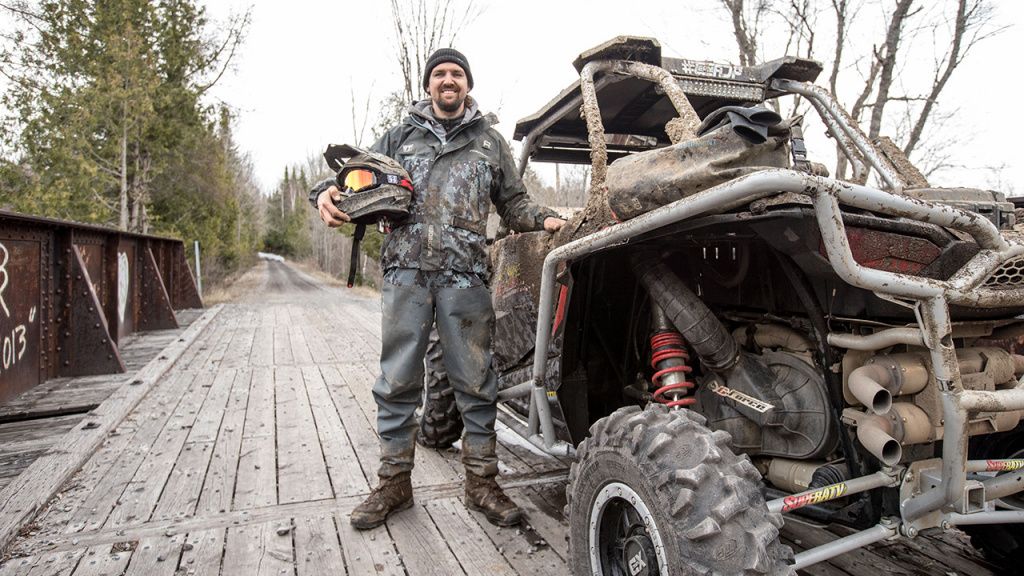 When are you going to get out on a ride again?
We plan to get back out riding a lot once the Corona Virus pandemic settles. Currently borders are closed and so are most off road recreation areas. I urge everyone to stay home until it is deemed safe to get back out and ride. Staying safe and healthy is the number one goal. We plan to make up for lost time once this all settles by planning some big group rides. We will be back out on the trails as soon as we can!
Is there anything to add for the subscribers, both ours and yours?
If you would like to follow along with what we are up to and all of our adventures then make sure to Subscribe to us on YouTube, Follow us on Instagram and Like us on Facebook. Thanks for stopping by to read the article and ride safe!
HIT