Preparing to Ride Your ATV in The Woods
9 April 2022
Taking your ATV in the woods is more demanding and hazardous than hitting the trail, both for your machine and for yourself. This post will help you make your ATV and yourself even more rugged to tackle this new terrain wisely.
How to Prepare Your ATV for Adventures and Work in The Woods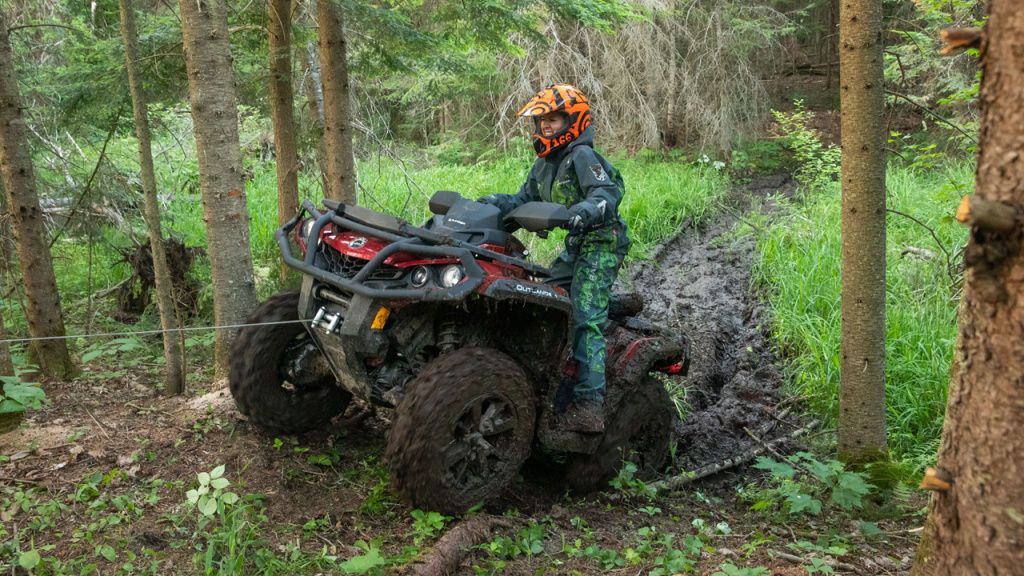 Winch
You'll need a winch for a variety of off-roading tasks, getting unstuck from mud, tackling steep terrain, and righting a vehicle that has tipped or rolled over.
Make sure to invest in the best winch you can afford. When you need one, you need it to be dependable. But don't buy one that is excessively heavy as this can weigh down your machine. You'll need to purchase a bracket made for your ATV model.
If you will be frequently relying on your winch rather than having it for emergencies, you should consider buying a winch with synthetic cable rather than steel because it is more friendly for repetitive use. If you already have a winch with steel cable, you can replace the cable, if you need to.
Find out the best look for you
Brush bumpers
The wildness of off-roading means you'll be banging your ATV against limbs, logs, and more. While that's often small damage in itself, it adds up, causing significant damage to the exterior of your machine over time. Brush bumpers are made specifically to withstand this kind of repetitive punishment and make your ATV not necessarily impervious to damage, but much less affected by it. They'll be designed to fit your exact ATV model and they are easy to install.
Aftermarket tires
Stock tires won't cut it in most wooded areas. Depending on the terrain you plan on riding in, you'll need either mud tires, rock crawling tires, or all-terrain tires. Of course, all-terrain tires would give you the most flexibility, offering grip and durability for just about anything you can encounter. If you expect your trip to be varied, go with those. If you expect to be encountering a lot of or extremely deep mud or large rocks, then you might do best to focus on those specific tires.
You might also choose to get slightly larger tires, whatever type you go with, to give you greater ground clearance.
Width upgrades
A wider ATV is a more stable ATV, helping you handle corners with reduced change of tipping and to avoid getting stuck in the mud. You can use a simple wheel flip, wheel spacers, aftermarket A-arms, or aftermarket axles to widen your ATV.
There is limitation to this rule though. You want to go wider, but not too much wider because it makes your ATV harder to maintain and could make it illegal to ride. Widen your ATV, but only as much as is necessary to achieve your ends.
Heated grips
If you ride in cold or rainy weather, it's impossible even with the right gear to completely protect your hands from the wind, water, and cold. Heated handlebar grips will keep your hands warm so you can focus on your ride and the terrain.
They're not difficult to install, but some models will require that you run some wires.
How to Prepare Yourself to Take Your ATV in The Woods
Riding gear
Those limbs we mentioned earlier, they'll be hitting you too. You'll also need to be prepared for mud, water, temperature changes, and potential accidents.
Dress in layers so you can adjust your clothing to temperature changes. Always wear long sleeves and pants.
You'll need boots, probably waterproof ones, with excellent grip.
Wear goggles. You can get googles that will increase the clarity of the path head and provide greater fogging protection. Also bring extra goggles in case something happens to yours.
Technical apparel for wind and waterproofing including gloves, shirts, jackets, and waders (for water and mud) is a must. When we say gloves, you need riding gloves, not just any gloves. Depending on the gloves themselves, they can be designed to protect your hands from wind, water, cold, and impacts while still allowing you to maintain a firm and dexterous grip.
Find out the best look for you
What to take on board
You'll need tools.
Read your owner's manual to make sure you have any specific nuts, bolts, and spare parts that are specific to your machine as well as any tools that are required with those.
Always bring a(n):
adjustable wrench
set of screwdrivers or multi-bit screwdriver
flashlight
tire plug kit
tow strap
container of extra fuel
jack
air compressor
pack of zip ties
set of replacement spark plugs
spare rim and tire
spare drive belt
jumper cables
duct tape
pack of matches
pocketknife
For safety, you'll need:
a first-aid kit
small fire extinguisher
mobile phone
GPS
water
non-perishable foods like nuts, trail mix, beef jerky, or energy bars
an emergency blanket