How to Buy Best ATV Riding Gear On A Budget
2 September 2022
Most of us don't have endless resources to buy ATV riding gear, but that doesn't mean we can't have everything we need. This post will help you determine where it's okay to cut corners, where it isn't okay to cut corners, and how to get quality ATV gear on budget.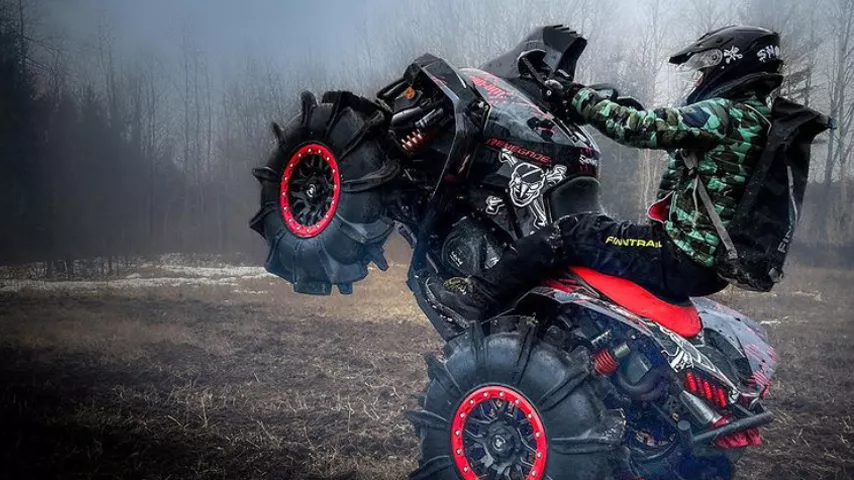 The Importance of ATV Riding Gear
Almost every aspect of ATV riding gear and recommended clothing suggestions is about your safety. That means having all the gear you need and having quality gear can't be compromised. Thankfully, it is possible to get good deals on the things you need, so don't get discouraged.
Where You Can Cut Corners with Four Wheeler Riding Gear
If you'll be riding in moderate to hot temperatures and on dry trails, it's okay to skip buying special pants and shirts and even special shoes. If you already have suitable apparel at home, wear it.
Suitable apparel means:
Long sleeves
Long pants
Sneakers
Breathable, moisture-wicking fabrics
Nothing too thin or too bulky
Nothing too loose or too tight
Nothing you mind getting sweaty, muddy, grass-stained, etc.
Learn what you need for the type of riding you'll do. Everything that is "the best" is not necessarily what you need. For instance, you may not ride dangerously or in wild terrain and may not need riding gloves with the hardest knuckle protection. Quality gloves with a little rubber knuckle protection will serve someone trail riding or going slower speeds just fine and generally cost less.
Ask people or research online what you need and what are nice to haves. You can skimp on nice to haves, but you should never skimp on what you need.
Where You Can't Cut Corners with ATV Protective Gear
First, make sure you have all of the gear you need. Don't skimp, saying, I just won't buy those gloves, goggles, that helmet, those wading boots. If it's safety gear, you need it. There are no guarantees with this sport. It's fun, you can do it smart, but everybody can have accidents and you can get seriously hurt or killed. You need your safety gear. Don't go without, just try to find the best deals on quality gear.
ATV
waders
are the core piece of riding gear for off-road riders
Find out the best look for you
Gear
Never ride without:
An ATV helmet
ATV riding gloves that encourage grip and prevent blisters
ATV goggles to protect you from debris, dust, flying objects, and glare
Long sleeves and long pants
Shoes with grip
Anything needed to protect you from the elements, depending on the weather and where you're riding
GPS or maps and a compass
Your cellphone and/or a radio
A first aid kit
Safety supplies, including food and water, for you
Repair gear for your vehicle
You may have noticed the ATV included in the first three items. All gloves, all goggles, and all helmets will not provide necessary protection. They may be technically the same object, but they don't do the same job. Find a good price on quality versions of these things made specifically for the sport you're engaging in. Different sports and activities have their own gear for a reason.
Brand names
Always buy from a brand name with a good reputation. Some are more budget-friendly than others. You can prioritize those brands to save a buck if they offer what you need. Chinese manufacturers are notorious for selling inferior ATV vehicles and gear. Cheap knock-offs won't do either.
Research
Always research your potential gear purchase. Read the reviews. Find out about their customer service in case something goes wrong. Check the specifications on products you're going to buy. This will help you make sure you are getting the best quality for your buck, buying what you think you're buying, and not accidentally buying more than you really need or want.
Where You Don't Have to Cut Corners with ATV Gear
Tech
There is a lot of technical gear in ATV riding. Much of it is electronics or aftermarket additions to your vehicle, but some of it is apparel. Follow the same guide for this as has been outlined above. Find out what you need, or what is a want that is important enough to feel like a need. Some stuff is extra and won't mean much to you. Some available options could greatly enhance your ride or your safety, like radios.
You should be able to find the products and features you need and want at great deals or included in something you're already buying. So don't assume this stuff is automatically out of your reach.
Aesthetics
Manufacturers know people want to look great while they ride, so you can usually find plenty of color and style options for whatever ATV gear you're buying. Feel free to look for gear that matches your vehicle color or comes in a pattern that makes the statement you want to make when appearing on a trail.
Best Prices on ATV Protective Gear
As we pointed out above, all of the best brand names don't sell in the same price range, and everything that's a top-of-the-line product isn't necessarily what you need. It may be overkill.
You can also save money on a pricier item or get an even better deal on a purchase by looking for sales. That item that was outside your grasp in one store or last week might be discount riding gear today during an event or on the store's website.
Bloggers often provide promocodes in their blogs, so while you're doing the research we told you to do, you can find an exciting discount on ATV riding gear.
You can usually save yourself some money purchasing ATV riding gear sets of 2 or more pieces. For instance, rather than buying your waders, wading jacket, and wading boots separately, you'll usually save money by buying them together in a set. ATV riding gear packages are a great way to be sure you're getting things that fit and work well together too, so you don't regret your purchase.
It's very possible to outfit yourself with all of the ATV mudding clothes and protective gear you need. It requires some research and maybe some finding of great deals, but it's doable and you'll have a safer and more enjoyable ride.