How to Choose an ATV or UTV for Farm Work
10 March 2022
Farming is hard work, so you need a reliable, powerful, and versatile machine like an ATV or UTV to make your tasks easier. But how do you choose the right machine to purchase? This post will tell you how to choose an ATV or UTV for farm work.
Why Choose an ATV or UTV for Farm Use?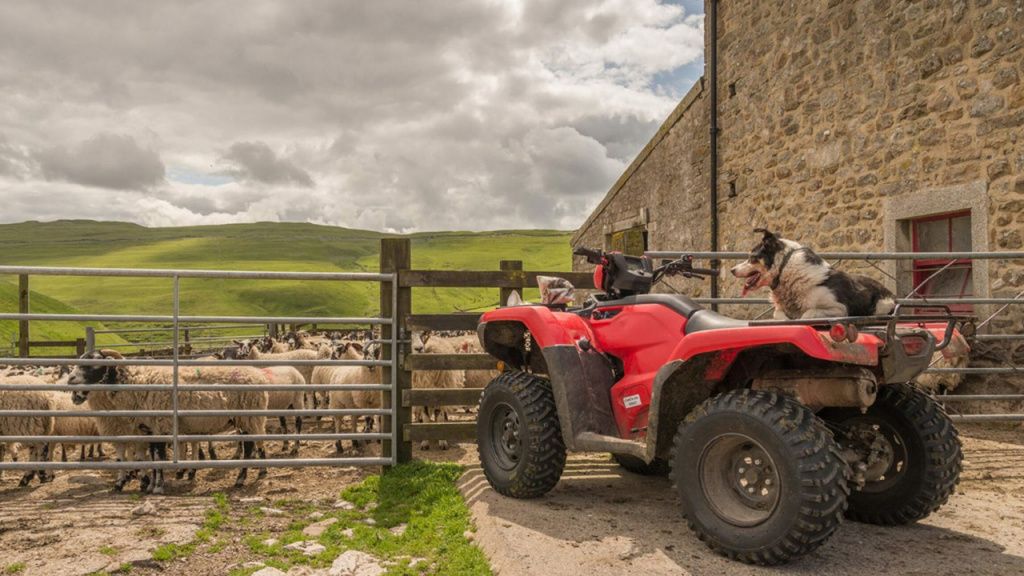 Both ATVs and UTVs can help you carry, tow, and plow on the roughest terrain and in spaces larger machines can't manage.
When you need to transport too much to carry but not quite enough to justify a large tractor, ATVs and UTVs save you time, labor, and fuel by doing this job for you. Just load up to hundreds of pounds onto a trailer or rack attached to the ATV and get in the drivers' seat.
And if you add a chisel or disc plow to an ATV or UTV, it can plow and till land that larger machinery can't fit into or would be too overkill to use.
ATVs and UTVs can make many farm tasks easier, such as:
carrying firewood
clearing snow
spreading seeds
raking leaves, debris, and gravel
harrowing land
catching livestock
building wire fences
ATV or UTV? Which is Best for Farm Work?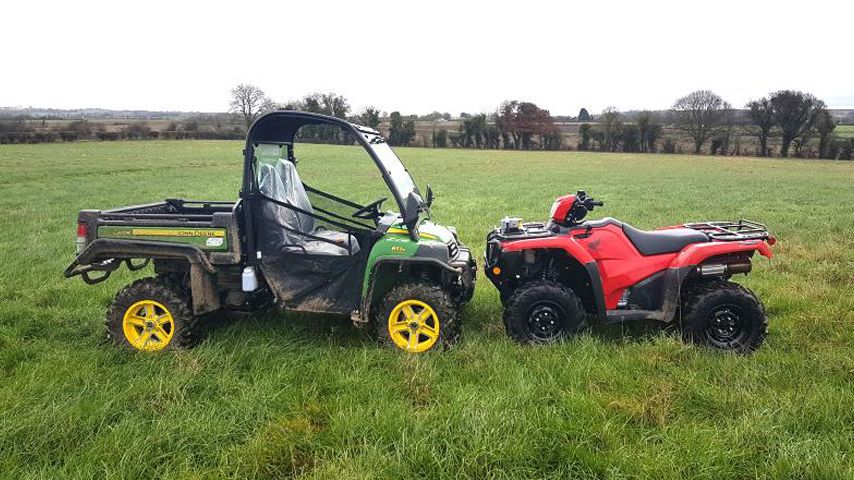 ATVs are smaller and more maneuverable, which makes them the best for when you need your machine to fit into difficult places. They are usually easier on the budget than UTVs and more convenient to store because they're smaller. Their lighter weight also makes them gentler on turf.
UTVs are built specifically for utility purposes, so they are designed with hauling capacity and room for storage in mind. Side by side UTVs allow you to safely bring passengers. They will often come with safety features ATVs don't, like seat belts and enclosures that you may prefer for yourself, employees, and family.
Both vehicles are great if you want to use them for fun too. While ATVs are designed more for fun, UTVs also provide the speed and ruggedness that you'll need for outdoor adventures.
You'll have to consider what you need in the vehicle. UTVs are the clear winners in hauling, storage, towing, safety, and comfort, but ATVs offer cost, space, and maneuverability benefits that you may need while still offering you life-changing storage and hauling capacity.
Tech Specs to Look for When Choosing a Vehicle for Farm Use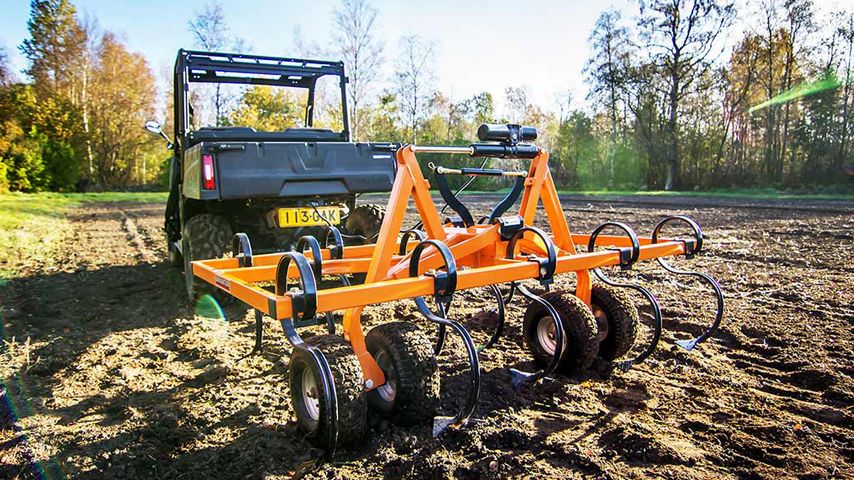 All ATVs and UTVs are not the same. There are many variables to consider when choosing the right one for your farm.
Cargo capacity
Make a list of tasks you'll expect to be using your new machine for and consider the weight the machine will need to carry and the room it will need.
Different ATVS and UTVs can carry varying amounts of weight and offer varying amounts of room. Check the specifications on any ATV or UTV to make sure it matches your needs. 1,000 lbs of hauling capacity is fine for most work, but you can get as much as 1,750 lbs, if needed.
Towing performance
ATVs and UTVs will have different towing ratings. You'll need to check the rating and compare it to your needs. Tow ratings can reach as high as 1,650 lbs to 3,000 lbs.
Engine
Farm work is particularly hard on an off-road vehicle. Not just any ATV or UTV engine will be right for the work you want it to do. A 4-stroke, liquid-cooled engine with be better able to withstand regular slow and difficult work even in the heat, and you'll want to compare the power ratings and other technical specifications of your engine with your other needs and budget.
Dependability
This isn't a technical specification, but you do want to research brands and models to find a dependable ATV or UTV. Polaris, Can-Am, and Kawasaki are some of the most recommended brands for farm work.
Comfort
UTVs are more likely to offer you leg room and may have passenger-style seating that is both more comfortable and provides needed support for hard-working backs. You can add storage with back support onto ATVs.
Try out any ATV or UTV you consider purchasing to see how it feels.
Best ATV and UTV Accessories for Farm Use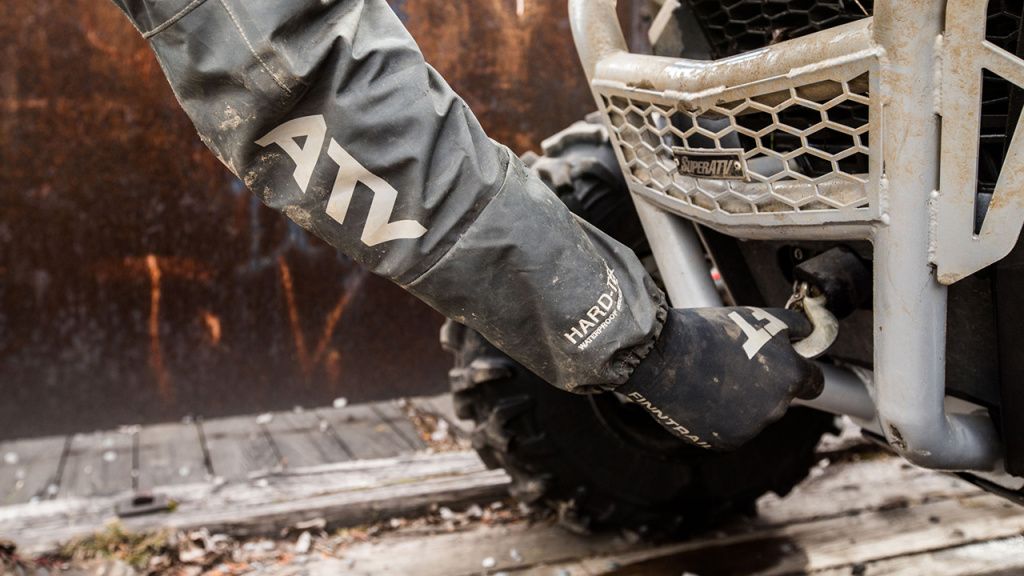 You'll be amazed by the wealth of ATV and UTV accessories on the market to help you tackle farm work.
Protection
Front and rear bumpers will give your machine additional protection against the many bumps and bangs it make get from frequent farm work.
If you use your UTV for hauling, you'll probably want to add a headache rack to protect the occupants and the machine from heavy sliding materials.
Storage
ATVs come with storage and UTVs come with more storage, but you'll likely want more than either provide and that's fine because you can add much more on. Aftermarket accessories include storage boxes, heavy-duty baskets, bed extenders, and more.
Winch
Many farmers will need a winch to tow heavy loads and clear debris. They're also important if your machine gets stuck in rough terrain.
Job specific accessories
You can add snow plow blades, wire rollers, chisel or disc plows, rakes, harrow attachments, mowers, seed spreaders, livestock catching cages, and more.