How to Choose and Install an Audio System on Your Four-Wheeler
2 April 2022
Upgrading and customizing your ATV or UTV can be a huge part of the fun of owning a four-wheeler. There are so many components you can improve, tweak, and set to your personal liking. One of the most interesting upgrades is the sound system. Stock ATVs typically don't come with great sound, and if you like listening to tunes when you're out on the trail, a new audio system is just the ticket. It's great for when you're just relaxing with your buddies between rides, too.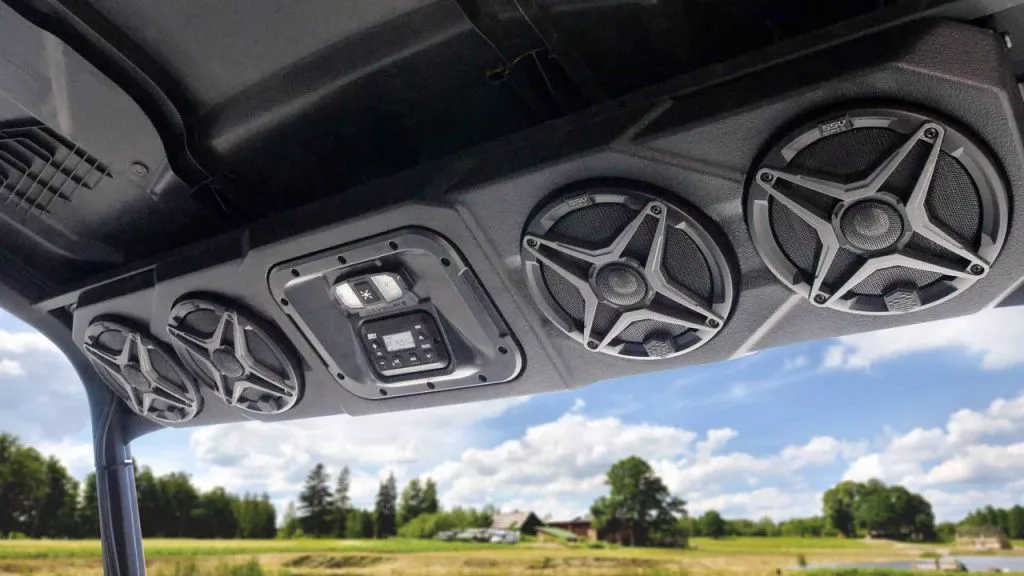 What are the main components of an ATV sound system?
Every good four-wheeler sound system has several components:
Receiver – Also known as the head unit, the receiver is the brains of the operation. It takes the audio source you supply and converts it to a signal that can be sent to the speakers. Receivers on an ATV need to be compact and perform multiple duties, so it's typical to find receivers with USB inputs, radio, built-in equalizers, and Bluetooth support. We also highly recommend receivers that can function as a two-way radio so you can easily keep in touch with home base.

Amplifier – The electrical signal in a receiver lacks enough power to drive speakers, so it needs to be amplified by this unit. In many four-wheeler audio systems, the amplifier will be built into the receiver to save space. But if you plan on adding extra speakers, then you may need a separate amp to power high-output speakers.

Speakers – The sound must come out from somewhere, and that's where speakers come in. ATV speakers are different from home theater speakers as they need to be rugged, weatherproof, and resistant to dirt, water, salt, and impact. ATV speakers also need to be mounted somewhere convenient on the vehicle, so there's a whole range of different adjustable mounts and physical configurations.

Cabling – Every ATV sound system must have cables to connect power and to send signals between the components. Ensure you have waterproof cabling. Wireless sound systems can reduce the amount of wiring you need.
Off-road
waders
will keep you dry and safe in water and mud
Find out the best look for you
Choosing an ATV sound system
ATV and UTV sound systems don't need to be complex. The simplest system is an ATV/UTV soundbar or audio tube. This includes everything you need in a single soundbar—amp, woofers, mid-range drivers, and tweeters, and typically connects to your gadgets via Bluetooth or AUX. All you have to do is connect it up to power.
If you're looking for the cheapest multi-speaker setup, you can pair a marine speaker with a set of marine stereo speakers for a simple stereo system. Additional sound isn't difficult to add, either, as you only need to hook up a couple of extra speakers and a subwoofer, but you'll probably need a secondary amp if you upgrade your sound system after the initial purchase.
If you have a popular model of ATV or UTV, you'll be able to find custom audio kits designed particularly for your vehicle. These range from two-speaker + amp systems all the way to multi-woofer systems with four speakers.
Whichever system you choose, you need to consider how it will fit on your vehicle and how you can protect it from damage. Your ATV gets bombarded with water, salt, wind, and rain. Your ATV audio system should be corrosion resistant, include UV resistance, and be rugged enough to take a few knocks from time to time. Check the IP rating of the speaker system, which will tell you whether it's only rated to take a few splashes from time to time or whether it can be completely submerged in water without issue.
Is it difficult to install an ATV sound system?
Most audio kits are easily installed in your home garage. Audio tubes are the simplest, as they only require power. Wireless ATV audio systems are easy, too, as the speakers only need to be plugged into power. A wired speaker system with an amp and separate subwoofers is more complicated because there are more wires you need to hook up and hide on the body. But as long as you plan installation in advance and know exactly where you'll mount all the speakers, there's nothing particularly difficult about installing an ATV sound system yourself.
Sign up for more content like this:
Subscribe to our blog