How to Choose Best ATV Shocks for Trail Riding
12 October 2022
Shocks might be stopping you from enjoying your ATVon trails. This calls for shopping for a new set of ATV shocks.
Perhaps, you already have suitable shocks for the ride but are losing performance, and you want to change them for different compression ratios, since they are non-rebuildable.
Most suspensions, especially those on old ATVs, are non-rebuildable and buying new ones is a good investment you won't regret, with the right guide, though.
The problem with choosing the best ATV suspensions for trail riding is that most ATV owners don't know how to pick the best for the machines. With the different ATV shocks on the market, you might likely get lost choosing the best suspensions for your vehicle, but that shouldn't be an issue.
Different factors come into play when picking ATV shocks, including compression rates, and knowing them will help you make the right choice during your next shopping.
This piece discusses how to choose the best suspensions for your ATV.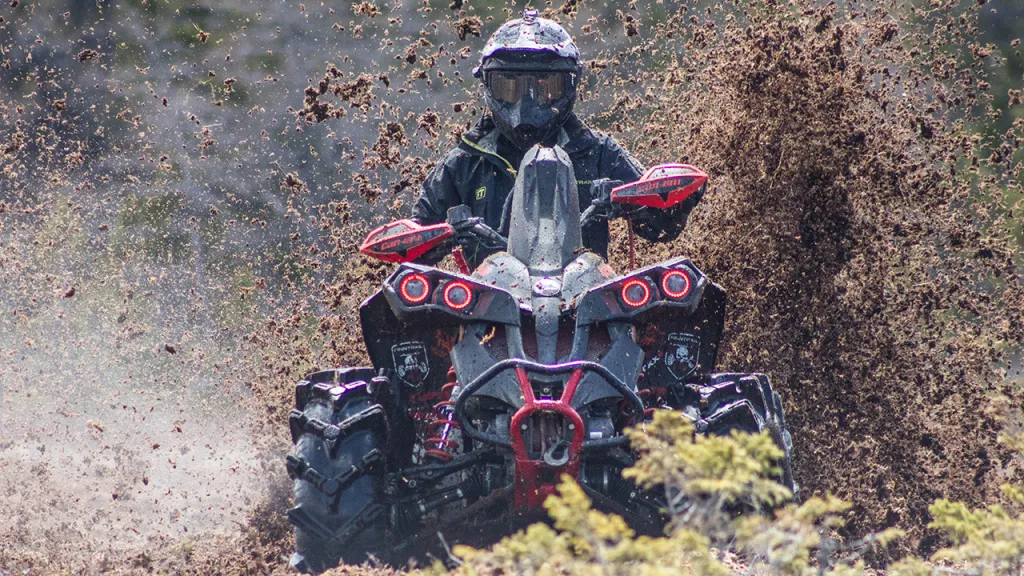 Consider Your Budget
The first factor that should come to your mind when shopping for new suspensions is budget. Know how much you are willing to pay for your shocks.
Suspension comes from different brands and price points, and choosing one depends on your pocket. While you can find shocks of low prices, you will also come across high price tags, and you can only tell what price a good fit for you is. What might be a decent budget for your friend might not be the best for you.
You might also be surprised to come across shocks far pricier than your ATV. You need no one to tell you those suspensions are not for you.
However, experts advise choosing shocks in the neighborhood of $700 for the front and $800 for the rear. Suspension at these price points is decent enough to offer a superior compression and ride comfort during trail riding.
ATV
waders
are waterproof & breathable riding gear
Find out the items that suit your needs
Know the Types
Shocks are of different types and work on different mechanisms with high and low compression ratios. Hence, it is best you know the various available options for your machine.
Standard Non-Adjustable Shocks: if you own a smaller, low-budget ATV, you are likely to have this suspension on your machine. They are cheaper and come with minimal features. For example, you can't adjust them for compression, and they only depend on the spring for absorbing bumps and jumps. Though they might attract your interest with their low prices, it is best to shun them unless you are on low a very low budget.
Pre-load Adjustable Shocks: these shocks are pricier than non-adjustable shocks but still not the best for trail riding. They usually come with entry-level sports squads, and their adjustments have limitations. This type of ATV shock is of two types: while the first option lets you choose from five predetermined preload settings, the other uses a thread lock for its adjustment.
Fully Adjustable shocks: these are the most advanced type of ATV shocks, offering the most features on the list. With this suspension, you can adjust different settings, such as the rebound, speed clickers, and ride height which affects compression. Regardless of your budget, try as much as possible to have your hands on these shocks, as they offer the best features you want in ATV suspension. It is also worth noting that it is available in two different types: while one variant has its oil and spring in one compartment, the other option has its oil reservoir in a separate compartment, just beside the shock.
Buy from a Reputable Brand
When shopping for shocks for trail riding, consider reputable brands too. You want to choose your suspension from recommended brands from those who have bought from them. Note: You may have seen a particular shock used by the fastest racer, it doesn't mean it is the best for your ATV. The advice is to find local pros who constantly take their vehicles for trail riding and pick their brains. This way, you have an idea of how the shock will serve you.
Best ATV Shocks for Trail Riding
Here are a few budget-friendly ATV suspensions you can consider for trail riding:
Works Performance (A-T and Quad Star)
Regardless of your terrain, riding ability, and weight, Works Performance has got you covered. Work performance is a reputable ATV shock manufacturer with quality products. One reason ATV owners choose Works' suspensions is the use of the same mathematical equations for all its suspensions, not minding the price. Meaning compression is just right when choosing your shocks.
The two popular products from the renowned maker are front A-T Steeler at $445 and rear Quad Star, selling at $660 with a reservoir and $605 without a reservoir.
Race Tech's GS-3
Another reputable shock maker in the industry is Race Tech, and their GS-3 is a top-notch product to equip your ATV for trail riding. The GS-3 is available for the front and the rear at different prices, though. While the front option goes for $700, GS-3 rear shocks carry a price tag of $750. Features of GS-3 include ride height and rebound adjustments, which are necessary for tuning your vehicle for different activities and terrain, making compression just right.
Elka Suspension
If you are on a low budget and still need strong suspension to carry your weight and give a comfortable ride, Elka has got something for you. Stage 1 is a low-budget ATV shock with decent features, capable of giving a memorable riding experience when you are out there in the forest or the rocky terrain.
Though Stage 1 is not the best in Elka's lineup, it is made up of the same quality materials as high-end suspensions from the brand. This means Elka's stage 1 is for ATV riders on low budgets looking for high-quality suspension with a reasonable compression ratio. The only feature you might miss with the $495 shocks is less adjustability. You need a higher budget to afford the $895 Stage 3, which comes with preload, rebound, and compression adjustments.
Sign up for more content like this:
Subscribe to our blog