How to Rebuild Your ATV Engine For Less
13 September 2022
ATVs and UTVs are powerful and complicated machines that need proper care and maintenance to see their full power and longevity. Sometimes they've just seen their day. Engine rebuilds are expensive, so you want to delay them if you can and choose the right time and way to do it so that it costs less. We'll tell you how to rebuild ATV engines the best way.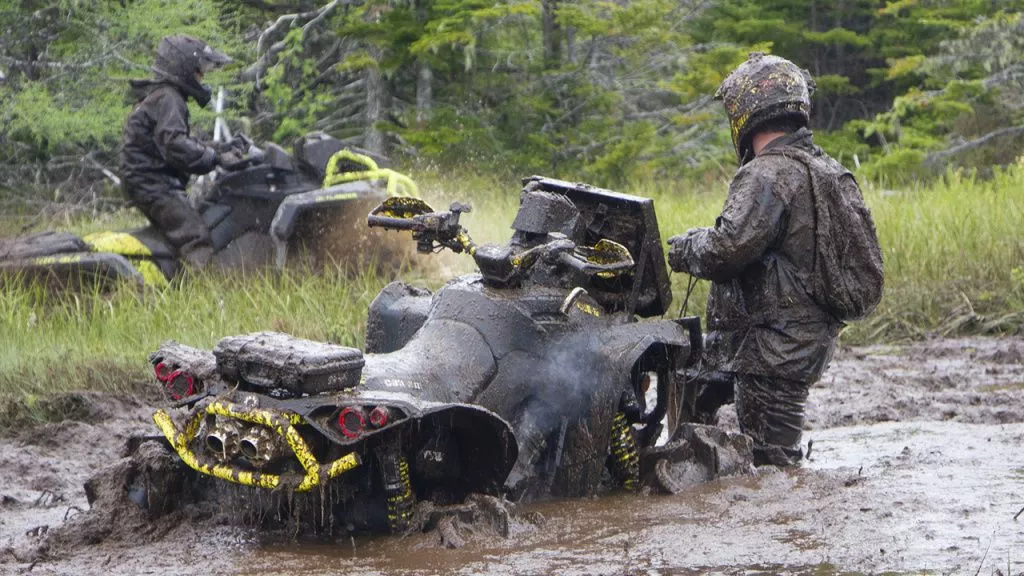 How Much Does It Cost to Rebuild ATV Engines?
The cost to rebuild an ATV engine ranges from $500-$800 if you do it yourself. Professional labor costs around $800 on average.
How Hard Is It to Rebuild an ATV Engine?
An ATV motor rebuild is not so much a hard job as it is a precise one. The person doing it has to do precise measuring, cleaning, milling, boring, and mating. Specific tools are required.
How Long Does It Take to Rebuild an ATV Engine?
1-3 months is the most common. The fastest it can be done is 10 days to 3 weeks.
How to Prevent Quad Engine Rebuild
You can extend the life of your engine and make a rebuild less likely by taking several precautions.
Delay the need for ATV engine repair by:
Checking your oil as specified for your engine.
Changing oil as specified for your engine and whenever you notice the oil has gone bad.
Using a high-quality synthetic oil designed for ATVs. Automotive oil won't do.
Being mindful of warm-up times.
Off-road
waders
will keep you dry and safe in water and mud
Find out the best look for you
Choose to Rebuild ATV Engine at The Right Time
You have to rebuild or replace your engine when it stops running surrounded by dramatic black smoke. This is worst case scenario. You can rebuild it before it gets to that point so it requires less work and money.
Use an hour meter to keep track of the wear and tear of your engine. After around 50 hours, a sport ATV's piston will need to be changed.
If your magnetic drain plug gets severely clogged, you'll need to rebuild.
If you experience hard starts or see exhaust smoke, check the cause. You may need to rebuild your engine sooner rather than later. If you can't find a more easily remedied explanation, perform a leakdown test on the engine.
Choose The Right Person for Your ATV Engine Repair
You can probably do it yourself. If you have a service manual and the patience to do the steps the right way, you're good.
Don't be afraid to say that you don't want to or don't feel comfortable to do it. It's better to acknowledge it, have the job done right, and avoid extra stress.
The next question is who to take the ATV or UTV to. The dealer is the most qualified, but they're also the most expensive. Other reputable mechanics should quote you a price around 30 percent less than the dealer. Read reviews and ask friends to determine if the mechanic you're considering is someone you can trust.
Protect Yourself
Ask for a quote on this ATV motor repair before you agree to let them do it. Ask them what all they'll be doing to your engine and what happens if something goes wrong. Educate yourself on the laws dealers and mechanics have to adhere to.
Do Only What You Need
If you're doing the rebuild yourself, you can save money by not assuming you have to completely rebuild the engine.
The pistons are the first thing that needs to be replaced. You can check the valves and seats by spraying a little contact cleaner on them to see if they leak. If they fail, do them too. If not, you're probably good. Your cylinder is probably fine unless you see wear or damage. The crank is also probably fine unless it has play in it. The gears are fine if the engine stays in gear. Modern cams are the last thing to need to be replaced.
Purchase The Parts
Both the dealer and the mechanic will try to charge you retail prices. This is normal procedure, but also something that's nice to avoid, if you can. You might be able to keep your ATV engine rebuild cost down by purchasing your parts on the internet or through mail-order. Aftermarket parts are usually less expensive than O.E. parts, though you will have to be sure you're choosing something that's right for your quad.
Rebuild ATV Engine and Hop Up
Get the most reward for your headache by using rebuild time as an opportunity to get more power out of your machine. With high-compression pistons costing the same in labor to install as O.E. pistons and high-performance cams actually costing less, you can easily upgrade your machine at the same time you rebuild it.
Consider Selling
The question may not be so much how to rebuild ATV engine as whether to do it. Compare how much to rebuild ATV engines and how long your engine is likely to have left. You may be better off selling an old motor than trying to rebuild it. It'll be less headache and less cost. If it's old, but it still runs, people will still buy it from you for a low price. If it doesn't run, you can sell it for parts.