How to Drive an ATV on Ice: Special Tips and Tricks
8 January 2022
Many people store their ATV and call their off-roading fun over for the winter months, but the need to do that isn't a given. You can safely, legally, and enjoyably ride in wintry conditions. This post will tell you everything you need to know to drive an ATV on ice.
PLAN AHEAD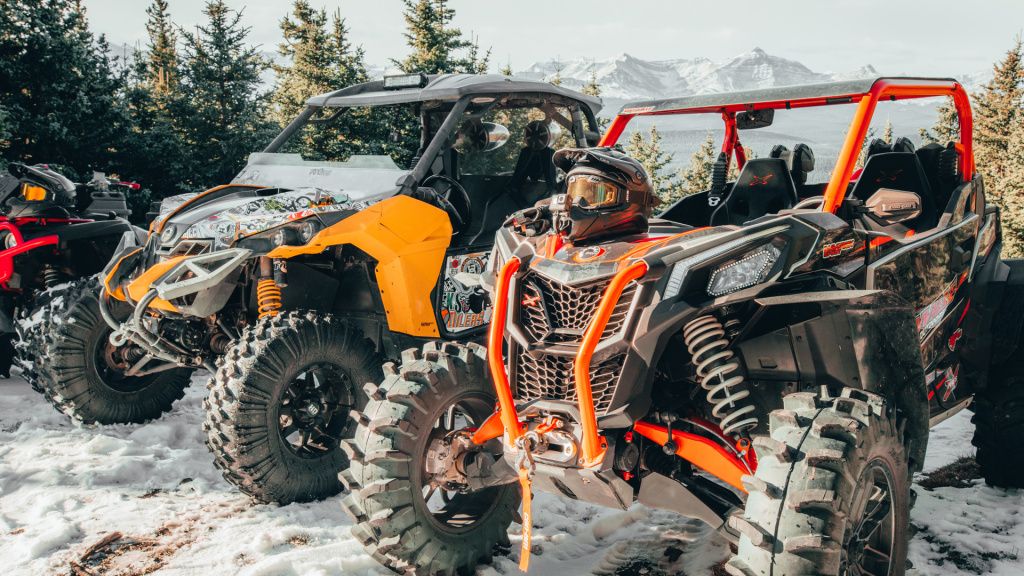 Many trails are open for year-round riding. Check to make sure the one you want is. Is it one you're familiar with? If not, you can ride the trail before winter weather comes if you'd like the added safety factor. You also might want to track how cold the weather gets to determine that ice is likely to be solid frozen before you plan to go out.
GEAR UP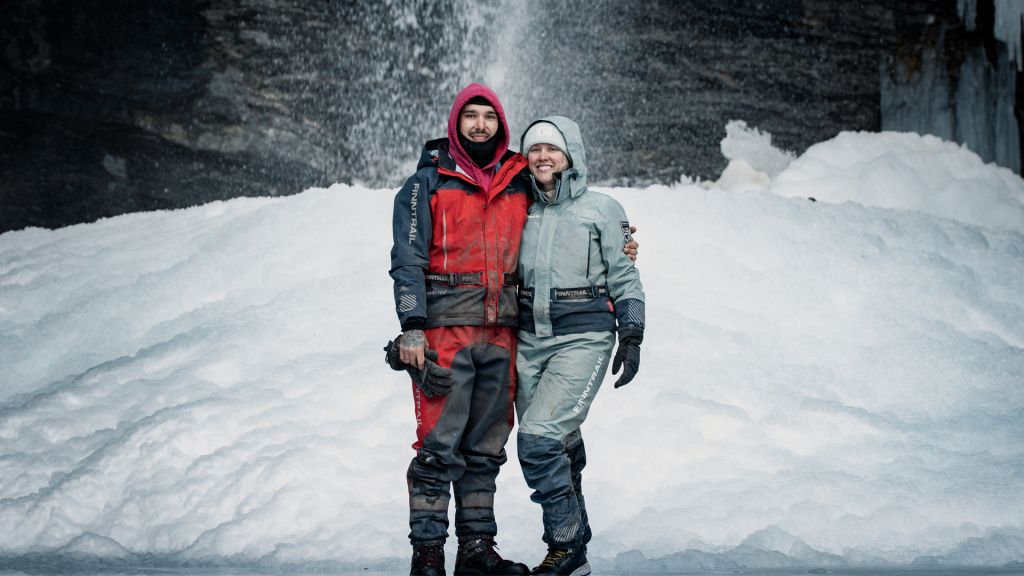 Make sure you and your party can stay warm and dry. If everyone doesn't have a compartment on their ATV to hold the gear, you can bring a backpack.
Wear winter weather clothes, wading gear, a suitable jacket, waterproof boots, and moisture-wicking socks. You'll need good gloves and goggles too.
Also bring a compass, map, matches, handwarmers, and non-perishable snacks. A heated jacket with batteries may be needed.
You need to have your emergency plans sharp to address the typical ATV emergencies and to be prepared for dealing with them in the cold.
Find out the items that suit your needs
PREPARE THE ATV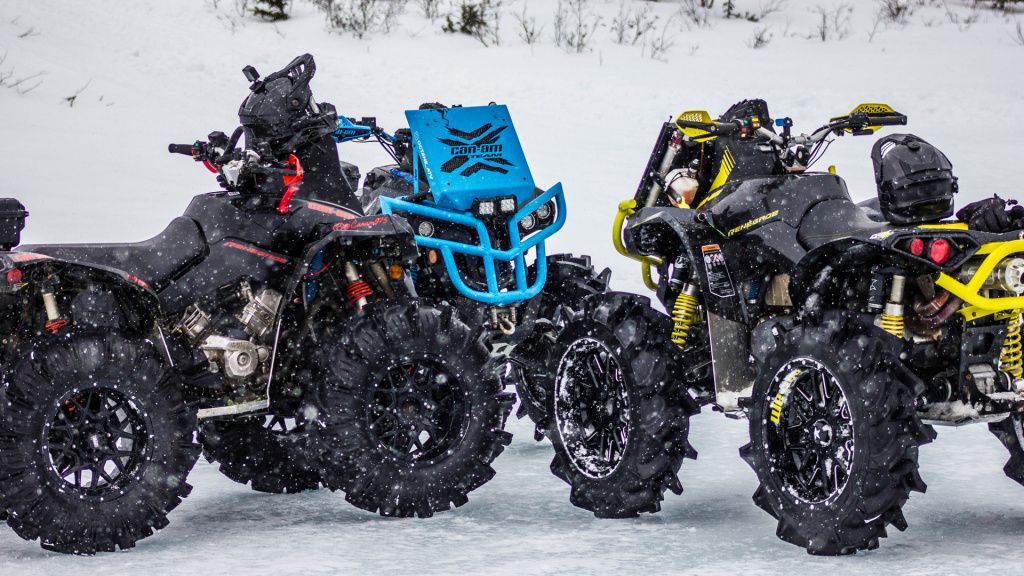 Before you hit the trail in icy conditions, there are some things you'll need to do to your ATV.
Check your spark plugs and replace any that aren't in top shape.
Change the oil.
Check your tire pressure and ensure it is optimum.
Consider snow chains for the tires. Many people don't use them exclusively to drive an ATV on ice, but you may need them for snow and snow and ice often go together.
WHICH ICE TO DRIVE ON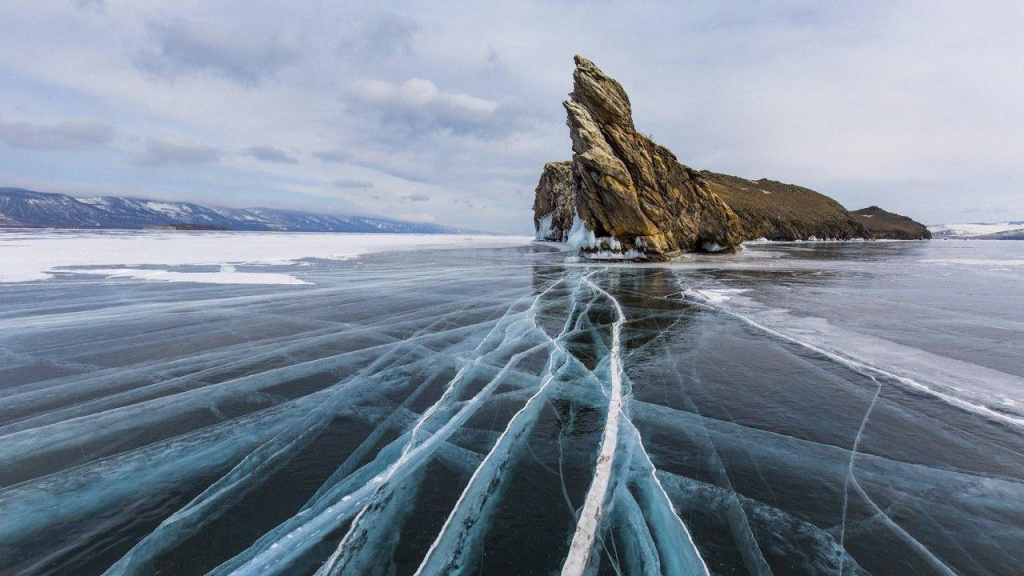 Before you attempt to drive an ATV on ice, you need to know which ice is safe to drive on.
Clear, blue ice is usually frozen solid and is safe to drive on.
White ice is not quite as strong as clear, blue ice, so it needs to be frozen twice as thick to be safe to ride on.
Dark ice is thinner and probably dangerous.
As for measurements, there is some debate over whether 5" or 6" is the minimum thickness of ice that is safe to drive on. For heavier ATVs, you might want to measure on the higher end, 6" or 7".
You measure the ice by drilling a hole in it and literally measuring it with a measuring tape. A cordless drill, ice auger, or chisel can be used for this. Measure the ice every 150 ft because the depth can vary greatly.
You can get an idea of whether it is safe to drive an ATV on ice on the trail by whether there are other riders on it. You'll be on your own making the decision if there is no one there before you, but if there are other riders, you can see how well they're fairing. First consideration, they're daring it. Second, are they making it? Third, is the ice staying firm below them? You can often see cracks or even flexing in unsafe ice when riders drive on it.
Find out the items that suit your needs
Rivers
Icy rivers are probably not safe. The chances that they can freeze solid are pretty slim. Only dare these if it's like a shallow stream that could do you little to no harm.
Black ice
Virtually invisible frozen water on trails can be dangerous and startling. When you hit it, remain calm, take your foot off the gas, don't make sudden movements, and don't slam on the brakes while you make for another area where you can get some traction.
HOW TO DRIVE AN ATV ON ICE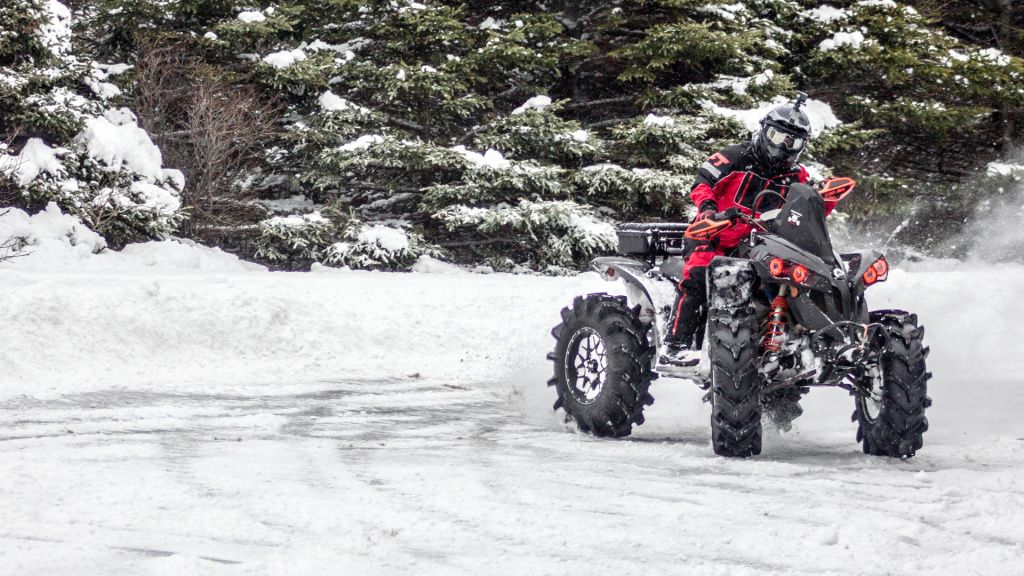 Prepare to take your time and learn a whole new off-roading skill. You can't just hit the ice like an old pro or a daredevil and expect it to go well.
Ice is slippery, you've got very little traction, so drive carefully and steadily. Keep your speed down and accelerate and brake slowly.
Follow your limits and your machine's. If you feel you or a member of your party are uncomfortable or out of control, slow down. If you smell burning rubber or feel snow is cramping your vehicle, don't go further on that trail in winter conditions.
Each rider should keep about 50 feet of distance between them and other ATVs. This will reduce pressure on the ice and give everyone more room to maneuver. Keep even more distance from reckless drivers and let them pass, if they're behind you. If it is safe to do so, you could pull to the side to avoid them.
TOWING
Many people want to tow gear or riders behind their ATV. It is possible to do this with rope, particularly if you cover it in PVC, but it is illegal and unsafe to tow people with something other than a rigid tow bar.